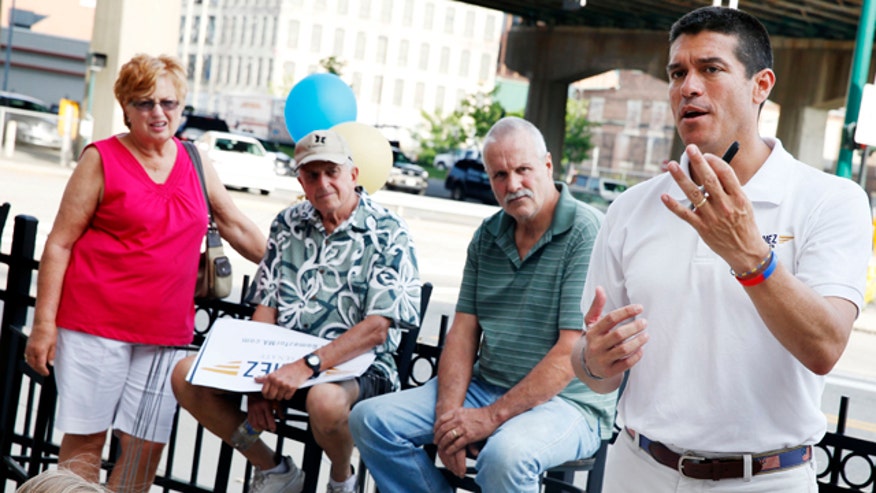 Gabriel Gomez, the upstart Republican candidate in the Massachusetts special Senate election, barnstormed Sunday across the state's western region and into Boston, looking for votes from independents and other undecided voters in the final weekend of the race.
Gomez, the private equity investor and former Navy SEAL, has run a surprisingly close race, considering Massachusetts is a largely Democratic state. But he now trails Democratic opponent Rep. Ed Markey by double digits before Tuesday's vote, according to most polls.
Still, Gomez remains upbeat, telling "Fox News Sunday" that polls fluctuate.
"These polls move up and down and all over the place," he said before making scheduled stops in Springfield, Chicopee and Agawam, then attending a rally in Boston with former Boston Bruins coach and player Mike Milbury.
Markey was stumping in Lynn, Lowell, Waltham, Framingham and Worcester, including stops with former Democratic Gov. Michael Dukakis and Vicki Kennedy, the widow of Sen. Edward Kennedy.
Gomez and Markey are vying to fill the Senate seat left open by Sen. John Kerry when he resigned to become secretary of state in January.
Like most campaigns, Gomez and Markey's spent their final days focusing on get-out-the-vote efforts.
Such efforts come amid warnings from the state's top election official that turnout could be very light, considering voters will be more focused on summer vacation and the Bruins' pursuit of hockey's Stanley Cup, with Democratic and Republican strategists agreeing that situation could most hurt Markey.
"That's what happens when you have a lower turnout special -- Democrats lose their edge quite a bit," Democratic strategist Ben Tulchin, founder of San Francisco-based Tulchin Research, told FoxNews.com. However, Tulchin still thinks Markey should win.
The national parties are also keeping an eye on the Massachusetts contest -- as Republicans try to chip away at the Democrats' hold on the Senate and Democrats seek to shore up their control of the chamber.
On Saturday, Markey campaigned with Vice President Biden at a rally on the University of Massachusetts-Dartmouth campus. Biden was the latest in a string of Democratic heavy-hitters who have campaigned for Markey in recent weeks, including President Obama and former President Bill Clinton.
Biden mocked Gomez's claim that he would represent a new kind of Republican.
"This is not your father's Republican Party," Biden said. "This is not even Mitt Romney's Republican Party. These guys aren't just conservative; they are anti-government."
Gomez repeated to Fox what he has said since the campaigns started in February, that he doesn't hew to party principals and supports gay marriage, expanded background checks for gun buyers and an overhaul of the nation's immigration system.
The exchange was similar to those in the candidates' debates in which Markey tried to portray Gomez as somebody ready to give tax breaks to the wealthy and unsupportive of women's rights. Gomez tried to convince the crowd that Markey is responsible for much of America's financial problems and is a Washington insider who had 37 years in Congress to prove he can lead the country.
Gomez also said that if elected to the 17-month term he could work with Obama and Massachusetts' other U.S. senator, Democrat Elizabeth Warren.
"If a Navy SEAL can talk a Peace Corps volunteer into marrying him, I think I can work with anybody," he said.
A UMass Lowell-Boston Herald poll last week found 56 percent of those responding favored Markey, compared with 36 percent supporting Gomez. Seven percent were undecided. The telephone poll of 600 Massachusetts voters from June 15-19 has a margin of error of 4 percentage points.
An averaging of polls by the website RealClearPolitics has Markey leading by 12.5 percentage points.
Gomez also hinted that even if he loses Tuesday, he might consider launching another campaign for the seat. Whoever wins Tuesday's contest will have to run for re-election to the same Senate seat next year.
"As a famous general once said back in World War II, `I shall return,' " Gomez said, in a reference to Gen. Douglas MacArthur.
Both candidates have raised millions to help get their message out to voters, though Markey has been more successful than Gomez.
Still, Markey sent at least two separate fundraising emails in the closing weeks saying Gomez was now trailing by less than 10 percentage points because of support for his opponent by national Republicans and "a shady Tea Party group … running $700,000 in TV attacks to smear my record."
The Federal Election Commission reports show that as of June 5, Markey had raised $7.8 million, including more than $800,000 from political action committees.
Gomez has raised $3.3 million, including $170,000 from PACs. Gomez's total includes $900,000 in loans he made to his campaign.
TV viewers were also being treated to a barrage of campaign ads in the final days.
As of Friday, Democrats invested $5.2 million in television advertising compared to $3 million on the Republican side, according to the Smart Media Group, which tracks political advertising.
The Associated Press contributed to this report.