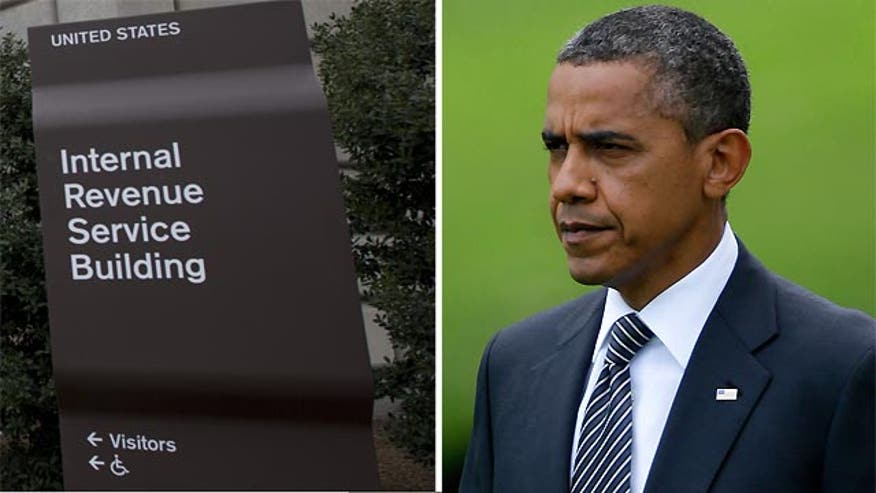 "IRS is under a legal obligation to comply with its collective bargaining agreement, which specifies the terms by which awards are paid to bargaining-unit employees."
-- Agency spokeswoman Michelle Eldridge in a statement to the Associated Press about $70 million in employee bonuses authorized by new director Danny Werfel.
President Obama is taking another turn at emulating John Kennedy and Ronald Reagan with a speech in Berlin aimed at tying off loose ends of the Cold War.
Obama is talking about his vision for U.S.-Russian nuclear disarmament – rather a tough tote given the open disdain shown to him by Russian President Vladimir Putin on Syria and everything else – as part of his ongoing legacy enshrinement program.
The president is determined to make history for more than what he accomplished on Day One by being the first African American to take the oath of office. He is working very hard to write a grand epitaph for his presidency: Father of universal health insurance, grantor of citizenship to illegal immigrants, vanquisher of income inequality, gay emancipator, global warming healer, drone destroyer of al Qaeda and the man who finished the work of the Cold War.
Obama is racing from initiative to initiative like an advance man for a traveling circus plastering the walls with advertisements. "See the miracle of Obamacare!" "Thrill to the magic of amnesty!" "Watch the wealthy shot out of a cannon!" "Touch bin Laden's bloody tunic!" "Marvel as nuclear warheads disappear!"
Obama speaks often of his determination to tackle all of these topics, and more. But his round-robin approach to making history, a seemingly endless rotation of tending to seemingly impossible dreams, doesn't quite satisfy. His strongest supporters allow that the president's multiform vision is more aspirational than practical. Things won't work out as he had hoped, they say, but Obama will have given the nation the gift of great dreams.
While Obama is in Berlin bequeathing the world his dreams, the realities of his government are turning into a nightmare.
Five cabinet departments – Treasury, Justice, State, Health and Environment – are mired in scandals of varying degrees, raging from the egregious to the embarrassing. The intelligence apparatus Obama says is responsible for stopping untold attacks is under assault and fast losing credibility.
Americans aren't much worried about Russian nukes these days, and while Putin would surely be happy to discuss another round of U.S. missile-defense reductions in exchange for another nuclear treaty (and maybe snatch another Super Bowl ring while he's at it), the more urgent concern seems to be what Islamist kooks can do with pressure cookers.
But the peripatetic president is taking a swipe at this initiative all the same, declining as he usually does to complete the task at hand.
[pullquote]
The task at hand for Obama is rebuilding some confidence in his government, and that he so far has been unwilling or unable to do.
The Associated Press reports today that the new sheriff Obama sent to the IRS, former White House budget official Danny Werfel, has just signed off on $70 million in bonuses for the woe-begotten agency.
This is not just bad timing for an agency that is beset by a huge corruption scandal over the targeting of conservative groups during Obama's tenure, it is horrible timing for an administration that is complaining about budget cuts. Your kids can't tour the White House and there's not enough money for cancer research, but the IRS workers will get their bonuses.
Worse still is that the payouts fly in the face of an Obama order suspending government worker bonuses during the season of "sequestration."
The excuse offered for the payout is that it is part of a deal with the government worker union that represents most IRS employees.
But it might not be a good time for the administration to be clamping down on bureaucrat bonuses at the IRS, with lower-level employees crawling out from under the bus to accuse higher ups in Washington of directing the targeting of Obama's political enemies.
Maybe it is just the new guy getting rolled by the union, but it sure doesn't look good at an agency that has seen it's never-pristine credibility shredded in recent months.
It is Obama, though, who bears the blame. He declined to get serious about the IRS and treat the problems there with the gravity they demand. It was no doubt an appealing thought to move on as quickly as possible from the IRS debacle, but as a result of his failure to be thorough and fearless from the start, the agency will continue to pay painful dividends to Obama.
And Now, A Word From Charles
"This is a time for an ideological offensive on the part of conservatives, the vindication of the idea of smaller government. So stop the navel gazing and make the case. If conservatives do, they will win."
-- Charles Krauthammer on "Special Report with Bret Baier."

Chris Stirewalt is digital politics editor for Fox News, and his POWER PLAY column appears Monday-Friday on FoxNews.com. Catch Chris Live online daily at 11:30amET at http:live.foxnews.com.
Chris Stirewalt joined Fox News Channel (FNC) in July of 2010 and serves as politics editor based in Washington, D.C. Additionally, he authors the daily Fox News Halftime Report political news note and co-hosts the hit podcast, Perino & Stirewalt: I'll Tell You What. He also is the host of Power Play, a feature video series on FoxNews.com. Stirewalt makes frequent appearances on network programs, including America's Newsroom, Special Report with Bret Baier and Fox News Sunday with Chris Wallace. He also provides expert political analysis for FNC's coverage of state, congressional and presidential elections.