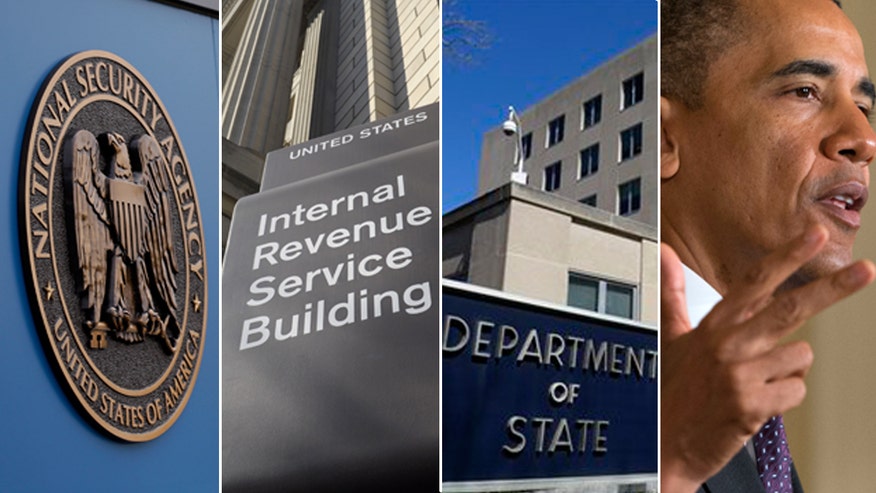 "There have been concerns before about [President] Obama's record on civil liberties and the security state, but people are genuinely shocked by the extent of this."
-- Zaid Jilani of the Progressive Change Campaign Committee talking to The Atlantic's Molly Ball about why the group is marshalling grassroots activists against Obama's domestic surveillance programs. The group now has more than 30,000 signatures on a petition on behalf of NSA leaker Edward Snowden.
Whatever your political bent, there's a problem with the Obama administration tailor-made for you.
Women's rights advocate? How about political appointees in the State Department accused of sex crimes overseas that contribute to human trafficking?
Civil libertarian? There's the killing of citizens without due process and spying on the calls and online activities of hundreds of millions of Americans. Add in the targeting of journalists by the Justice Department and efforts at gun control, and you're batting .750 on the first four amendments.
Is lobbying your bugaboo? Try former members of Team Obama out peddling influence to big corporations, and the woman in charge of administering the president's health law soliciting contributions from the insurance companies she's supposed to regulate.
Campaign finance fanatic? Check out the president's permanent campaign funded by unlimited contributions by well-heeled corporate patrons.
Transparency's your thing? There's a doctored set of talking points on a terrorist attack and a series of reversals on that and other issues you might want to check out. After you wrap your head around that one, check out the bramble of unlisted and therefore un-FOIAable government email accounts used by Obama appointees.
A human rights kind of activist? Don't forget about the years-old genocide in Syria.
And, of course, for everyone else, there's corruption at the IRS to give you a bellyache.
The president's defenders are right to say that he's not responsible for all of it and that the problems trace back to poor judgment by subordinates or the inherent problems of a system so vast. But for those things that aren't his fault, a failure to remedy them, once exposed, still rankles the left, right and center.
Obama has always benefited by favorable comparisons. He was more appealing to the Democratic base than Hillary Clinton. He was more reassuring to anxious voters than John McCain. He was more moderate sounding than the new Republican majority in the House. He was more relatable than Mitt Romney.
[pullquote]
But now re-elected and working to hammer out a full-year budget deal with House Republicans, Obama lacks a foil, or at least one with a marquee name. You can take turns blowing raspberries at Rep. Darrell Issa, Glenn Greenwald, Sen. John McCain and the ACLU, but with so many detractors it's hard to offer a compelling narrative to the people.
In the end, the president's defenders are turned into apologists and have to retreat to the weakest redoubt for a woe-begotten administration: It's just too hard. The government is too vast and too broken to be administered. The world is too dangerous to adequately protect civil liberties. The nation is too polarized to be united in a great cause.
Obama, who assiduously avoids tough interviews and tightly controls press access, popped in on an off-the-record briefing for White House reporters on Monday. We don't know what was said, but we can guess that Obama was providing a more intimate version of the public posture on the waves of woe crashing over the bow of his administration.
The Obama line is essentially: It's cool, we're making sure these things don't happen again and I'm really focused on _______ (fill in the blank with immigration, middle-class jobs, education, gender pay disparity, etc.).
But without a foil, it's hard for Obama to make it stick. There's no alternative to vilify, just three more years slogging it out and then the book tour and the opening of the Obama Foundation for Nuclear Non-Proliferation, or whatever.
And so, Obama finds himself suffering terribly for a phenomenon that he once exploited. A beleaguered incumbent president lives in the world of lame-duck reality. Everyone else gets to live in the world of gauzy possibility.
Charles Krauthammer suggests that Obama owes George W. Bush an apology, but what he really ought to do is get some survival tips. After all, Bush's approval rating is higher.
And Now, A Word From Charles

The only answer to that is, 'give me a break.' If you have a shelf of books on astronomy in your home and you say, 'No, I haven't collected the books until I have actually opened them,' you're deliberately misusing the word 'collect.'"

-- Charles Krauthammer on "Special Report with Bret Baier."


Chris Stirewalt is digital politics editor for Fox News, and his POWER PLAY column appears Monday-Friday on FoxNews.com. Catch Chris Live online daily at 11:30amET at http:live.foxnews.com.
Chris Stirewalt joined Fox News Channel (FNC) in July of 2010 and serves as politics editor based in Washington, D.C.