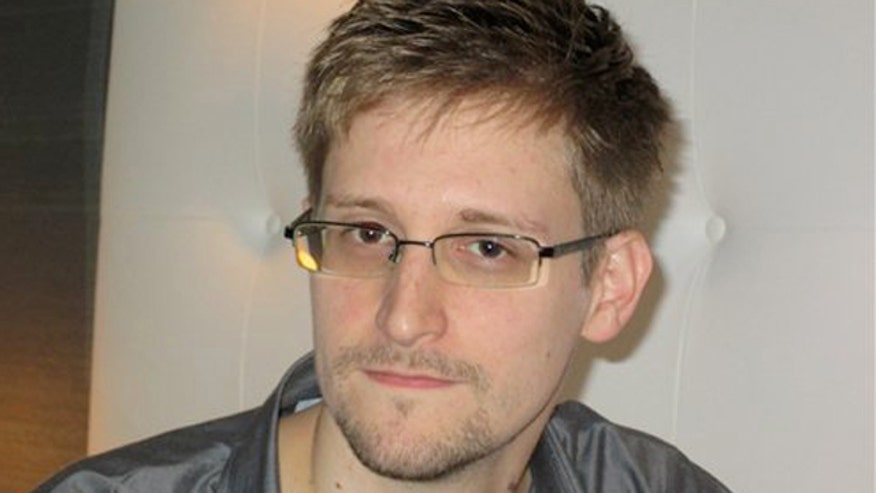 The "pole dancing super hero" girlfriend of the man who has come forward claiming to be the source of bombshell classified leaks about government spying has apparently taken to her blog to voice her loneliness, saying she is now "lost at sea" emotionally.
Lindsay Mills, 28, reportedly works for the Waikiki Acrobatic Troupe in Hawaii, where she moved after graduating from the Maryland Institute College of Art. Mills' blog, "L's Journey," refers to Edward Snowden as "E" and noted the couple's move to the Aloha State in July. But in a post dated Monday, the self-professed "pole dancing super hero" seemingly addressed the distance now between the two former lovers.
"My world has opened and closed all at once," the blog post reads. "Leaving me lost at sea without a compass. Surely there will be villainous pirates, distracting mermaids, and tides of change in this new open water chapter of my journey. But at the moment all I can feel is alone. And for the first time in my life I feel strong enough to be on my own."
[pullquote]
Mills, who had lived with Snowden since 2009, continued by noting her "tear-streaked keyboard" while reflecting her recent past with the man she referred to as her "man of mystery."
"As I type this on my tear-streaked keyboard I'm reflecting on all the faces that have graced my path," the blog post continues. "The ones I laughed with. The ones I've held. The one I've grown to love the most. And the ones I never got to bid adieu. But sometimes life doesn't afford proper goodbyes."
Mills, who did not immediately reply to messages seeking comment on Tuesday, said she's unsure what will come next, but wrote that she doesn't "know how to feel normal" moving forward.
"But I do know that I am loved, by myself and those around me," Mills' blog continues. "And no matter where my compass-less vessel will take me, that love will keep me buoyant."
The whereabouts of Snowden, 29, the former CIA employee who leaked top-secret documents about U.S. surveillance programs, were unknown on Tuesday, a day after he checked out of a trendy hotel in the Chinese territory of Hong Kong.
Mills appears scantily-clad in earlier posts, including one post depicting her on a masseuse's table and another titled, "Fish out of Water" that featured her wearing only a matching baby blue bra and underwear set.
"Sick, exhausted, and carrying the weight of the world — a deadly combo for this performing fish," Mills wrote on Friday. "May have an underwater-themed performance happening on tonight's First Friday, but confirmation has been hit or miss."
Until recently, Mills and Snowden had been living in a rented house in Hawaii, "Inside Edition" reports. Neighbors said Snowden blocked the windows with boxes.
"Everything was completely blocked," the neighbor told "Inside Edition." "It was like a wall of boxes all the way across."
In July, according to Mills' blog, the couple moved to Hawaii together so they could continue their relationship. She detailed an "emotional roller coaster" since stepping off the plane.
"This week I've had a strong urge to have a date night — try to bring back a little normalcy to our rocky time out here," the blog reads. "On the hunt for the perfect date-night venue I stumbled upon a flyer for a Japanese summer festival. Could that be more perfect?! E and I fell in love with all the little street festivals when we lived in Japan and I couldn't think of a better event to bring smiles to our faces."
Mills, on a Twitter account linked to her blog, questioned on Monday whether she should delete her account, which had roughly 250 followers as of early Tuesday.
In earlier Twitter posts, Mills focused on spreading a "positive light" ahead of the couple's move.
"Instead of perpetuating the negative energy around me, I'll be spreading positive light today," she wrote on May 30.
Snowden, according to The Guardian, made final preparations three weeks ago that resulted in last week's revelations by copying the last set of documents he intended to disclose. He then advised his supervisor at the National Security Agency that he needed to be away for "a couple of weeks" in order to receive treatment for epilepsy.
While packing his bags, Snowden reportedly told Mills he had to be away for a few weeks, although he was vague on details.
"That is not an uncommon occurrence for someone who has spent the last decade working in the intelligence world," Snowden reportedly told Mills.