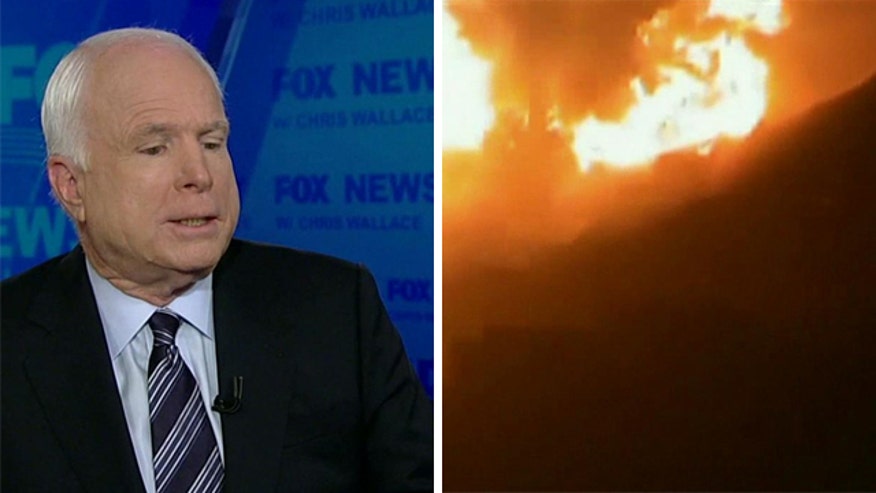 Congressional Democrats and Republicans said Sunday that Israel's recent airstrikes on Syria show President Assad's air defense system is not impenetrable, with one lawmaker suggesting the United States establish a no-fly zone over the Middle East country.
Israel on Sunday launched its second airstrike in three days in the Syrian capital of Damascus, targeting a shipment of guided Iranian-made missiles intended for the militant group Hezbollah, said an intelligence official in the Middle East.
A senior Israeli official told the Associated Press both airstrikes targeted shipments of Fateh-110 missiles bound for Hezbollah. The Iranian-made guided missiles can fly deep into Israel and deliver powerful half-ton bombs with pinpoint accuracy. The official spoke on condition of anonymity because he was discussing a covert military operation.
The attacks mark a sharp escalation of Israel's involvement in Syria's bloody civil war, which has claimed roughly 70,000 people. Assad has been accused of using SCUD missiles and chemical weapons against civilians in the uprising.
The White House declined for a second day to comment directly on the strikes, but said Obama believes Israel, as a sovereign nation, has the right to defend itself against threats from Hezbollah.
President Obama has said Assad's use of chemical weapons would cross a red line, but has not taken action beyond giving humanitarian aid and money to rebel forces for defensive military equipment. However, Defense Secretary Chuck Hagel said last week the administration is reconsidering its opposition to arming the rebel forces.
"The red line that the president of the United States [has] was apparently written in disappearing ink," Arizona Sen. John McCain, the top Republican on the Senate Committee on Armed Services, told "Fox News Sunday." "We need a game-changing action."
McCain suggested the U.S. establish a "safe zone" and give weapons to "the right people" but repeated that American soldiers should not enter the country.
He also said the Israeli strikes "will probably put more pressure on this administration" to act.
Vermont Democratic Sen. Patrick Leahy also suggested that Syria's Russian-made air-defense system was not as solid as thought and suggested the U.S. is getting closer to arming rebel forces.
"The idea of getting weapons in, if we know the right people to get them, my guess is we will give them to them," he said on NBC News' "Meet the Press."
Arkansas Republican Rep. Tom Cotton told NBC the U.S. should have started arming pro-Western rebel forces "months ago" and suggest the U.S. consider blocking Syrian air space.
"We have to arm the opposition," he said. "I think we also need to move toward imposing a no-fly zone."
The Associated Press contributed to this report.