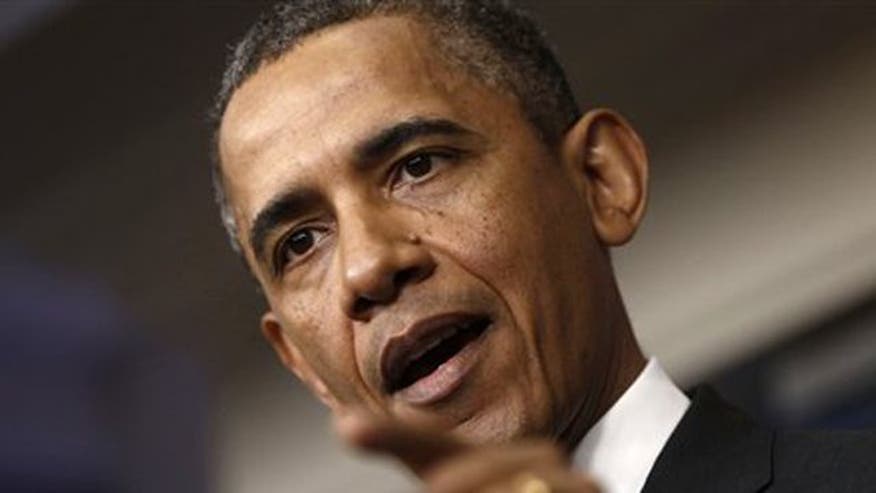 "We are writing to express our deep concern about the nation's corrupt campaign finance system and about your failure, to date, as President to provide meaningful leadership or take effective action to solve this fundamental problem facing our democracy."
-- Letter to President Obama from a coalition of liberal groups calling for more regulation of political donations and spending.
President Obama is not Mitt Romney. And on the 100th day of his second term in office, that seems to be his cardinal virtue among members of his political base.
Despite – or, more likely, because of – the president's boldly liberal vision and broad promises after his re-election, liberal Democrats are feeling crabby about Obamism these days.
A largely unchecked genocide in Syria, an ever-escalating drone warfare program, a botched effort for gun control, fumbling implementation of the new health law, defeats on fiscal policy and the president's seeming acceptance of business as usual in Washington are all causing alarm on the left. What is the use of having a crusading liberal president if he won't crusade or can't win when he does?
Obama is facing some serious problems with the mainstream electorate, too. The economy remains puny and faces growing peril. There is new evidence that the intelligence apparatus missed warnings about the April 15 terrorist attack in Boston. Frustrations are growing over federal debt. And the health law, already unpopular, is fulfilling many critics' worst expectations.
The president knew that his second term, and thereby the enshrinement of his legacy, would be a struggle. But he had a plan. The president, tapping into unlimited donations from well-heeled benefactors, would keep the same activist core that won him a second term on the march to achieve policy goals.
As Vice President Joe Biden said, "Don't compare us to the almighty, compare us to the alternative."
Obama offered Democrats a win-win scenario. Either recalcitrant Republicans would yield to pressure on policy points or face oblivion in Midterm Elections. Obama would unite Democrats behind a bold agenda on global warming, same-sex marriage, "cradle-to-career" education, gun control, amnesty for illegal immigrants, another round of tax increases on top earners, more stimulus spending and other long-sought liberal aims and take the fight to Republicans. As Republicans splintered on these subjects, Democrats would be poised to win some victories now and then run the table after retaking complete control of Congress.
A plan that risks alienating the middle to rally one's political base requires plenty of chutzpah. A plan that does so at a moment when voters are acutely concerned about dysfunctional government requires self-confidence bordering on the messianic.
But the same binary formula that helped Obama in the election (as Vice President Joe Biden said, "Don't compare us to the almighty, compare us to the alternative.") is less useful once returned to office. It was easy to convince liberals that it was important to prevent Romney from being president, but more difficult to convince them that Obama is governing the right way.
And House Republicans are not proving nearly so useful as foils as they did in 2011 and 2012.
Senate Democrats have now slammed the door on key Obama policy initiatives. Rather than forcing House Republicans to vote on gun control, the Senate first diluted and then disposed of the president's proposal. And when House Republicans demanded changes to "sequestration" disruptions at airports, the Senate buckled straight away, despite Obama's demand that any changes to the automatic spending reductions be done partly through tax increases.
When the time comes this summer for the fight over a full-year plan for borrowing and spending, Obama will have another chance to pillory House Republicans. But even then, moderate Senate Democrats will make it harder for the president's team to cast the budget as a Manichean struggle.
The dawning realization on the left that retaking the House is next to impossible and that holding on to the Senate will be a tough tote is feeding liberal impatience with the president. If the glories of a second half of a second term are proving illusory, then the time is now for the left to get what it can.
And even if liberal legislation isn't possible in a divided Congress, there's much the president can do on his own.
Every former member of team Obama that rakes in big checks from big business. Every civilian death in Syria. Every missed deadline and exemption on Obamacare. Every new BTU derived from fossil fuel. They all suggest to liberals that Obama doesn't share their sense of urgency.
And Now, A Word From Charles

"If you blow a whistle against a Bush or Reagan, you become a national hero on TV. If you blow it against Obama, you get into a cone of silence except here and in other extremely select media outlets."

-- Charles Krauthammer on "Special Report with Bret Baier."
Chris Stirewalt is digital politics editor for Fox News, and his POWER PLAY column appears Monday-Friday on FoxNews.com. Catch Chris Live online daily at 11:30amET at http:live.foxnews.com.
Chris Stirewalt joined Fox News Channel (FNC) in July of 2010 and serves as digital politics editor based in Washington, D.C. Additionally, he authors the daily "Fox News First" political news note and hosts "Power Play," a feature video series, on FoxNews.com. Stirewalt makes frequent appearances on the network, including "The Kelly File," "Special Report with Bret Baier," and "Fox News Sunday with Chris Wallace." He also provides expert political analysis for Fox News coverage of state, congressional and presidential elections.