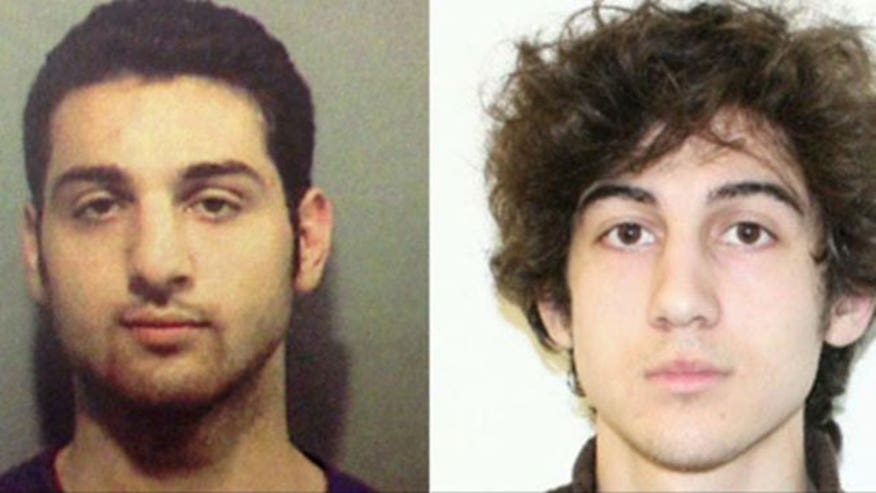 Government response to the Boston Marathon bombings, from local police efforts to the Obama administration's role, has won high marks in the aftermath of last week's intense manhunt that ended in one suspect dead and another in custody, but lawmakers are raising concerns that warning signs were missed and that authorities could have coordinated their efforts better.
Homeland Security Secretary Janet Napolitano said Tuesday that the government's internal system "pinged" when Tamerlan Tsarnaev left the U.S. for Russia last year, in a statement that appeared to conflict with earlier suggestions that the trip went unnoticed.
The accounts of how closely the Boston bombing suspect, who was killed in a police shootout last week, was followed became an issue in a closed hearing Tuesday afternoon on Capitol Hill. The Senate Intelligence Committee has summoned the FBI to explain why that 2012 trip didn't raise alarm, considering the FBI had already looked into his background at the request of the Russian government.
"There is a constant chain (of information) that needs to be evaluated," Chairwoman Dianne Feinstein, D-Calif., said after the hearing, though she said she didn't think FBI dropped the ball.
A Fox News poll released Tuesday found that 91 percent of voters approve of law enforcement agencies' handling of the bombings, and 71 percent approve of the Obama administration's performance.
Even so, Feinstein and other senators suggested that the process of sharing investigative information could be improved.
"Post 9/11, we thought we had created a system that would allow for the free flow of information," Sen. Saxby Chambliss, R-Ga., said. "And I think there has been some stonewalls and stovepipes that have been reconstructed that were probably unintentional. We probably need to review that again."
Sen. Susan Collins, R-Maine, meanwhile, said she had "serious concerns" that agencies weren't sharing information during the Boston bombing investigation.
Earlier Tuesday, Napolitano addressed the question of Tsarnaev's Russian trip during a hearing on immigration legislation before the Senate Judiciary Committee. Napolitano said "the system pinged when he was leaving the United States" for Russia in early 2012. But she noted: "By the time he returned, all investigations -- the matter had been closed."
Sen. Lindsey Graham, R-S.C., challenged Napolitano, saying the FBI told him they had no knowledge of the trip. Graham had earlier claimed that the suspect's name was apparently misspelled when he traveled, so it never went into the system. Another lawmaker suggested he could have traveled under an alias.
It is possible, though, that Tsarnaev "pinged" in a system known as the TIDE database. This is a vast repository of more than 500,000 names that have come up throughout various investigations and elsewhere. The actual terror watchlists are subgroups of names from the TIDE database, but Tsarnaev apparently was not on one of those lists.
The FBI has come under scrutiny after having been alerted in 2011 by a foreign government -- said to be Russia -- about Tamerlan Tsarnaev's activities.
"The request stated that it was based on information that he was a follower of radical Islam and a strong believer, and that he had changed drastically since 2010 as he prepared to leave the United States for travel to the country's region to join unspecified underground groups," the FBI acknowledged.
But the bureau said the suspect was interviewed and no "terrorism activity" was found.
Tsarnaev was killed in a shootout with police. His brother, Dzhokhar Tsarnaev, is in police custody at a hospital, where he was charged Monday with using a weapon of mass destruction in the blasts last week, which killed three and wounded more than 200 near the finish line of the world's most prestigious running race. He could face the death penalty.