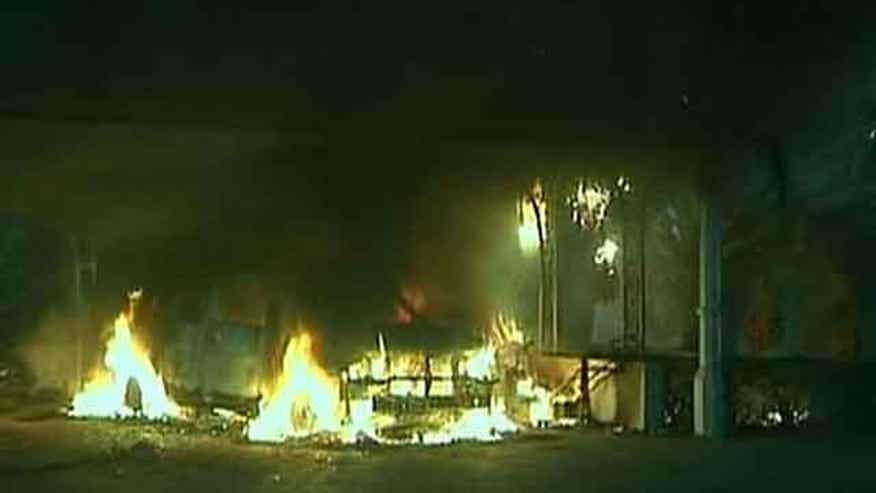 Voters are divided over how the White House is handling the September 11, 2012 attack on the American consulate in Benghazi, Libya that killed a U.S. ambassador and three other Americans.
On President Obama's role, however, voters are clear: he should have been more involved.
A Fox News poll asked voters about their reaction to former Defense Secretary Leon Panetta's testimony to Congress in February on the Benghazi attack. Panetta testified that after the initial 5:00 PM briefing with the president, he didn't hear from the President Obama or anyone at the White House again that night.
CLICK TO VIEW THE FOX NEWS POLL
While almost a third of voters (29 percent) think there was "probably a good reason" for the president not to be personally involved, most voters -- 61 percent -- say Obama should have been directly involved "no matter what."
Most Republicans (82 percent) and over half of independents (57 percent) feel the president should have been more engaged in responding to the assault. Among Democrats views are split: 43 percent say Obama had a good reason not to be involved, while 45 percent say there's no excuse.
The new poll, released Wednesday, also asked voters to react to former Secretary of State Hillary Clinton's testimony that she hadn't seen a cable from the consulate asking for additional security and warning the administration about the dangerous situation diplomats were facing.
Some 39 percent of voters say it is "troubling" Clinton didn't see the cable, while an equal number don't believe her testimony and actually think she was aware of it (39 percent). Few -- 11 percent -- say it's no big deal that she didn't see the ambassador's request for help.
Voters have mixed views about how the White House is handling the situation: 46 percent say the administration is covering up what happened. Almost as many -- 43 percent -- say there's no cover up.
Republicans (72 percent) are almost three times as likely as Democrats (24 percent) to think there is a cover up. Among independents, 46 percent feel the White House is hiding what happened, while 39 percent do not.
The administration eventually acknowledged the attack in Benghazi was a planned terrorist attack. Early on it pointed to a controversial online video sparking spontaneous violence.
Although Panetta and Clinton have testified, so far Congress hasn't heard from the U.S. government personnel who survived the attack. By a 67-26 percent margin, voters think lawmakers should subpoena them if the State Department and CIA don't volunteer to let the witnesses be interviewed by Congressional investigators.
The Fox News poll is based on landline and cell phone interviews with 1,009 randomly chosen registered voters nationwide and was conducted under the joint direction of Anderson Robbins Research (D) and Shaw & Company Research (R) from April 20 to April 22. The full poll has a margin of sampling error of plus or minus three percentage points.