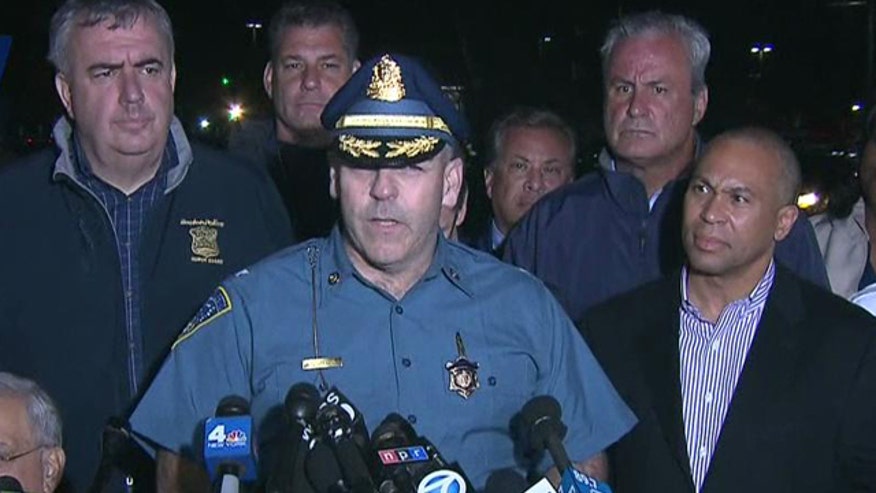 The Boston Marathon bombing in which the suspects apparently blended into the finish-line crowd without detection long enough to place two fatal explosives on a sidewalk has renewed talk about homeland security in a post 9/11 world.
U.S. intelligence and law-enforcement officials in the immediate aftermath of the Sept. 11, 2001, terror attacks focused on such concerns as airport security to prevent another incident in which U.S. commercial airliners could be used as lethal weapons.
However, as improved security made such attacks more difficult, terrorists have instead attempted smaller attacks in crowed, more public spaces, raising questions about the need for more surveillance cameras and other security measures while trying to balance privacy concerns.
"We knew this has been a potential threat for some time," Jessica Zuckerman, a foreign policy analyst with the conservative-leaning Heritage Foundation, told FoxNews.com on Friday. "Mass gatherings have become a target."
The Boston bombs, concealed in separate backpacks, killed three and injured 176 others.
The first suspect, Tamerlan Tsarnaev, 26, was killed early Friday morning in a police shootout. His 19-year-old brother, Dzhokhar Tsarnaev, was captured by police that night.
Another more recent and similar incident on U.S. soil occurred in 2010 in New York City. A lone terrorist tried unsuccessfully to detonate a home-made car bomb, which included a pressure cooker like those used in Boston, in the city's tourist-filled Times Square district.
Surveillance cameras that captured images of the vehicle going to the crime scene led to the swift arrest of Pakistani-born terrorist Faisal Shahzad, who pleaded guilty in federal court to charges including attempted use of a weapon of mass destruction.
Manhattan alone now has roughly 2,400 surveillance cameras, according to the New York Civil Liberties Union and others.
The network of cameras also includes license plate readers and radiation detectors that supporters say are critical to detecting and thwarting terror attacks, especially ones on the city's Financial District, which they say would devastate world markets.
The network is based on London's Ring of Steel around its financial district. Cameras in that city also helped investigators identify four suicide bombers who killed 52 people in a 2005 attack on London's transit system.
However, critics such the American Civil Liberties Union have raised concerns about the expansion of the New York network.
"Our main concern is that it's unlike most police activity, which is focused on people who are suspected of unlawful activity," Christopher Dunn, of the group's New York chapter, told Bloomberg News shortly after the Times Square incident.
"Awareness among the security population has to be balanced with our civil liberties," Freedman said.
She said the U.S. has indeed become safer since 9/11 and attributes the change in large part to improved intelligence efforts, including the ability to monitor jihadist chat rooms, and better intelligence tools that change ahead of technology.
Fox News contributor and former Alabama Republican Gov. Mike Huckabee said what makes Israel so good at detecting terrorism is that officials focus on the next possible technology, instead of thinking about stopping the kind of attack that just happened.
Freedman also argued the Patriot Act has helped thwart terror plots by "bringing technology into the 21 century."
The act was signed into law by President George W. Bush shortly after the 9/11 attacks to help the U.S. intercept and fight terrorism. It in part expanded the federal government's power to detain immigrants suspected of terror-related acts and delve into financial transaction, including those involving people from foreign countries.
President Obama in 2011 reauthorized key parts of the act, including giving federal officials the power to conduct surveillance on individuals not linked to terrorist groups but suspected of terrorist-related acts.
"We will find you," Obama said Thursday. "We will hold you accountable. But more than that, our fidelity to our way of life, to our free and open society will only grow stronger, for God has not given us the spirit of fear and timidity, but one of power and love and self-discipline."