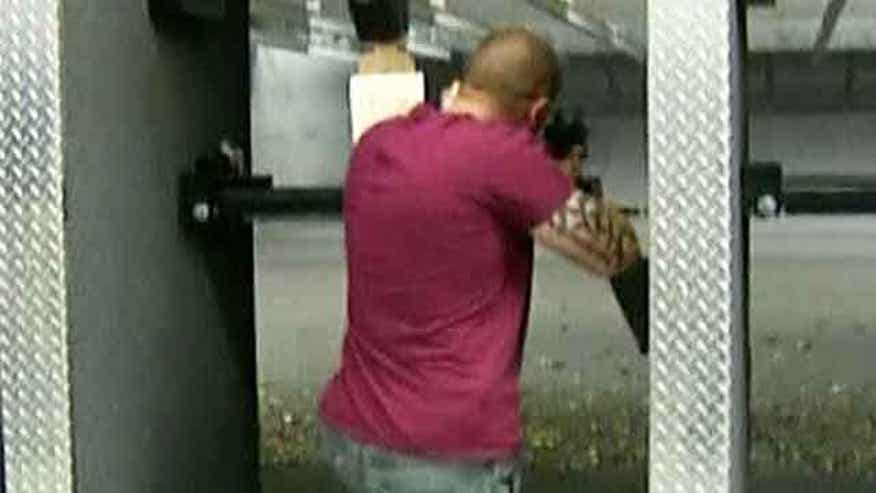 Supporters of the controversial firearms bill are struggling to round up the necessary 60 votes to advance the package, underscoring the lingering resistance on the Hill to anything seen to infringe on Second Amendment rights -- despite last week's victory on a procedural vote.
The Senate bill advanced last week on a 68-31 vote. But Democratic leaders will likely have to round up a minimum of 60 votes at least once more, and many of the 16 Republicans who joined Democrats last week are backing away.
The latest is Sen. Richard Burr, R-N.C., who said Tuesday he opposes a vital amendment on background checks.
"I supported having a debate on the issue of violent crime, but as I made clear from the outset, I will oppose any legislation that chips away at our Constitutional rights," Burr said.
A few Democratic officials indicated late Tuesday that things were turning around, and they were gathering a 60-vote coalition. Vice President Biden said: "We are going to get to 60 and it's fluid."
It's not clear who exactly Biden is courting.
The amendment in question was offered by Pennsylvania Republican Sen. Pat Toomey and West Virginia Democratic Sen. Joe Manchin. It would expand background checks to gun shows and Internet sales while exempting some personal transactions. The measure is meant to win over conservative support, so any Republican opposing the amendment is unlikely to support the broader bill.
"After reviewing the current text of the Manchin-Toomey proposal, I have numerous Second Amendment, due process and privacy concerns that make the legislation too problematic for it to ever become law," Burr said in a statement.
Senate Democratic Leader Harry Reid has scheduled a series of votes on amendments, including the Manchin-Toomey proposal, for late Wednesday afternoon. The prologue to the Senate vote on expanded background checks for firearms buyers is again a delicate, yet all-out, effort on both sides to win over the remaining, undecided senators.
Sen. Chuck Schumer, D-N.Y., said Tuesday that Reid is making Republicans an "offer" on the legislation, without going into detail. Reid on Tuesday also disputed the notion that the legislation had lost momentum. A Senate Democratic leadership aide said an agreement on a way forward is "increasingly possible" -- though a vote on the amendment would still be a heavy lift.
Senate Democrats could be forced to clear a 60-vote threshold for the amendment, and to advance to a final vote on the overall bill. Democratic leaders will need to retain most of the chamber's 53 Democrats as well as the two independents who caucus with them. If all 55 are on board, they would still need five Republicans to sign on.
So far, as many as four Republicans have indicated they could or would support the bill. But Democrats are also liable to lose a couple moderate members facing re-election next year, meaning they'd need even more Republicans on board.
The group of 16 Republican senators who voted to advance the bill last week is seen as the best target for support.
But at least nine have now said they oppose the background check compromise. And one said he is leaning against it.
Combined with the 31 senators who voted against debating the overall gun bill last week, that could bring potential opponents of expanding background checks to 41 -- just enough votes to block the Senate from considering the compromise. But in the heated political climate and heavy lobbying certain in the run-up to the vote, minds on both sides could change.
One of those expressing opposition was Sen. Jeff Flake, R-Ariz., who said Monday the measure would cover too many gun transactions.
"It would likely even extend to message boards, like the one in an office kitchen. This simply goes too far," he posted on his Facebook page.
Flake has been a primary target of pressure from gun control groups. He comes from the same state former Rep. Gabrielle Giffords represented until she was severely wounded in a 2011 mass shooting in Tucson.
Flake's senior colleague, Sen. John McCain, R-Ariz., said he is leaning strongly toward supporting the background check plan.
In an effort to win support from senators from the pro-gun rights states of Alaska and perhaps North Dakota, Toomey and Manchin were purportedly willing to alter the proposal so that gun buyers who live hundreds of miles from registrars would be excluded from the background checks, a Senate aide said.
"It's an open question as to whether or not we have the votes," Pennsylvania Republican Sen. Pat Toomey told CNN on Sunday. "I think it's going to be close."
Even if the proposal passes in the Senate and leads to passage of the broader bill -- which includes stiffer penalties for gun trafficking and some additional money for school safety -- the Republican-led House could still reject the package.
Senate Democrats and others have been trying to fulfill President Obama's second-term priority of curbing gun violence since the December 2012 shootings at a Connecticut elementary school in which 20 first-graders and six adults were killed.
However, the effort has faced strong opposition on Capitol Hill and from the powerful gun lobby group the National Rifle Association, which has caused problems for some Senate Democrats facing re-election next year.
As lobbying escalated Tuesday, Giffords and husband Mark Kelly, a retired astronaut, were holding a meeting with Manchin and Toomey.
Many consider the Manchin-Toomey compromise the best hope for winning Senate approval to widen the background check system, designed to screen out the severely mentally ill, criminals and others from getting firearms.
Right now, the checks are required only for sales handled by licensed gun dealers. The existing Manchin-Toomey measure also exempts transactions between relatives and friends.
Opponents say expanded checks would violate the Constitution's right to bear arms and would be ignored by criminals. They are forcing supporters of the background check plan to win 60 of the Senate's 100 votes, a high hurdle.
Sen. Frank Lautenberg, D-N.J., missed last week's vote after saying he was suffering from muscle weakness, but a spokesman said the senator hopes to be in the Senate for votes this week.
Two Democrats, both facing re-election next year in GOP-leaning states, voted against beginning the gun control debate last week. Sens. Mark Begich of Alaska and Mark Pryor of Arkansas both said they are still deciding on the Manchin-Toomey plan.
The Associated Press contributed to this report.