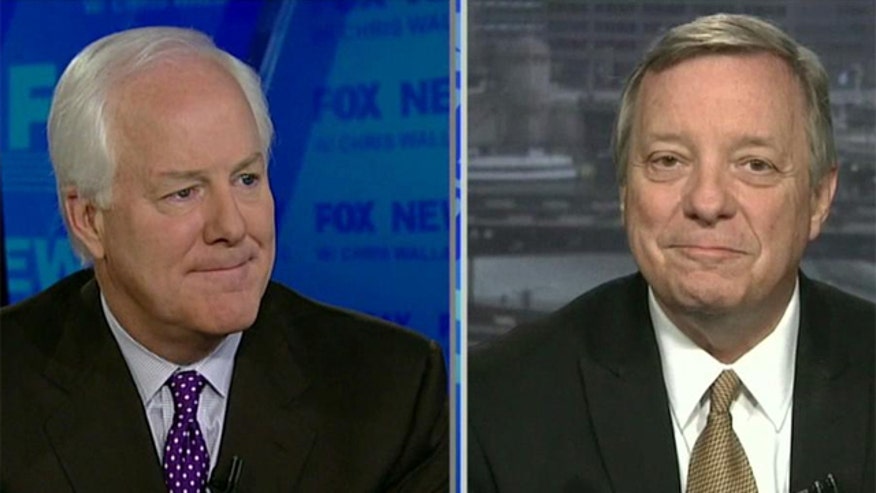 A top Senate Republican expressed only guarded optimism Sunday about a potential grand bargain with Democrats based on the budget President Obama submitted that includes entitlement reform but additional tax increases.
"I give the president credit that he did put (a budget) on the table," Senate Minority Whip John Cornyn told "Fox News Sunday."
The Texas senator, in charge of wrangling Republican votes in the Democrat-controlled chamber, called Obama's plan to chain Social Security increased to the Consumer Price Index only "modest progress" toward entitlement reform.
However, the president's 2014 budget also suggests raising taxes another trillion dollars and is not balanced, he said.
His comments are similar to those made last week by House Speaker John Boehner after Obama released the budget.
The Ohio Republican said Obama wants to hold hostage "modest reforms" for another round of tax increases, referring to increases his party agreed to in December 2012 as part of a deal with Democrats to keep the country from going off the so-called fiscal cliff.
Later on Fox, Sen. Dick Durbin, who counts votes for Democrats in the chamber, said Boehner simply dismissed the plan because the word "tax" was included.
He said Republicans "have to put everything on the table" if they are indeed serious about dealing with the budget deficit.
"For goodness sakes," Durbin said, acknowledging he has supported the chained CPI concept and that it could be part of the Social Security reform plan if it gives the program long-term solvency.