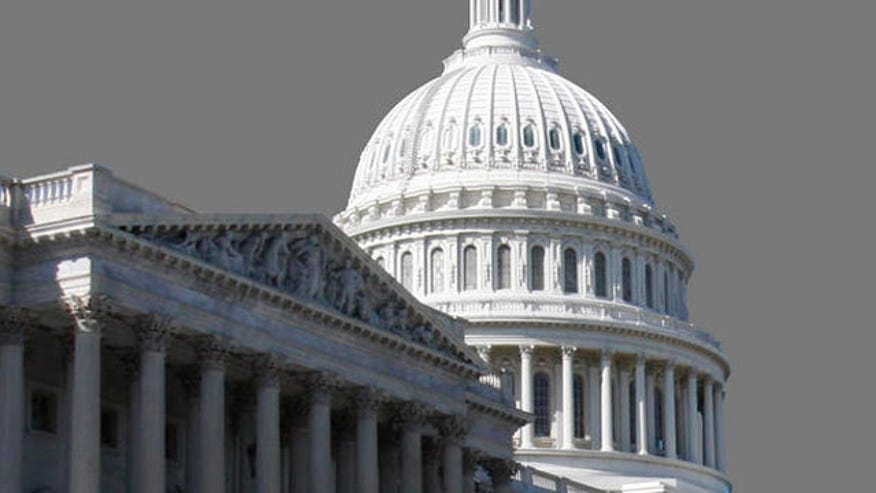 The White House lashed out Monday at Republican lawmakers threatening to filibuster gun control legislation in the Senate, accusing them of trying to pull "political stunts" and "hide" behind procedural maneuvers -- as support for the filibuster continued to grow.
Sen. Mike Lee, R-Utah, announced early Monday that 13 senators had signed a letter to Majority Leader Harry Reid threatening to oppose "any legislation that would infringe on the American people's constitutional right to bear arms."
Lee, along with Sens. Rand Paul, R-Ky., and Ted Cruz, R-Texas, have led efforts to hold up the legislation. The lawmakers would do so by trying to require a 60-vote threshold, which could kill the legislation.
They were joined later in the day by Senate Minority Leader Mitch McConnell, bringing the total to 14.
Reid, meanwhile, took the first steps to bring the gun control package to the floor for Senate debate, while saying he was "deeply troubled" by the Republicans' warning.
The Senate returned Monday from a two-week spring recess, and negotiators are hard at work trying to refine and prep a bill for consideration. While Lee, Paul, Cruz and others dug in on their objections, other moderates and conservatives have indicated a willingness to consider the package.
President Obama criticized the proposed filibuster during a campaign-style event at the University of Hartford in Connecticut about 45 miles from the elementary school where 20 first-graders were shot and killed in December.
"Some back in Washington are already floating the idea that they might use political stunts," said Obama, who was introduced by Nicole Hockley, whose son, Dylan, was one of the victims. "They're not just saying they'll vote 'no' on ideas that almost all Americans support. They're saying they won't allow any votes on them at all."
Many in the crowd responded by chanting: "We want a vote."
The president also said some family members who lost children in the Dec. 14 school shooting are referring to the massacre as 12/14, just like the Sept. 11, 2001, terror attacks are called 9/11.
"For these families, it was a day that changed everything," Obama said. "And I know many of you in Newtown wondered if the rest of us would live up to the promises … once the television trucks left, once the candles flickered out, once the teddy bears were gathered up – your country would move on to other things. Newtown, we want you to know that we're here with you."
Earlier in the day, White House Press Secretary Jay Carney accused the Senate hold-outs of trying to "hide" behind the filibuster.
At the daily press briefing, he also invoked the families of the Newtown shooting victims to pressure the senators into allowing an up-or-down vote.
"Imagine what they would say to the families of the victims of Newtown about why a certain measure never came to a vote, because they filibustered," Carney said.
Eleven family members of the Sandy Hook Elementary School victims are scheduled to fly back to Washington with Obama on Air Force One. They plan to lobby lawmakers Tuesday in support of gun control.
Amid the campaign for public support, two key senators are said to be working behind the scenes on the tricky issue of background checks.
Pennsylvania Republican Sen. Pat Toomey and West Virginia Democratic Sen. Joe Manchin are reportedly in talks for a proposal to expand the checks to gun shows and Internet sales -- but, importantly, exempt some sales between hunters or close relatives.
It's unclear whether such a proposal would be embraced by pro-gun rights conservatives and the National Rifle Association, which so far has opposed the kind of comprehensive firearms legislation pushed by Obama and his allies in Congress.
But the issue of family members and others being subjected to an expanded background check system for sales between them has become an obstacle.
The most controversial element of a gun control package -- a renewed ban on assault-style weapons and high-capacity magazines -- has been dropped from the main bill, though it will still likely get a vote as an amendment.
But the push to expand background checks remains and has emerged as a sticking point, though White House aides and congressional Democrats point to polling that shows public support for universal background checks strong.
Opponents to the expanded checks worry that the new system could be cumbersome for family members and others involved in casual transfers.
Carney declined to comment in any depth on the Toomey-Manchin talks at Monday's briefing.