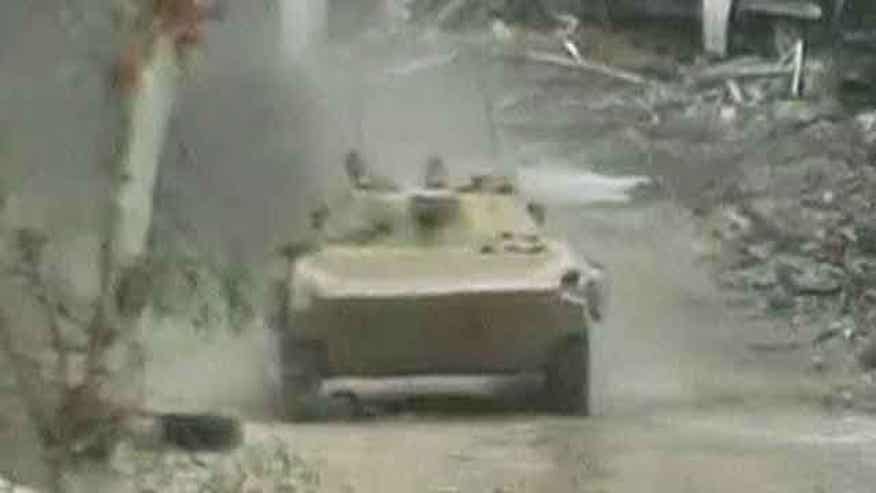 The chairman of the House Intelligence Committee said Sunday that Syria's Assad regime has "absolutely" crossed the so-called "red line" by moving and using at least a small amount of chemical weapons, pressuring the Obama administration to get more involved in the conflict to prevent further bloodshed.
"There is mounting evidence that it is probable that the Assad regime has used at least a small quantity of chemical weapons during the course of this conflict," Rep. Mike Rogers, R-Mich., said Sunday.
The comments come a week after both the Assad regime and opposition forces traded charges of using chemical weapons.
Neither claim has been substantiated by U.N. investigators and President Obama has urged caution in assessing the allegations. U.S. officials said last week there's no evidence at this point that chemical weapons were used, though Obama reiterated during his tour of the Middle East that any use of such weapons would be a "game-changer."
The administration has long considered chemical weapons to be the "red line" which, if crossed, could trigger military intervention.
Rogers did not say for certain whether the weapons were used last week, but said they've likely been employed since the start of the conflict in 2011. Further, he noted that the red line had been defined as both moving and using the weapons.
"I think it is abundantly clear that that red line has been crossed ... absolutely," Rogers said on CBS' "Face the Nation."
"The fact that they have, I think, put chemical weapons in a position to use and I believe have intent and at some course during the last two years have used some quantity of chemical weapons, this needs to be a game-changer."
The congressman told reporters after the Sunday show interview that he thinks there is a "high probability" the weapons were used by the Assad regime.
Rogers said this shouldn't necessarily lead to a "big boots on the ground conflict," but suggested the U.S. send "small groups with special capabilities" to re-engage and train and equip the opposition.
"Indecision in this case is dangerous," Rogers said. "If Assad goes next week, this is mass chaos."
Some U.S. lawmakers have been nudging Obama toward getting more involved in the wake of the chemical weapons reports. Others have urged caution. Officials with the State Department and White House repeatedly stressed this past week that they didn't want to act before knowing all the details about what weapons have been used. Obama has suggested he doesn't want to make Syria and region even more unstable by sending in the U.S. military.
Meanwhile, frustration among the opposition was mounting as the leader of the Western-backed Syrian opposition coalition resigned Sunday, citing what he called the lack of international support for those seeking to topple President Bashar Assad.
The resignation of Mouaz al-Khatib deals a blow to the most credible body seeking to represent the opposition, which remains deeply divided and continues to struggle to present a united front two years into Syria's bloody uprising.
Al-Khatib, a respected preacher who has led the Syrian National Coalition since its creation late last year, said in a statement posted on his Facebook page that he was making good on a vow to quit if certain undefined "red lines" were crossed.
"I am keeping my promise today and announcing my resignation from the National Coalition so that I can work with freedom that is not available inside the official institutions," he said.
He also blamed world powers for providing insufficient support for the rebel cause and complained that many "international and regional parties" insisted on pushing the opposition toward dialogue with the regime. Most opposition leaders and activists say Assad's regime has killed too many people to be part of a solution to the conflict.
The Associated Press contributed to this report.