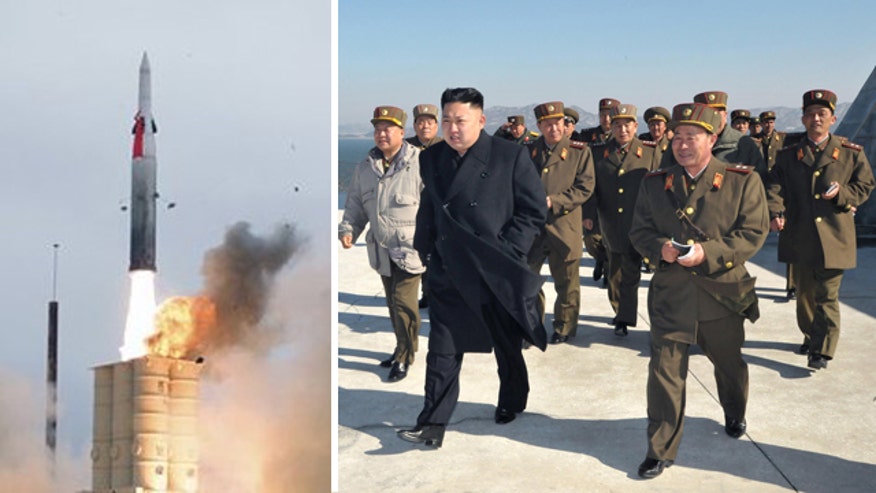 Defense Secretary Chuck Hagel unveiled Friday a $1 billion Pentagon plan to beef up missile defense in response to threats from North Korea, saying part of the plan would be to explore three new sites for ground-based interceptors.
One of the potential sites would be at Alaska's Fort Greely, which already is home to missile silos. The other two potential locations haven't been disclosed but would be somewhere on the East Coast.
Under the plan, first reported Thursday by Fox News, the Pentagon would commit at least 14 additional ground-based interceptors to Fort Greely and send an additional radar system to Japan, with a cost for the project estimated at just under $1 billion. It is expected to be "in place" by 2017.
The announcement follows a recent threat from Pyongyang of a "pre-emptive" nuclear strike on the United States. Officials are signaling that they are taking North Korea's young, new ruler, Kim Jong Un, seriously.
"The young lad ought to be deterred," Joint Chiefs of Staff Vice Chairman Adm. Winnefeld said Friday at the news conference to announce the missile defense plan.
The extra interceptors on the West Coast, designed to counter attacks from an intercontinental ballistic missile, would bring the total number of interceptors to 44, a plan originally proposed by the Bush administration. President Obama stopped the deployment of the additional interceptors when he took office in 2009, leaving the total number at 30.
Congressional sources claim that by stalling the original plan and forcing the military to bring back on line silos that otherwise would have been operational, the Obama administration has effectively wasted millions in taxpayer's dollars.
It's a sentiment that is not likely to sit well with conservative lawmakers when the plan is announced on Monday, particularly as they seek new austerity measures.
A Defense official maintained that costs, though, have not gone up.
"We've said since 2009 that Missile Field 1 (at Fort Greely) was inadequate and money would have to be spent to improve its condition. While that comes at a price, the cost is no greater today than it was in 2009 and in fact the cost-per-missile has come down while the technology has improved. We made the prudent choice then and now," the official said.
An Obama administration official also tells Fox News that the increase in interceptors is a logical response to an evolving threat from North Korea and that "anyone who suggests we should have stayed the course" with the Bush administration's plan is engaging in "Monday morning quarterbacking."
This official says the North Korean threat is much different from what it was in 2009. Along with the continued testing of nuclear weapons and longer-range delivery systems, the North Koreans have advanced their mobile missile capability, even within the last six to eight months.
"What we were defending against (from North Korea) four years ago was a single rogue missile, now with the mobile missile developing you have got to be able to counter multiple missile threats … so you have to expand your capability."
"Sec. Hagel's announcement is a step in the right direction but does not go far enough to address the threat from Iran which, according to the Department of Defense, could test an Intercontinental ballistic missile as early as 2015," Sen. Jim Inhofe, R-Okla., said in a statement.
Whether intentional or not, the announcement also coincides with 30th anniversary of President Ronald Reagan's Strategic Defense Initiative speech. The nation's first ground-based interceptors were set up in 2002 under President George W. Bush.
"The U.S. should not stand for North Korea's threats and I'm pleased that Sec. Hagel has made it one his first orders of business since his nomination to strengthen our GMD systems in Alaska," Sen. Mark Begich, D-Alaska, said. "Developing these additional interceptors will send a strong message that Alaska will not stand idly by and instead will give the outstanding members of the 49th Missile Battalion at Fort Greely the resources they need defend us."
Fox News' Justin Fishel contributed to this report.