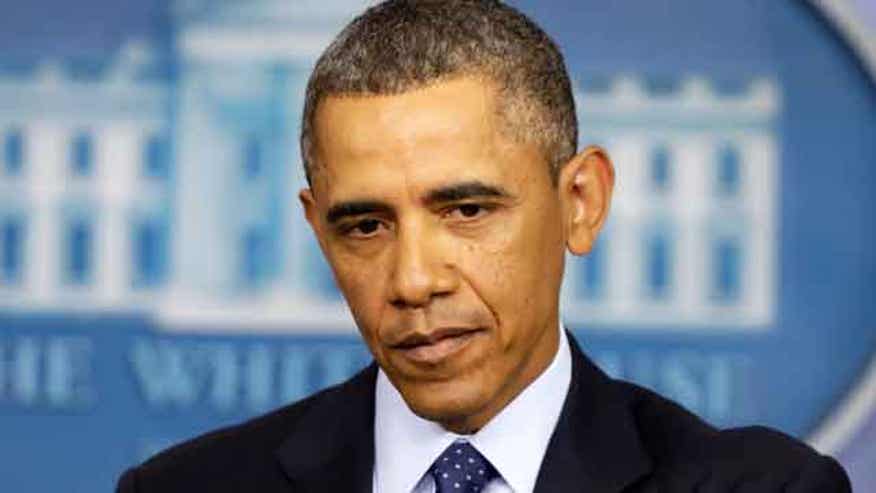 The automatic spending cuts that kicked in over the weekend effectively added another administrative headache for a White House and Congress that have struggled with even the most perfunctory tasks.
At a certain point, something's got to give.
The day-in, day-out debate and speechifying and crisis management are getting to a point where they could overshadow the other planks of President Obama's second-term agenda -- for now, anyway.
"He has a very ambitious agenda with both the sequester and his separate policy priorities, and there is a bandwidth issue at the end of the day," said John Ullyot, a longtime senior Senate aide and Republican strategist.
For starters, agencies must now figure out how to trim their fiscal waistlines, while the president tries anew to negotiate a more "balanced" deal out of Congress -- all while trying to avert a government shutdown and secure another debt-ceiling increase.
Still, all the items from the president's campaign and State of the Union address supposedly remain on the docket: immigration reform, gun control, policies to curb climate change, an increase in the minimum wage and expanded access to preschool.
Over the weekend, President Obama stressed his commitment to pursuing all those items. White House Press Secretary Jay Carney reiterated that message Monday from the briefing room.
But while administration officials have insisted that Washington can walk and chew gum, the president's first term stands as a cautionary tale. The president devoted his political capital and time to passing the health care overhaul, while other legislative items were pushed off.
Obama has revived some -- immigration reform -- and introduced others -- gun control -- at the start of his second term. But politics and a crowded agenda could already be tainting the Washington waters.
Rep. Steve Israel, chairman of the Democratic Congressional Campaign Committee, was quoted over the weekend saying: "The president understands that, to get anything done, he needs a Democratic majority in the House of Representatives."
The comment appeared to write off the next two years.
Ullyot said that perhaps Obama's biggest challenge for his second-term agenda will indeed be the 2014 elections, and convincing moderate Democrats to bend on hot-button issues like gun legislation.
But in terms of time management, Ullyot said Obama may soon realize that pursuing a "balanced" package of tax revenues and spending cuts to replace the $85 billion in sequester cuts may not be worth his time.
"In the end, the president may back off on spending a lot of time on replacing the sequester" so he can press the other issues, he said.
Rep. Luis Gutierrez, D-Ill., a vocal advocate for immigration reform, voiced confidence Monday that the administration and Congress could handle the busy agenda.
"The spirit of bipartisan cooperation that is keeping the immigration issue moving forward has not been poisoned by the sequester and budget stalemate, so far," he said in a statement. "The two sets of issues seem to exist in parallel universes where I can disagree with my Republican colleagues strenuously on budget matters, but still work with them effectively to eventually reach an immigration compromise. ... I remain extremely optimistic that immigration reform is going to happen this year."
Immigration reform efforts are still marching along despite the budget drama. Obama met last week on the issue with Sens. John McCain, R-Ariz., and Lindsey Graham, R-S.C., who both are part of a bipartisan group crafting legislation.
However, work on gun control before the Senate Judiciary Committee last week was postponed.
Carney on Monday voiced optimism that the president could pass new legislation even with a divided Congress.
Obama, at the first Cabinet meeting of his second-term, said Monday that his administration would try to manage the sequester's impact "the best we can."
The president said Friday: "We can't let political gridlock around the budget stand in the way of other areas where we can make progress." The president said that, "even with the sequester unresolved," Washington could make progress elsewhere.
"I'm going to keep pushing for high-quality preschool for every family that wants it. I'm going to keep pushing to make sure that we raise the minimum wage so that it's one that families can live on. I'm going to keep on pushing for immigration reform, and reform our voting system, and improvements on our transportation sector. And I'm going to keep pushing for sensible gun reforms because I still think they deserve a vote," he said.
He reiterated the message in his Saturday radio address.