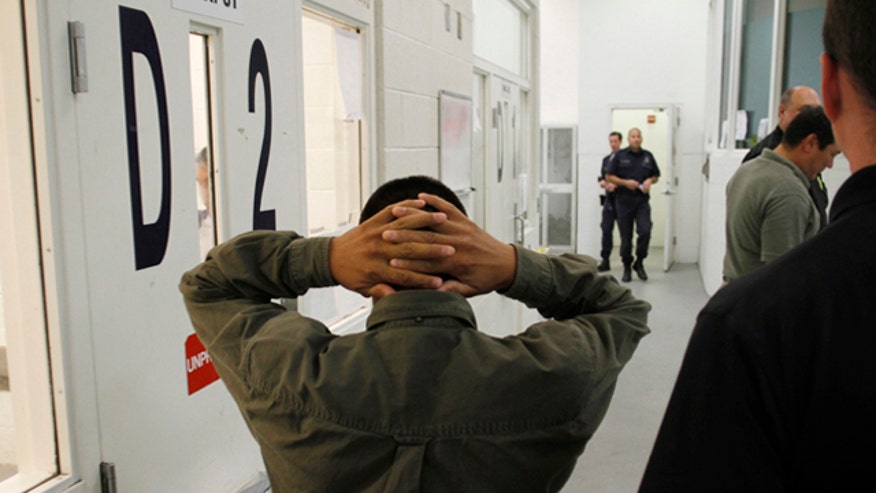 The chairman of the House Homeland Security Committee pressed immigration enforcement chief John Morton Wednesday for more details about the release of illegal immigrants in the Southwest, claiming the move reflects a "weak stance on national security."
Rep. Michael McCaul, R-Texas, fired off a letter to the Immigration and Customs Enforcement director after ICE disclosed that it had started to release hundreds of illegal immigrants. ICE blamed looming budget cuts for the decision.
McCaul, though, said "this decision reflects the lack of resource prioritization within the Department of Homeland Security" and ICE.
He gave Morton until March 6 to provide a breakdown of how many people have been identified for release, where they will be released from and other details. He also said he was "concerned" that the move was taken without notifying "the appropriate congressional oversight committees."
Pressed Wednesday about the move, White House Press Secretary Jay Carney said the decision was made by officials at ICE in order to stay within their budget.
"This was a decision made by career officials at ICE ... without any input from the White House," he said.
Later in the day, the Associated Press reported that the official in charge of ICE removal operations Gary Mead had told coworkers he's leaving the agency. But ICE denied that the decision had anything to do with the controversy over the release of illegal immigrants. ICE spokeswoman Gillian Christensen said Mead announced his retirement to senior leadership "several weeks ago."
"As planned, and as shared with ICE staff weeks ago, Mr. Mead will retire at the end of April," she said.
A number of lawmakers have claimed the administration is taking steps -- like releasing illegal immigrants -- in order to "scare" the public about the impact of the sequester, set to hit Friday.
Administration officials deny this, and say they're doing what they can with soon-to-be-limited resources.
ICE stressed that those illegal immigrants being released are low-priority, and will be monitored.
They say 303 have been released from four Arizona facilities so far. According to ICE, 2,280 detainees are still in custody in those facilities.
"Over the last week, ICE has reviewed several hundred cases and placed these individuals on methods of supervision less costly than detention," an ICE spokeswoman said. "All of these individuals remain in removal proceedings. Priority for detention remains on serious criminal offenders and other individuals who pose a significant threat to public safety."
The move, though, drew condemnation from some officials in the region.
Pinal County Sheriff Paul Babeu on Tuesday described the move as a "mass budget pardon" and suggested the administration was going to unnecessary lengths to demonstrate the impact of the sequester.
"The safety of the public is threatened and the rule of law discarded as a political tactic in this sequester battle," he said in a statement.