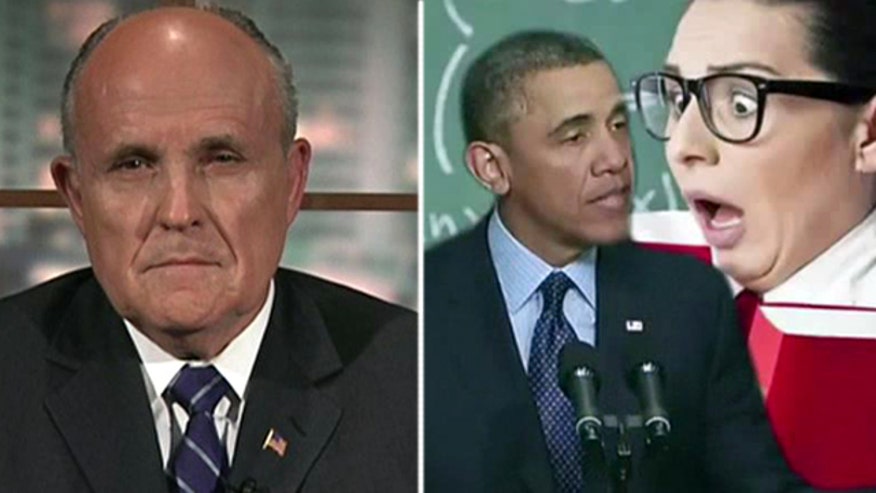 The Obama administration on Friday ramped up its campaign to paint an ominous portrait of what would happen if automatic spending cuts take effect March 1, with Transportation Secretary Ray LaHood warning that air traffic control towers would be shut down as part of a host of travel-disrupting FAA cuts.
After a week marked by intense partisan bickering, LaHood again put the pressure on Republicans to find a way out of the impasse -- even going so far as to compare President Obama to Abraham Lincoln.
"Go see the movie 'Lincoln'," LaHood said, in a message to congressional Republicans. He said Lincoln brought people together in "the way I believe President Obama is doing."
The mood in Washington, though, is hardly one of consensus. And Republicans -- who would surely dispute the comparison -- have blasted Obama for his leadership on the issue, effectively saying he's putting on a show to pin blame on the GOP.
"Trying to drive up Republicans' negative poll numbers by posing with first responders and the men and women of America's Armed Forces while making vague calls for higher taxes won't solve the problem," Michael Steel, spokesman for House Speaker John Boehner, said in an email.
Political groups on both sides are also weighing in. The conservative Crossroads GPS put out a web video Friday airing Obama's dire warnings alongside news broadcasts reminding viewers that the idea for the so-called sequester came from the White House. "The sequester is Obama's mess. Let him clean it up," the video says.
The situation in Washington continues to be stalemate. Obama on Thursday called Boehner and Senate Republican leader Mitch McConnell about the looming spending cuts set to kick in on March 1. Neither side reported progress, however, and aides taunted each other with Twitter messages.
LaHood was just the latest Obama Cabinet official to publicly warn about the impact of sequester on his department. He, like other administration officials, claim the Executive Branch does not have much leeway to lessen the impact despite claims to the contrary.
With the Federal Aviation Administration composing the bulk of that department, he said the "vast majority" of the 47,000 employees there would be furloughed at least one day per pay period, resulting in delays at major airports of up to 90 minutes "during peak hours."
Further, he said FAA would look at closing more than 100 air traffic control towers at smaller airports -- in Florida, South Carolina, Missouri and elsewhere.
"These are harmful cuts with real-world consequences that'll cost jobs and hurt our economy," he said. Appealing to Congress, he also warned that angry travelers would soon be flooding their phone lines.
"Your phones are going to start ringing off the hooks," he said.
While the White House is pinning blame on House Republicans for the impasse, Obama has in recent weeks sidestepped Congress, mounting a public campaign to cast the March 1 cuts as damaging to national security and to other government services.
It has not worked so far.
The spending cuts were originally set in motion from the August 2011 debt-ceiling deal. It imposed Draconian spending cuts -- half of which would hit the military -- unless Congress found a bipartisan way to cut the deficit by as much or more. Congress failed to do so. Lawmakers delayed the cuts by two months at the beginning of the year, but Republicans have been reluctant to kick the can down the road once again.
Obama and Senate Democrats want to ultimately replace these cuts with a blend of cuts and tax revenue through closing loopholes. But Republicans say they already agreed to tax hikes as part of the fiscal-crisis deal and want to only replace the cuts with other cuts.
Despite Obama's call to the two Republican leaders, in public statements he continued to anger Republicans by needling them as protectors of the rich.
"My sense is that their basic view is that nothing is important enough to raise taxes on wealthy individuals or corporations and they would prefer to see these kinds of cuts that could slow down our recovery over closing tax loopholes," Obama told Al Sharpton on Thursday. "That's the thing that binds their party together at this point."
Brendan Buck, Boehner's aide, said in a statement: "The American people expect more of their president than petty cheap shots. We can have serious disagreements about how best to create jobs without asserting nefarious motives."
The Associated Press contributed to this report.