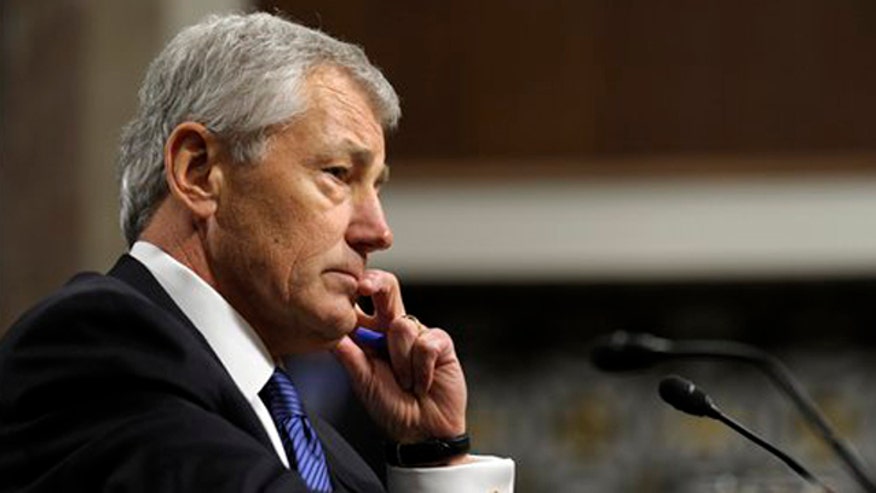 At least 15 Republican senators called on President Obama Thursday to withdraw his nomination of Chuck Hagel for Defense secretary, citing the historic controversy surrounding the nominee.
Hagel was blocked last week from an up-or-down vote in the Senate, in an unprecedented move against a candidate to lead the Pentagon. Lawmakers held up the nomination over lingering questions on the Benghazi terror attack but also concerns about Hagel's record of controversial statements and positions on a range of Middle East issues.
Lawmakers are expected to vote again on Hagel when they return to Washington next week, with some of Hagel's critics indicating they will allow an up-or-down vote.
But the 15 Republican lawmakers said it would be unwise at this point to proceed with a nomination so controversial, for a job so critical.
"It would be unprecedented for a Secretary of Defense to take office without the broad base of bipartisan support and confidence needed to serve effectively in this critical position," they wrote. "Over the last half-century, no Secretary of Defense has been confirmed and taken office with more than three Senators voting against him.
"Further, in the history of this position, none has ever been confirmed with more than 11 opposing votes. The occupant of this critical office should be someone whose candidacy is neither controversial nor divisive," they wrote.
Sen. John Cornyn, the No. 2 Republican in the Senate, took the lead on the letter.
Still, another senior Republican senator said Thursday that he plans to vote in favor of Hagel.
Sen. Richard Shelby told a newspaper that while he has concerns about Hagel, he plans to support his fellow Republican and the former two-term senator from Nebraska.
"He's probably as good as we're going to get," Shelby said.
Jonathan Graffeo, a spokesman for Shelby, said Thursday that barring any unforeseen surprises between now and an expected Senate vote on Tuesday, the 30-year senator will back Hagel.
Obama's choice to succeed Defense Secretary Leon Panetta has faced strong Republican opposition, and last week the Republicans succeeded in an unprecedented delaying tactic for a nominee for Pentagon chief. Shelby joined most of his Republicans colleagues in voting against moving ahead on the Hagel nomination.
With another vote slated for next week, Shelby now stands with two other Republicans who have indicated their support for Hagel -- Thad Cochran and Mike Johanns. The Republican support -- combined with 55 Democratic votes and two other Republicans opposed to delaying tactics -- would give the nomination the requisite 60 votes out of 100 necessary to move ahead.
Republicans have criticized Hagel for his past statements and votes, contending that he hasn't been sufficiently supportive of Israel and has been too tolerant of Iran. They also have challenged his support for reducing the nation's nuclear arsenal and his opposition to the Iraq war after his initial vote for the conflict.
His nomination also has become entangled in Republican demands for more information from the Obama administration about the deadly assault on the U.S. diplomatic mission in Benghazi, Libya, last September that killed Ambassador Chris Stevens and three other Americans.
The Associated Press contributed to this report.