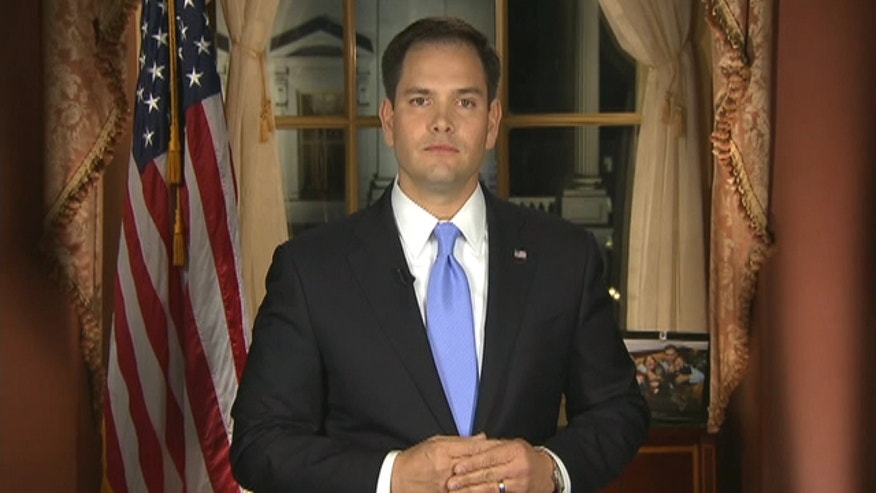 Pro-immigrant groups across the country praised President Barack Obama's call during his State of the Union address for bipartisan legislation on comprehensive immigration reform in the next few months.
The optimism of these groups stems not just from Obama but from legislation that eight Republican and Democratic senators will draft next month.
"The president's comments are in line with the strong framework recently announced by a bipartisan group of senators, which should serve as the starting point for the imminent immigration reform debate in Congress," said Ali Noorani, Executive Director of the National Immigration Forum in a statement.
"Across the board, American voters strongly support earned citizenship and are uncomfortable with the idea of creating permanent second-class residents for whom the American dream is always just beyond reach."
The bipartisan group of senators — which includes Republican Marco Rubio of Florida and New Jersey Democrat Robert Menendez — have reached a tentative deal on a systematic overhaul of the country's immigration system, which covers border security, guest workers, employer verification and a path to citizenship for the estimated 11 million undocumented immigrants already in this country.
Sen. Rubio clearly knows that the U.S. is thirsty for immigration reform.

- Ali Noorani, Executive Director of the National Immigration Forum
Although thorny details remain to be negotiated and success is far from certain, the development heralds the start of what could be the most significant effort in years toward overhauling the nation's inefficient patchwork of immigration laws. That push was enhanced by Obama's State of the Union speech.
"It was good to hear that the president has made comprehensive immigration reform a top priority in his administration and that he wants it to be a bipartisan effort," said Max Sevillia, the director of policy at the National Association of Latino Elected and Appointed Officials (NALEO).
Some groups, however, argued that Obama's speech tried to fool the American public by lumping immigration reform in with reducing unemployment.
"Far from fixing the problem, the sort of amnesty President Obama proposes would only compound it," said Dan Stein, the president of the Federation for American Immigration Reform (FAIR). "Amnestied illegal aliens would be made eligible to compete for virtually every job in America, and over time, these largely low-skilled, poorly educated workers and their families would become eligible for every means-tested entitlement program available."
In a speech centered squarely on jump-starting the economy, Obama sought support from Republicans by asserting that his proposals would not increase the deficit "by a single dime." But with unemployment persistently high and consumer confidence falling, he pressed a case for a significant government role in rekindling economic growth.
"The American people don't expect government to solve every problem; they don't expect those of us in this chamber to agree on every issue," President Obama said. "But they do expect us to put the nation's interests before party. They do expect us to forge reasonable compromise where we can."
Rubio's Republican rebuttal – which drew most attention for his mid-speech water break – was received in much the same way as Obama's by the immigrant groups.
Rubio, who delivered the response in both English and Spanish, echoed Obama's call that immigration reform could help attract highly educated immigrants who could help the U.S. economy grow.
"We need a responsible, permanent solution to the problem of those who are here illegally," Rubio said in a speech which pundits said he looked nervous and overwhelmed. "But first, we must follow through on the broken promises of the past to secure our borders and enforce our laws."
FAIR argued that Rubio's speech was once more a push by the Republican party to attract Latino voters, a minority group that heavily supported Obama in last November's presidential election. A Latino Decisions poll taken after the election indicated that nationwide and in battleground states Obama won Latino voter support over Romney by historic margins – 72 percent to 23 percent nationwide.
"Rubio clearly targeted Latinos with the message that the Republican Party has a lot to offer them," Bob Dane, a spokesperson for FAIR told Fox News Latino. "Politics should not play into our immigration policy."
Pro-immigrant groups, however, said that it was refreshing to see both the President and Rubio present similar plans in terms of immigration reform – which include both plans to strengthen the border while providing a path to citizenship
"Sen. Rubio clearly knows that the U.S. is thirsty for immigration reform," Noorani of the National Immigration Forum told Fox News Latino. "It was good to see that Obama spoke to both the Democrats and Republicans when addressing immigration and Rubio did the same thing."
Follow Andrew O'Reilly on Twitter @aoreilly84.
Follow us on twitter.com/foxnewslatino
Like us at facebook.com/foxnewslatino