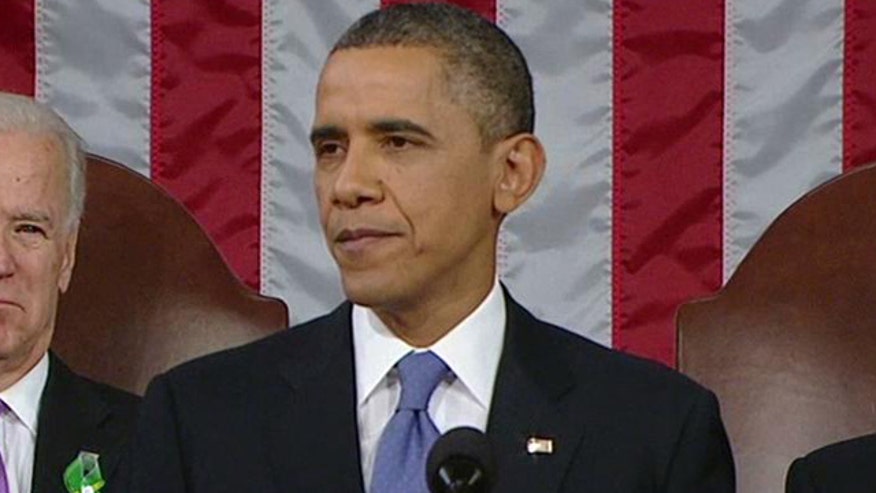 President Obama on Tuesday night proposed increasing the federal minimum wage to $9 an hour – a plan which he claimed would boost annual salaries enough to take millions of Americans out of poverty but was met with opposition from some Republicans and pro-business groups.
The president, during his fifth State of the Union address, proposed increasing the hourly rate from $7.25. He said those workers currently have an annual salary of $14,500.
"Even with the tax relief we've put in place, a family with two kids that earns the minimum wage still lives below the poverty line," Obama said. "That's wrong."
However, House Majority Whip Kevin McCarthy said Obama's plan would not have the desired effect of getting Americans off government support and improving the economy.
The California Republican said increasing the wage would instead put more strain on small business, a huge job creator in the U.S. economy that has struggled now for years.
"I don't think it's going to (get votes) on either side of the aisle," McCarthy said. "It'll take away from the economy."
Obama's plan, on which he said 2012 Republican challenger Mitt Romney agreed, ties the minimum wage to the cost of living.
Though the plan would likely help millions of working families, opposition from small business was expected even before Obama delivered his speech.
The Washington-based Employment Policies Institute said research "overwhelmingly" shows increasing the wage hurts job growth.
Furthermore, after increasing the rate by 24 percent, linking it to the cost of living would "put future wage hikes on auto pilot," the group argued.
"The president is entitled to his opinion but the facts are indisputable: Minimum wage hikes lead to job losses," Michael Saltsman, the group's research director, said after the speech. "This proposal will only harm the people the president wants to help -- especially teens who have already endured more than four years of 20-plus percent unemployment."