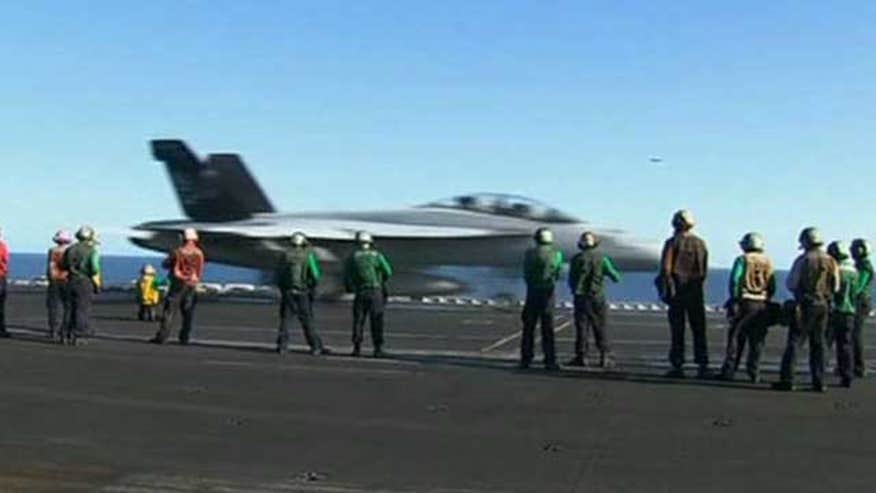 The U.S. military is planning to shrink its aircraft carrier presence in the Persian Gulf from two to one due to looming budget constraints -- in a dramatic signal from the Pentagon about the real-world impact of automatic budget cuts that still have not been averted.
U.S. military officials confirmed Wednesday that the Navy would reduce its presence. The decision will go into effect immediately.
"Facing budget uncertainty ... the U.S. Navy made this request to (Defense Secretary Leon Panetta) and he approved," Pentagon spokesman George Little said in a statement. "This prudent decision enables the U.S. Navy to maintain these ships to deploy on short notice in the event they are needed to respond to national security contingencies."
Under the plan, the deployment of the USS Harry S. Truman -- which was scheduled to leave Friday from Norfolk, Va. -- has been cancelled.
There have been two aircraft carrier groups in the Gulf for most of the last two years. The USS Dwight D. Eisenhower was in the Gulf but was brought home in December for maintenance. It will return later this month, at which point the USS John C. Stennis -- currently the only carrier in the Gulf -- will leave the region and return home.
Officials say that in the event Congress cannot avert $500 billion in defense cuts over the next 10 years, the Navy can't justify the cost of two carriers in that region.
The Navy could, however, be "surge-ready" one official said, and deploy more carriers in a crisis situation. It would take an aircraft carrier about two weeks to get to the Gulf from Norfolk, if needed.
The Navy has 10 aircraft carriers in its fleet and, as of today, only three were forward-deployed at any given time. Two were in the Persian Gulf and one permanently stationed in Japan. Now the Navy will only have two forward-deployed carriers.
Typically, carriers spend six months at sea, but in an already budget-constrained atmosphere, their deployments have lasted closer to nine months.
A Navy official says the Pentagon would save "several hundred million dollars per year" by reducing to one carrier in the Gulf.
The move by the Pentagon comes as lawmakers argue over how, if at all, to avoid a March 1 deadline -- after which automatic cuts to the Pentagon and other areas of the budget will begin to take effect. President Obama called Tuesday for a short-term bill to avert the cuts, but Republicans blasted that approach as irresponsible.
A group of Republican lawmakers on Wednesday proposed a bill to cut the federal workforce and use the savings to replace $85 billion in across-the-board budget cuts to the Pentagon and domestic programs.
Meanwhile, Panetta laid out a grim list of spending cuts the Pentagon may have to make in the coming weeks.
He said that if Congress doesn't pass a budget the Pentagon will have to absorb $46 billion in spending reductions in this fiscal year and will face a $35 billion shortfall in operating expenses.
"My fear is that there is a dangerous and callous attitude that is developing among some Republicans and some Democrats, that these dangerous cuts can be allowed to take place in order to blame the other party for the consequences," Panetta said in a speech at Georgetown University. "This is a kind of `so what?' attitude that says, `Let's see how bad it can get in order to have the other party blink'."
In separate, highly detailed memos sent to Congress, the military services described widespread civilian furloughs, layoffs and hiring freezes that will hit workers all around the country. Overall, the military will furlough 800,000 civilian workers for 22 days, spread across more than five months, and will lay off as many as 46,000 temporary and contract employees.
The Navy says it will cease deployments to South America and the Caribbean and limit those to Europe.
The Air Force warned that it would cut operations at various missile defense radar sites from 24 hours to eight hours. And the Army said it would cancel training center rotations for four brigades and cancel repairs for thousands of vehicles, radios and weapons.
In addition to all of the more immediate cuts, U.S. troops are also likely to see a smaller pay hike next year than initially planned, due to strains on the budget. According to a defense official, the Pentagon will recommend that the military get a 1 percent pay increase in 2014, instead of a 1.7 percent raise.
The Georgetown appearance was likely one of Panetta's last speeches. He is set to leave the Pentagon this month. Former Republican senator Chuck Hagel has been nominated to take his place and a vote by the Senate Armed Services Committee is expected this week.
Fox News' Justin Fishel and The Associated Press contributed to this report.