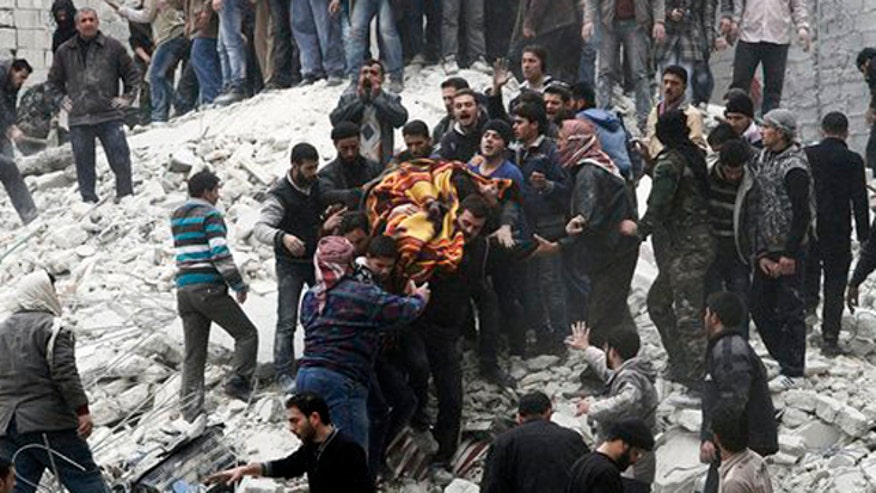 Nearly 800,000 Syrian citizens -- the vast majority of them women and children -- have fled the bloody two-year civil war there, State Department officials said Wednesday. More than a third of that total, the officials added, left the country within the last five weeks.
Anne C. Richard, assistant secretary of State for population, refugees, and migration, and Nancy Lindborg, USAID's assistant administrator for democracy, conflict, and humanitarian assistance, recently returned from a fact-finding trip to Turkey, Jordan and Kuwait -- three of the countries that have absorbed the greatest numbers of refugees. They recounted "emotionally raw" scenes of children huddling in frigid temperatures at night, and parents desperately searching for missing children whose images are emblazoned on cell phone screens.
The United States has provided $365 million to assist the refugees, a figure that includes the additional $155 million that President Obama recently announced.
Richard and Lindborg described some of the ways the money has been used: Working through UNICEF, for example, American taxpayer funds enabled chlorine testing at five municipal water facilities in Syria, and thereby provided clean drinking water to an estimated 10 million people over the next three months. U.S. funding also made it possible for aid workers to distribute flour to 50 bakeries in the devastated Aleppo region, ensuring 210,000 people will receive daily bread for five months.
While the officials acknowledged a "change in approach" toward humanitarian assistance by the Assad regime in recent weeks -- case in point: allowing a convoy by UNHCR, the United Nations' refugee agency, to travel to the Syrian northlands, even crossing battle lines, to deliver some 12,000 blankets -- the American officials adamantly denied that their efforts are in any sense helping to prop up the government.
"Nothing's going to the Assad regime," Richard declared flatly.
Of the 763,000 Syrians who have fled the country, the State Department said, some 256,000 have entered Lebanon; another 240,000 have left for Jordan; an estimated 171,000 have crossed the border into Turkey; and 83,000 are now believed to be in Iraq. Smaller numbers are reported in Egypt.
Slightly less than 80 percent of the total number of refugees are women and children, and 67 percent of the total, officials said, are living outside designated refugee camps. Another 2.5 million citizens are classified as "internally displaced persons," meaning they have been driven from their homes but remain inside Syria. Of the last figure, particularly, U.S. officials said they are somewhat "skeptical," due to the chaos prevailing in the country, but added that it is the best figure available, since it comes from reliable international agencies.
The United Nations has some 4,000 staff members inside Syria, working for nearly a dozen different U.N. agencies.
James Rosen joined Fox News Channel (FNC) in 1999. He currently serves as the chief Washington correspondent and hosts the online show "The Foxhole." His latest book is "A Torch Kept Lit: Great Lives of the Twentieth Century" (Crown Forum, October 4, 2016).