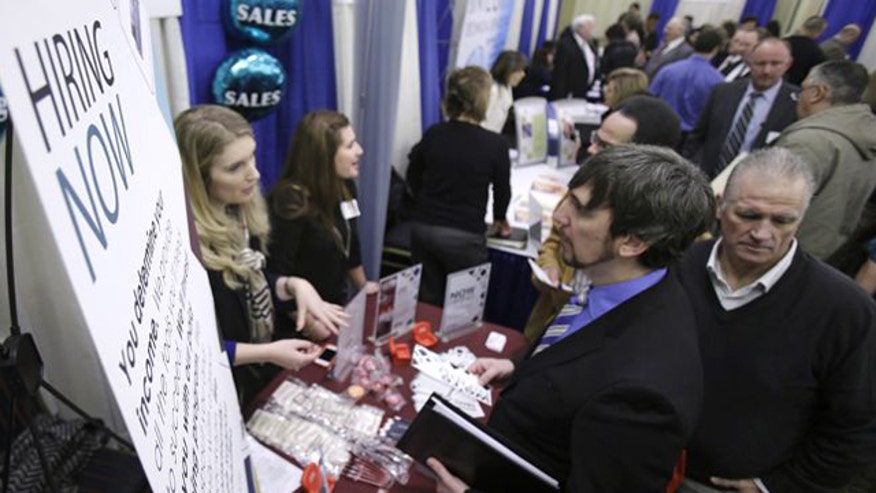 The U.S. economy continued to send out mixed signals Friday, with the Labor Department reporting that the unemployment rate rose last month to 7.9 percent even as hiring was stronger over the past two years than previously thought.
The rate increase was modest, up from 7.8 percent in December. But it reflected the ongoing fragility of the recovery. A Commerce Department report earlier this week showed the economy unexpectedly shrank in the fourth quarter of last year, for the first time since 2009. Another report Thursday showed applications for jobless benefits rose sharply over the last week.
This comes as President Obama's jobs council expired Thursday after meeting just a few times over two years. The White House pledged to begin a "new, expanded effort to work with the business community and other outside groups to advance specific policy priorities promoted by the jobs council."
But House Speaker John Boehner said the latest numbers show "this is the wrong time for President Obama to scrap his jobs council."
"Month after month we see the same thing: high unemployment and even more debt. More than 12 million Americans are still unemployed, and it's been that way for far too long," he said in a statement.
The monthly numbers released Friday showed that U.S. employers added 157,000 jobs in January.
One notable change in the job market is the stronger contribution from construction firms. They added 28,000 jobs in January and nearly 100,000 in the past four months. The gains are consistent with a rebound in home construction and a broader recovery in housing.
Last month's hiring should cushion the impact of the higher Social Security taxes that most consumers are paying this year.
Friday's report also showed employers added an average of roughly 180,000 jobs per month in 2012 and 2011, up from previous estimates of about 150,000. And hiring was stronger at the end of last year, averaging 200,000 new jobs in the final three months.
Still, taken together this week's statistics show an economy struggling to move forward.
The Commerce Department report earlier this week showed the economy shrank in the fourth quarter at an annual rate of .1 percent.
Analysts generally think those factors will prove temporary and that the economy will resume growing.
Still, the contraction last quarter points to what are likely to be key challenges for the economy this year: the prospect of sharp government spending cuts.
Most analysts predict that the economy will grow again in the January-March quarter, though likely at a lackluster annual rate of around 1 percent.
They expect the economy to expand about 2 percent for the full year.
Two key drivers of growth improved last quarter: Consumer spending increased at a faster pace. And businesses invested more in equipment and software.
In addition, homebuilders are stepping up construction to meet rising demand. That could generate even more construction jobs.
And home prices are rising steadily. That tends to make Americans feel wealthier and more likely to spend. Housing could add as much as 1 percentage point to economic growth this year, some economists estimate.
Auto sales reached their highest level in five years in 2012 and are expected to keep growing this year. That's boosting production and hiring at U.S. automakers and their suppliers.
The Associated Press contributed to this report.