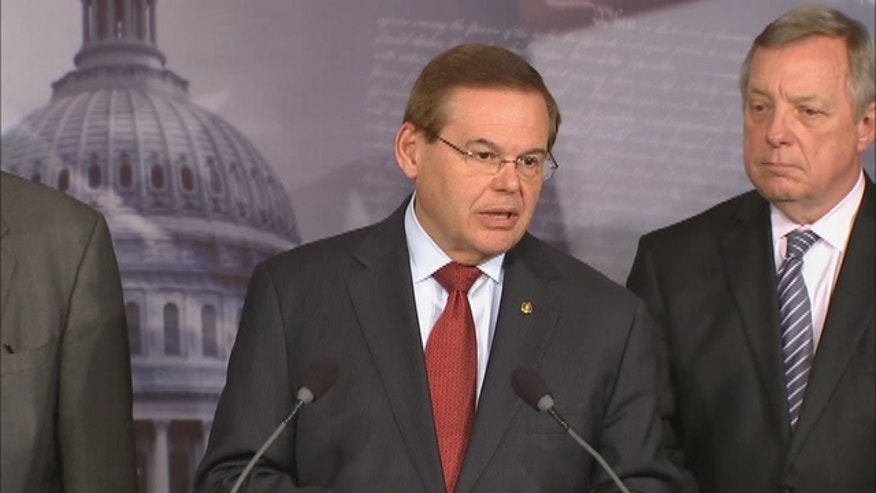 WASHINGTON – Senator Robert Menendez of New Jersey – set to take the helm Friday as chairman of the Senate Foreign Relations Committee – is coming under increasing scrutiny over his efforts on behalf of a prominent political donor.
Menendez, a Democrat, used his position as the chairman of the Senate Foreign Relations Subcommittee on the Western Hemisphere, to urge officials in the State and Commerce Departments to advocate for a lucrative port security contract in favor of his friend, Dr. Salomon Melgen, according to a report in The Miami Herald.
Menendez has denied inappropriately lobbying for the half-a-billion dollar contract on behalf of one of his friend, a South Florida doctor whose office on Tuesday was raided by the FBI.
Dr. Melgen, who co-founded Voxxi, an Enlish-language site the targets Latinos, is the owner of ICSSI, a firm looking to enforce a contract it had won to X-ray Dominican Republic port cargo that could be worth $500 million, or $1 billion over two decades, according to the Miami Herald.
In the July 31 hearing, Menendez said he felt U.S. businesses were being unfairly treated by the government of the Dominican Republic and other Latin American countries.
Menendez never mentioned ICSSI specifically but did say, "You have another company that has American investors that ... has a contract actually given to it, ratified by the Dominican Congress, to do X-ray of all of the cargo that goes through the ports," Menendez, said. "And they don't want to live by that contract either."
Menendez's office has said that advocating for U.S. business abroad is normal business, especially on the Foreign Relations Committee that Menendez will chair.
This New Jersey senator's relationship with Dr. Melgen has come under scrutiny this week.
On Wednesday, Menendez's office acknowledged that he traveled three times on a plane owned by a Melgen and said the trips were paid for and reported appropriately. At the same time, Menendez's office said unsubstantiated allegations the senator engaged in sex with prostitutes in the Dominican Republic were false.
The FBI searched the West Palm Beach, Fla., office of Melgen Tuesday night and early Wednesday, but it was unclear if the raid was related to Menendez.
Records filed in Palm Beach County show an Internal Revenue Service lien against Melgen of more than $11.1 million for unpaid taxes from 2006 through 2009. Prior liens for taxes from 1998 to 2002 were subsequently withdrawn, records show.
Melgen is involved in numerous businesses, all sharing the same address in West Palm Beach, according to records filed with the Department of State in Florida.
Melgen is a native of the Dominican Republic, where he earned his medical degree in 1978. He has lived in the U.S. since at least 1980, holding an internship, residency and fellowship at hospitals in Connecticut, Missouri and Massachusetts, according to records filed with the Florida Department of Health.
Melgen has been licensed to practice in Florida since 1986 and purchased the West Palm Beach plot of land where he built his main office in 1991. Over the years, Melgen has become regarded as a top ophthalmologist, speaking at conferences and even operating on then-Gov. Lawton Chiles in 1997. The governor later appointed Melgen to a state panel on HMOs.
The Associated Press contributed to this report.