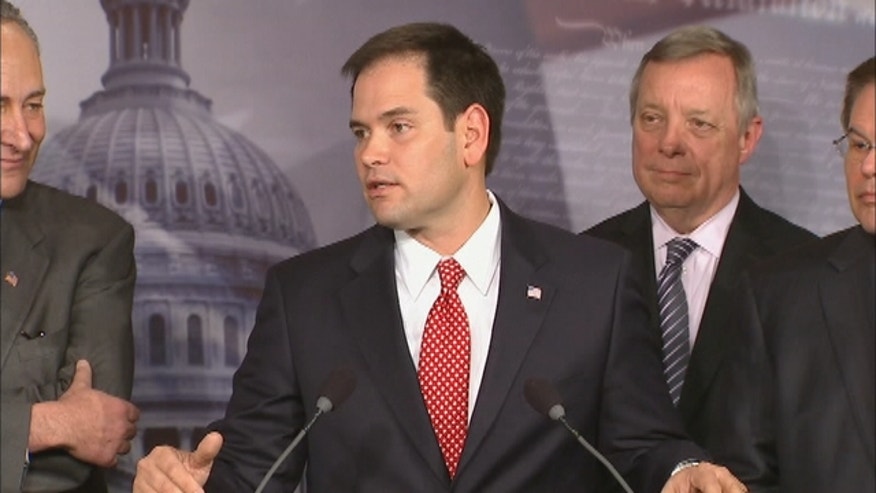 Senator Robert Menendez (D-NJ) said that reforming the U.S. immigration system to provide a path to legalization for undocumented immigrants is crucial to national security and keeping the economy strong.
At a Washington D.C. press conference Monday afternoon, Menendez joined a bipartisan group of senators – including his Cuban-American colleague, Republican Marco Rubio (R-FL) – who announced a proposal for comprehensive immigration reform that would not only tighten enforcement but also give many of the estimated 11 million undocumented immigrants in the U.S. a chance to legalize their status.
In an interview with Fox News Latino following the press conference, Menendez said he expects a bill to be ready by March, and hearings to take place in the Senate in the spring, with "floor action" by May or June. A bipartisan group in the House of Representatives also is working on a similar proposal that is farther along than the Senate plan, say some who are close to negotiations.
"If I want to secure the nation, I cannot secure the nation unless I know who is here to pursue the American Dream vs. who might be here to do it harm," Menendez said during the press conference. "If I have millions of people in the shadows, I don't know what their ultimate purpose is here."
Menendez said reforming the system is crucial to the economy, because many industries depend on immigrant labor. He said that anyone who consumed fruits, vegetables or chicken on Monday, for example, should consider that an immigrant worker most likely handled them somewhere along the way. And anyone staying in a hotel or motel, he said, very likely had their room cleaned by an immigrant.
"Even in a very tight economy, there are all types of industries in our country which have used the work of immigrants every day to achieve the common goals of those industries," Menendez said.
Rubio, from Florida, said that the reform proposal reflects what most Americans want in the nation's immigration system.
"Modernize the legal immigration system so that it reflects the reality and the need of the 21st century," Rubio said.
He said it had to be recognized that "there are 11 million human beings in this country today that are undocumented" and came "in pursuit of the American Dream."
He said that he, the son of immigrants, has lived the immigrant story and knows the value of immigration.
"By the same token, I see the negative that illegal immigration has been for our country and the problems that it causes."
Both Rubio and Menendez repeated their statements in Spanish.
President Barack Obama plans to unveil his own immigration reform plan on Tuesday at an event in Las Vegas.
"I'm not sure whether he'll announce principles or legislation, but I would venture to say it will reflect the principles of the Congressional Hispanic Caucus and the outlines of our principles," Menendez said.
Latinos turned out in record numbers to vote in the presidential election in November – with 7 out of 10 voting for Obama.
Their overwhelming support for the president has been attributed in part to the harsh rhetoric on immigration by many Republicans, especially during the GOP primaries last year.
Proponents of more lenient immigration policies say that the nation must recognize that the 11 million undocumented immigrants are not going to be deported or leave on their own. They say most of them contribute to the nation in a variety of way and want to come out of the shadows, pay taxes and be U.S. citizens.
Groups that favor strict immigration enforcement assailed the plan to give undocumented immigrants a path to legalization – reserving particularly harsh criticism for Republican senators, including Rubio, as sell-outs.
The bipartisan proposal pivots on four pillars, according to a statement put out by the senators. They include: creating a path to eventual citizenship for undocumented immigrants, reforming the legal immigration system to address needs "in the American economy and strengthen American families," creating an employment verification system to crack down on hiring of undocumented workers and revamp the guest worker program.
Beside Rubio and Menendez, the senators include Charles Schumer (D-NY), Richard Durbin (D-IL), Michael Bennett (D-CO), John McCain (R-AZ), Jeff Flake (R-AZ) and Lindsey Graham (R-SC).
Elizabeth Llorente is Senior Reporter for FoxNews.com, and can be reached at Elizabeth.Llorente@Foxnews.com. Follow her on Twitter @Liz_Llorente.