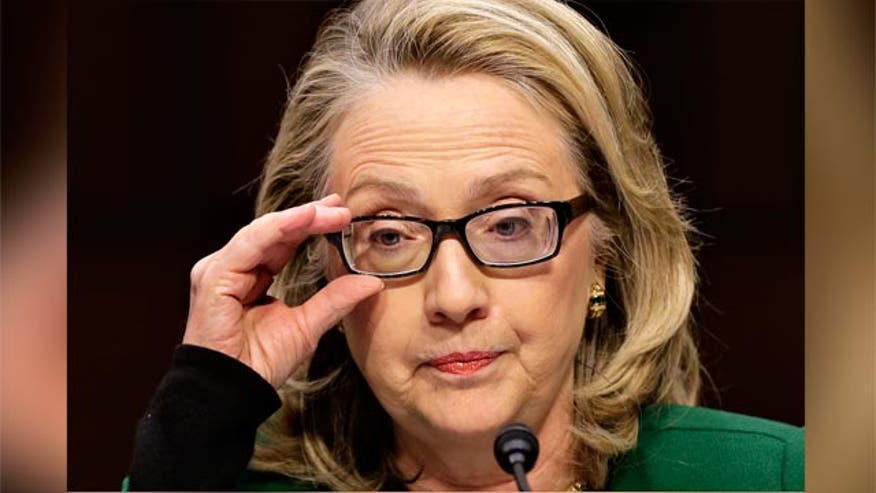 Anyone who's been watching the Libya hearings on Capitol Hill may have noticed Secretary of State Hillary Clinton has a new look -- she's worn glasses in each of her public appearances since suffering illness last month.
The State Department said Friday, though, that the reason is the concussion she suffered.
After a senior department official laughed off the question on the eve of Wednesday's Benghazi hearings, suggesting to reporters that Clinton just feels like wearing the glasses, State Department spokesman Victoria Nuland formally addressed the issue on Friday during the daily briefing.
"Well, let me just say in response to lots of speculation, the secretary is going to be wearing the glasses instead of her contacts for some period of time because of lingering issues that stemmed from her concussion," Nuland said.
A New Jersey-based doctor of Optometry, Mike McAleese, reached out to Fox News by email when he noticed Clinton was wearing a Fresnel prism on her left lens during the day of testimony on Capitol Hill.
"These Fresnel prisms are press-on, and are quickly and inexpensively applied for use in treating visual field loss and/or diplopia (double vision)," McAleese wrote.
In a phone interview with Fox News, McAleese said double vision is a condition that can be temporary or permanent as it results from trauma to the head.
Clinton was released from New York Presbyterian Hospital early this month after receiving treatment for a blood clot that formed as a result of a concussion she suffered in December. She fell in her home after becoming exhausted and dehydrated by a stomach virus.
The illness forced Congress to reschedule her much anticipated testimony on Benghazi, which she completed this week while wearing her glasses.
Clinton's aides have been protective of her during her health scare, at times challenging reporters who asked questions about the timing of her illness and the fact that it coincided with previously scheduled testimony on Benghazi.
In early January her long-time spokesman, Philippe Reines, chastised journalists for reporting she had been released from the hospital, after cameras caught her walking out the front door with her daughter. Clinton, though, was in the process of checking out -- and left hours later.