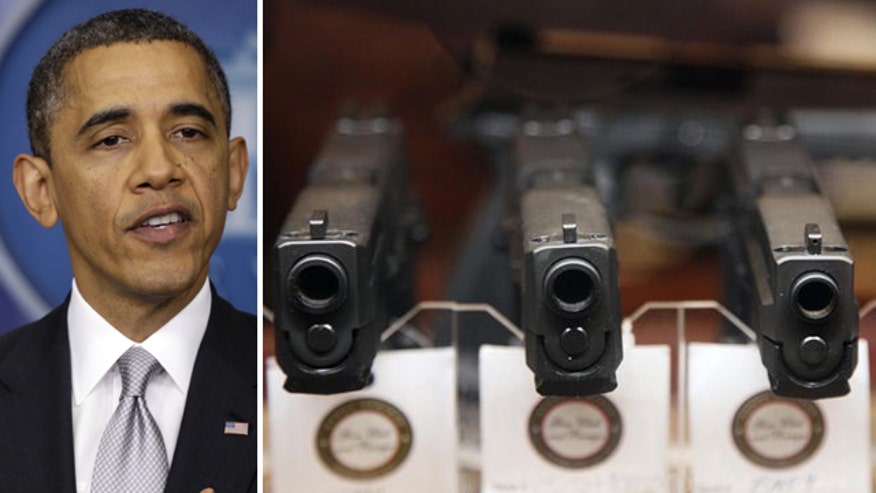 President Obama says he plans to make public later this week the details of his plan to tighten firearms laws based on the findings of a White House task force he commissioned in the aftermath of the fatal Connecticut school shooting.
The task force was led by Vice President Joe Biden and held its final White House meeting Monday, talking with members of the House Democratic Gun Violence Prevention Task Force.
A source told Fox News that Biden explained at the meeting that he and his staff have researched various plans of action to reduce and prevent gun violence and have identified 19 different options the president could choose to implement through executive order.
Obama said Monday he planned to review the findings and will "vigorously pursue" the recommendations in the next few days. It's unclear how many of the 19 options the president would eventually take up.
The president vowed after the Dec. 14 massacre at Sandy Hook Elementary School in Newtown, Conn., that he would look for ways to curb gun violence, including possible legislation to ban assault weapons and high-capacity ammunition clips like those used in the attack, which killed 20 first-graders and six adults at the school.
Among the other potential proposals is tightening background checks on prospective gun buyers. The president said Monday some of his goals could be accomplished through legislation, while others could be done through executive action.
The White House meeting Monday included Attorney General Eric Holder, Homeland Security Secretary Janet Napolitano and Health and Human Services Secretary Kathleen Sebelius, who have participated in several other talks.
"Our task force looks forward to working with ... the Obama administration and all stakeholders to enact a comprehensive set of proposals that both respects the 2nd Amendment rights of law-abiding citizens without a history of dangerous mental illness and helps keep our schools, streets and communities safe from gun violence," said California Rep. Mike Thompson, chairman of the eight-member House task force.
Biden already has talked with individuals and groups supporting tougher guns laws, including the Brady Campaign, and gun rights groups, including the National Rifle Association, which opposes any legislation to again ban assault weapons and high-capacity clips. Biden also has spoken with governors and executives with the video-gaming industry.
Obama has suggested he will submit legislation after his Jan. 21 inauguration and Congress' return to Washington.
California Sen. Dianne Feinstein has vowed to promptly introduce legislation to re-institute the 1994-2004 ban on assault weapons and high-capacity clips.
Though Americans have suggested the Connecticut shooting will be an impetus to tighten federal gun laws, the NRA and other gun rights groups said Sunday they don't expect Congress can pass sweeping changes.
Fox News' Chad Pergram contributed to this report.