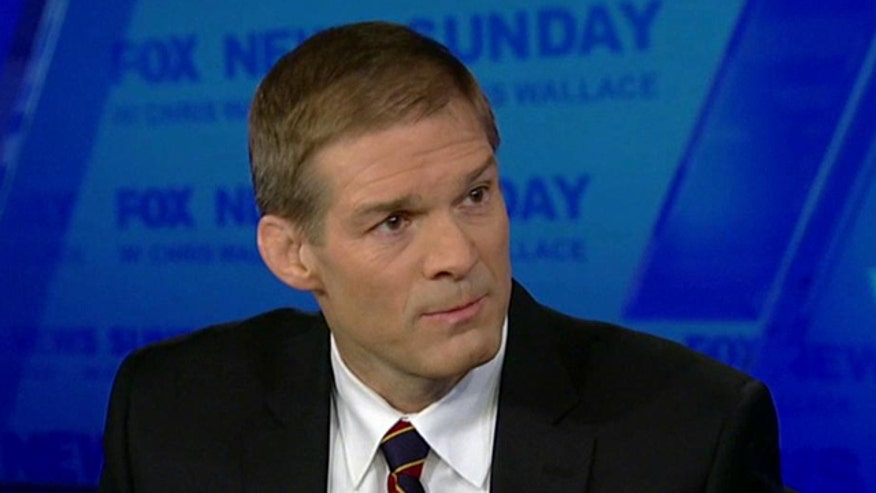 Democrats and Republicans are squaring off ahead of a new round of fiscal negotiations to start in Washington -- a sign that the partisan divide over taxes and spending that hindered the last set of talks will only continue.
President Obama and Republican leaders have already made public statements about whether taxes and cuts will be part of negotiations on the debt ceiling. But on Sunday, the sides drew clean battle lines and on one occasion went face-to-face on the issue.
Ohio Republican Rep. Jim Jordan told "Fox News Sunday" that Democrats got the revenue increases they wanted before Congress adjourned, but won't come through on promised federal spending cuts when lawmakers try to address other fiscal problems before their deadlines hit over roughly the next eight weeks.
"There are no cuts in there," Jordan said. "It's the same old, same old. … These are promises from politicians."
Much of the debate has focused on Obama saying cuts would not be part of the debt ceiling debate, and Senate Minority Leader Mitch McConnell saying the president must include discussions on spending cuts.
Maryland Rep. Chris Van Hollen, the top Democrat on the House Budget Committee, told "Fox News Sunday" that McConnell's "line in the sand" is going to be a "recipe for more gridlock."
Jordan argued that McConnell is "exactly right."
"This is crazy," Jordan added as he and Van Hollen repeatedly talked over each other for several minutes.
"Aw, goodness," Van Hollen muttered at the end of their debate.
McConnell appeared to strengthen his position Sunday, appearing on several morning talk shows to say tax increases will not be included in new agreements.
"The tax issue is over, finished completely," the Kentucky senator said on ABC's "This Week." "That's behind us now. The question is: What are we going to do about the biggest problem confronting us and our future?"
Congress agreed on Jan. 1 to extend Bush-era tax cuts for families earning less than $450,000 annually.
However, the new Congress must address three major fiscal issues before late March – the debt ceiling by early March, massive across-the-board federal spending cuts known as sequestration by March 1 and reaching a budget resolution by March 27.
"I wish the president would lead us rather than being dragged to the table" on the debt ceiling issue, McConnell said on NBC's "Meet the Press."
President Obama said last week he refused to horse trade with Congress over spending cuts for an increase in the debt limit and suggested more revenue by changing the tax code.
House Minority Leader Nancy Pelosi carried that idea Sunday, saying the recent tax increases are "not enough" to solve the county's fiscal problems and argued that additional hikes should be included in upcoming deficit-reduction deals.
"The president had originally said he wanted $1.6 trillion in revenue," the House's top Democrat told CBS's "Face the Nation." "He took it down to 1.2 (trillion) … but that is not enough on the revenue side."
Last week, Texas Sen. John Cornyn, the chamber's Republican whip, suggested the answer to the next round of negotiations is a partial government shutdown.
Cornyn wrote in an op-ed that a shutdown might be necessary to "secure the long-term fiscal well being of our country, rather than plod along the path of Greece, Italy and Spain."
He suggested the move was necessary because the White House dragged out the most recent negotiations.