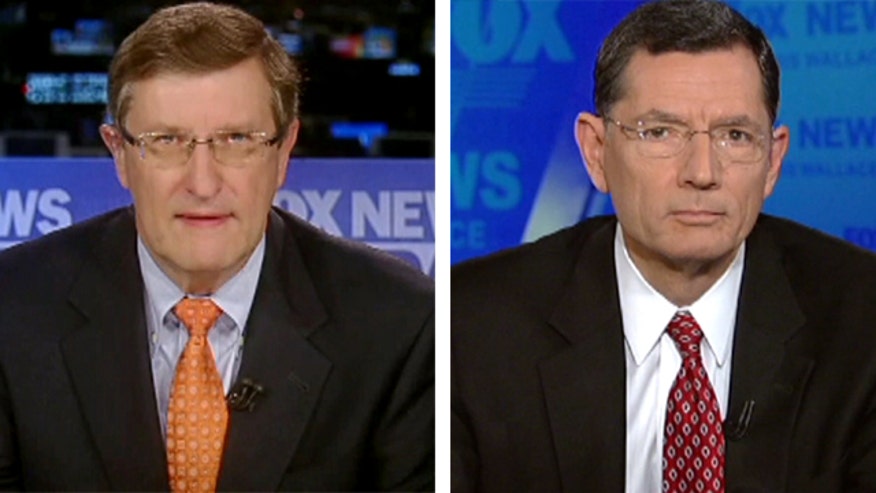 Democratic and Republican senators suggested Sunday the only remaining fiscal deal in Washington before the New Year's deadline is a small-scale plan to stop tax increases for the majority of Americans while leaving spending cuts and other financial issues for the next Congress.
President Obama appeared Friday to lay the ground work for such a deal, calling on Congress essentially to find a way to extend the existing lower tax rates for families making less than $250,000 annually, let the rates expire for top earners and then negotiate later on spending cuts and other fiscal issues.
"It may come to that, but we can do better," North Dakota Sen. Kent Conrad, chairman of the Senate Budget Committee, told "Fox News Sunday." "Is it preferred? No. Is it everything we hoped for? No."
Obama called for the plan after House Speaker John Boehner scuttled his own proposal Thursday night to extend tax rates for families earning less than $1 million a year, after realizing he didn't have enough votes.
Since the November elections, the president and Congress have been trying to reach a deal to stop a roughly $500 billion mix of tax increases and federal spending cuts over the next year.
The massive federal cuts, known as sequestration, automatically kick in because both sides failed last year to reach a less-drastic plan to reduce the federal deficit.
The remarks by Conrad – who suggested Boehner and Obama "split the difference" on the income cutoff – were followed by similar ones from Republican Sen. Johnny Isakson.
The Georgia senator told ABC's "This Week" he would support a bill that prevented tax increases only for the middle class, if that's his last option.
"If we get down to the end of this year and the only choice we have is to save taxes going up on the middle class, then I would support that," he said. "But I wish we would have a comprehensive bill that dealt with spending, dealt with entitlements and dealt with taxes altogether."
Isakson said an agreement now on a more comprehensive package is "not realistic."
The next proposal to advance in Congress likely will come from the Senate, now that Boehner has asked leaders of the Democratic-controlled chamber to try their hand. The Senate returns to Washington on Thursday.
Wyoming Sen. John Barrasso, the chamber's third highest ranking Republican, suggested Sunday that Obama wants negotiations to fail, which would result in more tax revenue.
"I think the president is eager to go over the cliff for political purposes, to get the tax revenue and blame Republicans," he told "Fox News Sunday." "I believe … the president senses a victory at the bottom of the cliff."
The president's last offer had called for keeping tax rates the same for families making less than $400,000 a year. The slimmed-down plan he suggested Friday would lower the income cutoff to $250,000 and would extend unemployment insurance while putting off possible agreements on such issues as raising the debt ceiling.
"In 10 days ... tax rates are scheduled to rise on most Americans," he said after meeting with Boehner. "Though Democrats and Republicans are arguing about whether those rates should go up for the wealthiest individuals, all of us agree that tax rates shouldn't go up for the other 98 percent of Americans. ... Let's agree right now on what we already agree on."