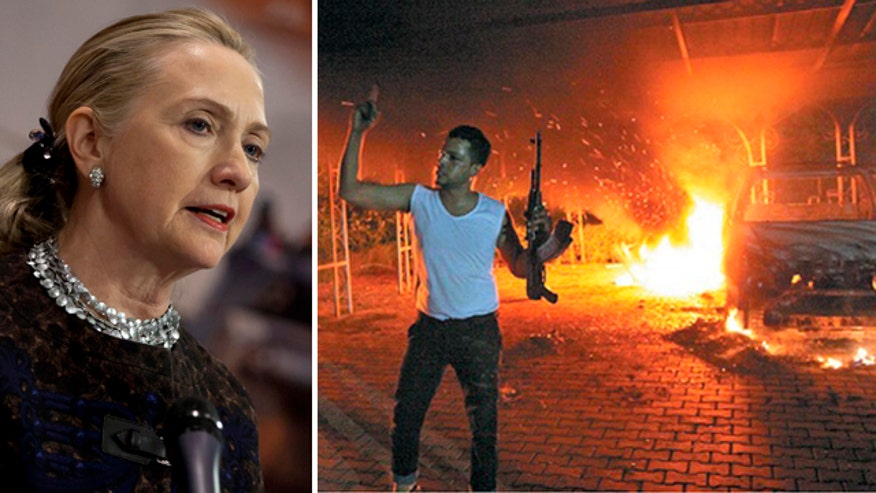 The State Department on Tuesday dismissed another assertion that Secretary of State Hillary Clinton has faked an illness and an injury to avoid testifying this week about the Libya terror attacks – this one from former U.S. diplomat John Bolton.
Bolton said Monday that Clinton contracted "diplomatic illness" to avoid scheduled open testimony Thursday before House and Senate panels on the Sept. 11 terror attacks on the U.S. Consulate in Benghazi, Libya.
"Completely untrue," department spokeswoman Victoria Nuland said Tuesday. "We put out such a full statement Saturday of exactly what was going on because people speculate wildly."
Bolton is a former State Department official and was a U.S. ambassador to the United Nations under President George W. Bush.
"I can assure you, he's not privy to any inside information," Nuland said.
The statement issued Saturday said the 65-year-old Clinton got sick, fainted and hit her head, which resulted in a concussion.
"We've been very clear from the beginning that she had a stomach virus, an ugly stomach virus," Nuland added. "She got very dehydrated, she fainted."
Officials said on Sunday that Clinton, set to leave her post within weeks, fell in her home and that doctors diagnosed the injury Thursday and ordered her to work at home this week.
The department waffled last week on whether Clinton would testify, after the Senate Foreign Relations Committee and the House Foreign Affairs Committee announced she would.
Though department officials said a key agency report on the incident might not be ready in time, the Accountability Review Board report, compiled by an independent panel, was made available to the public Tuesday.
A team of senior diplomats met Tuesday to look at report recommendations, and the department has already started making security changes at the consulate based on the recommendations.
Senior department officials William Burns and Thomas Nides are scheduled to take Clinton's place at the hearings Thursday.
The House committee chairwoman, Rep. Ileana Ros-Lehtinen, has said she still wanted Clinton to testify at some point. And Clinton has suggested she intends to go to Capitol Hill in January.
Retired Ambassador Thomas Pickering and former Chairman of the Joint Chiefs Adm. Mike Mullen led the review, studying cables, video and intelligence and interviewing some survivors.
The secretary of state is required by law to convene such a board when U.S. officials are killed overseas in the line of duty. However, the secretary is not required to make its findings public or send classified details to lawmakers. Even so, Clinton has pledged to share as much detail as possible.
Nuland declined Tuesday to further discuss Clinton's recovery.
"I am not going to get into the details beyond saying that she's on the mend," Nuland said.
The Associated Press contributed to this report.