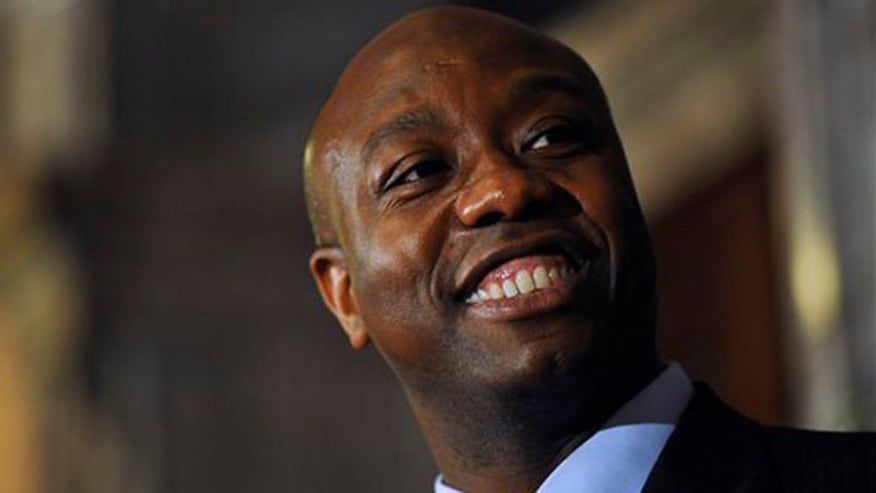 Columbia, S.C. – South Carolina Gov. Nikki Haley on Monday named Rep. Tim Scott to replace outgoing Sen. Jim DeMint, calling him "the right U.S. senator for our state and for our country."
Haley announced her decision Monday at the statehouse. With the announcement, Scott will become the first black U.S. senator from South Carolina.
"This man loves South Carolina," Haley said. "I have no doubt that he will fly through 2014."
Haley was referring to the fact that, while she has the sole power to appoint DeMint's successor, her pick will have to run again in 2014.
Scott acknowledged that he hasn't won any Senate election yet, and vowed to work hard on economic and fiscal issues.
Reiterating a cornerstone conservative position in relation to the ongoing fiscal talks in Washington, he said: "If you have a problem with spending, there's not enough revenue to make up for it."
Scott was elected to Congress in the 2010 Republican wave. Both he and Haley described DeMint, an ideological godfather of the Tea Party movement, as effectively irreplaceable.
"There's no way to fill the shoes," Scott said.
DeMint announced less than two weeks ago that he would resign Jan. 1 to take the helm of the Heritage Foundation, a national conservative think tank.
Finalists for DeMint's seat were thought to include not only Scott, but former first lady Jenny Sanford, U.S. Rep. Trey Gowdy, former Attorney General Henry McMaster and state health agency director Catherine Templeton.
In a statement, DeMint called Scott a "great choice" for the state. "I've known Tim for years and am confident he will serve our state with honor and distinction," he said.
Scott would become the seventh black senator in U.S. history, with the last being Barack Obama and his short-term successor Roland Burris. Scott also becomes the first black Republican senator since Ed Brooke, who served two terms representing Massachusetts in the 1960s and 1970s.
Haley had ruled out sending herself to Washington or running for the seat herself in 2014.
Scott was the state's first black Republican since Reconstruction. He was chairman of Charleston County Council and served a single term in the state House before being elected to Congress in 2010.
Both he and former solicitor Gowdy were re-elected last month to their second terms in Congress.
The Associated Press contributed to this report.