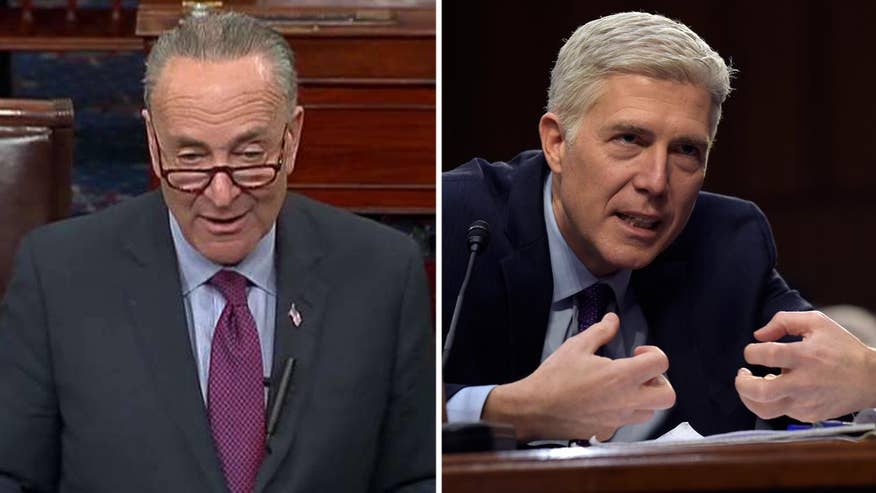 This week, Judge Neil Gorsuch sat before the Senate Judiciary Committee, where he eloquently and graciously handled a barrage of harsh and overtly political questioning from Democratic Senators. In doing so, he demonstrated why he is a mainstream, independent-minded jurist who will be an outstanding Supreme Court justice.
Based on Judge Gorsuch's record on the bench and his impeccable academic and legal credentials, this should come as no surprise. He has a long history of interpreting the law faithfully, thoughtfully and consistently. An in-depth review of his cases reveals a pattern that he fairly applies the law as it is written, regardless of who is before him. These are the reasons why he has such broad bipartisan support from so many respected attorneys and legal experts from across the nation, including Neal Katyal, who was an acting solicitor general for former President Barack Obama.
The main opposition to Judge Gorsuch's confirmation comes from a handful of Democratic Senators who are using the playbook of far-left special interest groups, the same groups that routinely attack anyone who doesn't actively promote their agenda.
This kind of politically-motivated and ideologically-driven opposition was on full display during the confirmation hearing, where Democrats tried their best to find reasons not to support Gorsuch, even though not a single one of them ever accused Gorsuch of being unqualified.
They instead resorted to hyperpartisan hyperbole, pushing a false narrative that Gorsuch sides with the "powerful" against the "powerless."
My Democratic colleagues, many of whom hold law degrees, should know better than to intentionally oversimplify court rulings to mislead the public and score political points. However, pressured by the most extreme elements of their own party, they proceeded to mispresent Gorsuch's record and question his character, with the entire country watching.
Using only a select handful of Gorsuch's thousands of prior rulings, they attempted to caricature him as "sticking it to the little guy" by evaluating these select cases solely on the identity of the parties involved. This narrow-minded way to evaluate Gorsuch grossly takes his rulings out of proper context, ignoring that they were based on his interpretation of the law, which is exactly what the American people should expect from jurists.
Democrats creating the expectation that judges should act as politicians in robes is a dangerous precedent to set, threatening the very independence of the judiciary. It is a radical departure from the longstanding, bipartisan expectation that all judges should make their decisions based on the law as written, independent of political considerations or even personal feelings. We already have two branches of federal government that factor political considerations into their decision-making, and our Founding Fathers determined long ago that we don't need a third.
During the hearing, Democrats also spent time attempting to pin Judge Gorsuch down with hypothetical cases that could come before him, which he rightfully declined to answer. He followed the same standard as Supreme Court Justice Ruth Bader Ginsburg during her confirmation hearing in 1993. Justice Ginsburg cited her obligation to stay impartial and provide fairness to future litigants on matters that could come before the Supreme Court, a wise decision Judge Gorsuch also made.
To put it simply, Democrats repeatedly tried, but spectacularly failed to make a single dent in Judge Gorsuch's record during the hearing. Regardless, they are still signaling their intention to filibuster his confirmation.
In politics, as in physics, every reaction is met with an equal and opposite reaction. Filibustering an impeccably qualified Supreme Court nominee will surely be met with a reaction that would have significant political ramifications and major consequences for future confirmations. I hope we never get to that point.
My Democratic colleagues should not forget that President Obama's Supreme Court nominees Sonia Sotomayor and Elena Kagan were both given up or down votes by Republicans. In fact, Republicans could have filed cloture, requiring a 60-vote threshold that could have very well jeopardized their confirmations. While most Republicans couldn't disagree more with the nominees' political preferences, they didn't resort to such tactics and the nominees were treated fairly. In the end, both Sotomayor and Kagan received simple up or down votes and were confirmed with bipartisan support.
Senators should not play politics by threatening filibusters and evaluating Judge Gorsuch based on what his policy preferences are or how he might come down on a specific case that may come before the Court. Instead, the simple role of every senator over the next several weeks is to evaluate whether Judge Gorsuch is qualified, whether he will uphold the Constitution, and whether he will apply the law faithfully and fairly.
The resounding answer to each is "yes." Judge Gorsuch deserves an up or down vote, and he deserves to be our next Supreme Court Justice.
Thom Tillis is the United States Senator for North Carolina. As a member of the Senate Armed Services Committee and Veterans' Affairs Committee, Tillis directly advocates for North Carolina's rich military tradition, our veterans, and men and women currently in uniform. Tillis also sits on the Banking, Nutrition and Forestry Committee, Judiciary Committee, and the Senate Special Committee on Aging. Follow him on Twitter @SenThomTillis.