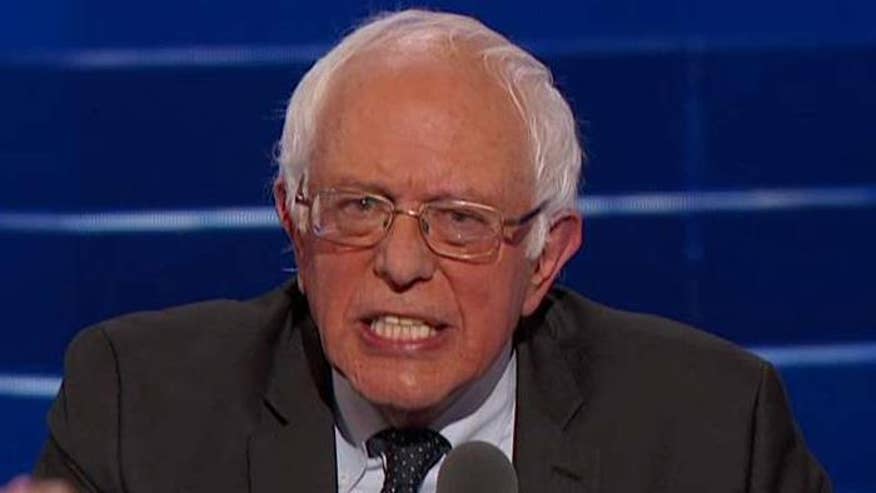 PHILADELPHIA – Democrats came to their convention here optimistic and hopeful that the country would never vote for Donald Trump. There have been some bumps in the road here.
First, leaked emails showing that Democratic National Committee staff were clearly working on behalf of Hillary Clinton during the primary. This has filled the streets here with angry Bernie Sanders supporters, some of whom insist they won't vote for Hillary this fall or will back Green Party nominee Jill Stein.
Democrats I spok with here also worry that Trump's efforts to woo disaffected working-class voters who backed Sanders could work.
"I've seen first-hand how the system is rigged against our citizens, just like it was rigged against Bernie Sanders," Trump said during his Thursday acceptance speech, a comment that seemed perfectly timed to take advantage of the DNC email scandal that exploded last Friday.
Debbie Wasserman Schultz, may have resigned as the he DNC's controversial chairwoman, but she could be a potent symbol of a party that showed contempt for Sanders voters.
Trump has now taken a 2 percentage point edge in the average of all the polls tracked by Real Clear Politics -- the first time he has taken a lead in that key metric. Polls show that for now Trump leads in key swing states such as Florida and Ohio, while has put longtime Democratic strongholds like Michigan, Wisconsin and Pennsylvania into contention. "Trump's portrait of a dark, crisis-ridden America where good jobs are scarce and life is grim sounds to some people in those states as their reality," says Michael Leary, a Hillary supporter from Philadelphia told me.
Jim Bishop, a Sanders supporter from Indiana,, says he has met a lot of Sanders supporters here who will never vote for Trump, but could back the Green Party to build an alternative to establishment Democrats. If the Green Party wins more than 5 percent of the vote nationwide this November it would qualify for nearly $100 million in federal financing in the next election.
Sanders as done all that he could to speak directly to the "Bernie or Bust" crowd at the Philadelphia convention. He has tried to disssuade his supporters from disrupting the convention yesterday. Sanders did not mention Wasserman Schultz or the email controversy in his own address to the delegates.
Instead, he stressed that Clinton is a better choice than Donald Trump, and highlighted that his supporters had been able to get progressive ideas included in the party's platform. Despite his protestations of indifference, Donald Trump would have been pleased with even a smidgen of Bernie's helpful attitude when Ted Cruz addressed GOP delegates.
Attempts to quell anger at the Hillary campaign will probably work to some extent. But the real problem Democrats confront in Philadelphia is this: Getting Sanders supporters out to vote might actually be a problem.
Political analyst Harry Enten of the website FiveThirtyEight notes that : "Before the 2016 primaries, Sanders's supporters voted less frequently than other 2016 voters, and they were less reliably Democratic than Clinton supporters…. In the 2012 general election, for instance, 88 percent of Clinton's 2016 primary supporters cast a ballot. Same with Trump supporters. And 87 percent of Cruz supporters voted in 2012. But just 79 percent of Sanders's voters did."
No one believes that Sanders supporters are actually going to vote for Donald Trump - just 8 percent reported such sentiments in the latest Pew Research Poll. But staying home is quite possible -- after all some 40 percent of Americans do just that in every presidential election. They choose not to participate in a contest that many people, this year, as one delegate told me is really "a choice of the evil among two lessers."
John Fund is a columnist for National Review. Follow him on Twitter @JohnFund.