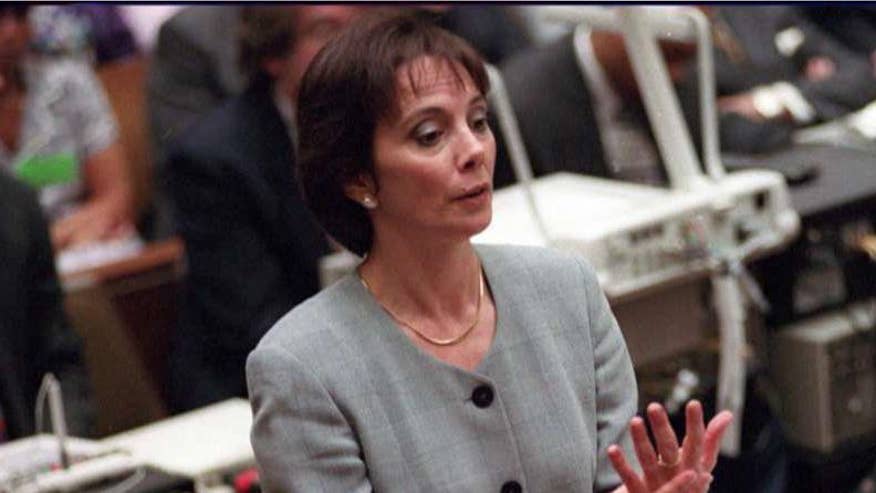 In the wake of the popular television series "The People v. O.J. Simpson" on FX, former Los Angeles District Attorney Gil Garcetti spoke with the New York Post and NBC's Today show. Garcetti is still massaging the truth and spinning his own self-serving version
some 20 years after the "not guilty" verdict.
It is human nature, I suppose, to engage in a personal version of historical revisionism. It helps to assuage one's own guilt. But I covered the trial in L.A. and saw firsthand how the prosecution bungled the case. Here is where Garcetti is wrong (and right).
WRONG: GARCETTI NOW CLAIMS MARCIA CLARK "WASN'T MY CHOICE" TO LEAD THE PROSECUTION OF O.J. SIMPSON.
Baloney. Garcetti was the elected D.A. He's the one who made the choice. If he did not want Clark on the case, he could have booted her. He was calling the shots. It is true that, originally, the lead prosecutor was Bill Hodgman (a law school classmate of mine). Terrific lawyer. But he suffered heart problems before the trial and had to take a back seat. Garcetti could have gone with someone other than Clark, but he chose her. A horrible decision. Garcetti has only himself to blame.
RIGHT: GARCETTI IS HIGHLY CRITICAL OF HOW MARCIA CLARK HANDLED THE CASE.
Did Marcia Clark blow the case? Yes. I thought she was inept, over-tried it, made poor judgments and failed to properly prepare key witnesses. Of course, her co-prosecutor, Chris Darden, didn't help matters. His decision to have O.J. try on the bloody glove is now taught in law schools under the heading, "what not to do during trial". Defense Attorney F. Lee Bailey taunted Darden into having Simpson try on the glove. Darden fell for it. Collosal mistake. It led to Johnny Cochran's nauseous incantation, "if it doesn't fit, you must acquit". It was a ridiculous, carnival-like phrase… but it worked. Gullible jurors ate it up.
RIGHT: GARCETTI IS SPECIFICALLY DISPARAGING OF CLARK'S HANDING OF JURY SELECTION, IGNORING HIS ADVICE.
It's true, based on my own reporting at the time. Clark picked 8 black women for the jury… apparently because she thought she really connected with black women in previous cases. But the O.J. trial was completely different and unique. Cochran blatantly exploited racial animus… turning it into a race case (when, in fact, race had nothing to do with it). So, it was naïve of Clark to think it didn't matter. A jury consultant who worked with the prosecution warned both Clark & Garcetti not to do it… because "mock trials" showed that black female jurors hated Clark. But Clark ignored the advice, and Garcetti failed as D.A. to overrule her. A critical blunder.
WRONG: GARCETTI OFFERS NO MEA CULPA, AS IF HE BEARS NO BLAME.
If Garcetti is still searching for a villain, he should look no further than a mirror. He is the one who sent the case downtown. The moment he did that, he lost the trial before it ever began. It should have been tried in Santa Monica because that is the district where the crime occurred and where a civil jury later found Simpson responsible for the murders. If the criminal case had been tried where it belonged, O.J. Simpson would be serving a life sentence.
So, why did Garcetti send the case downtown? Initially, he told reporters he wanted the verdict (which he arrogantly presumed would be guilty) to have more "credibility" because the jury pool was more racially diverse. That is not a valid reason. And it was profoundly foolish. In the aftermath of the Rodney King verdicts and the ensuing riots, many downtown jurors disliked and distrusted cops. This was a cop case.
I always thought Garcetti sent the case downtown because that is where his office was located. He could control or monitor the case… and be close to the multitude of television cameras.
Remember, he was a politician, too.
Gregg Jarrett joined FOX News Channel (FNC) in 2002 and is based in New York. He currently serves as legal analyst and offers commentary across both FNC and FOX Business Network (FBN).