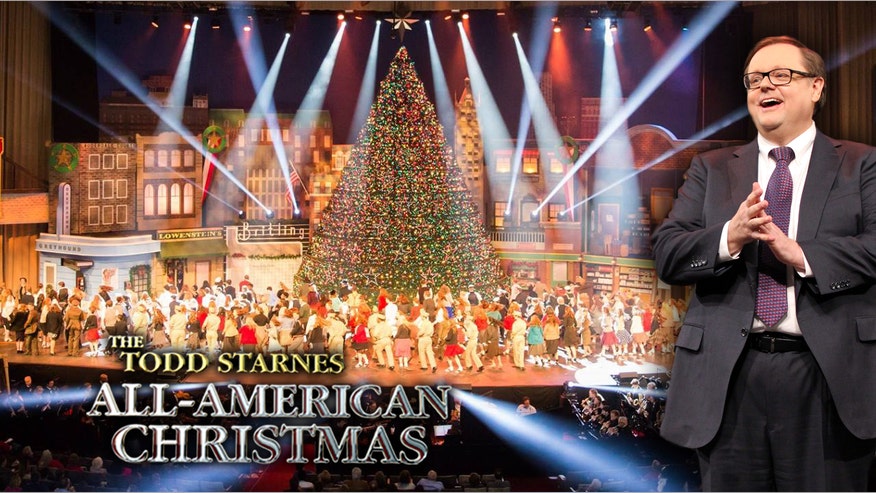 The folks here at the Fox News Corner of the World are getting ready to rock your radios and your laptops with my All-American Christmas show – filmed at the historic Bellevue Baptist Church in Memphis, Tennessee.
The 2015 show features an all-star cast of performers including MercyMe, Laura Story, jazz legend Kirk Whalum and nationally known evangelist Franklin Graham.
The show also features the 300 voices of the Bellevue Singing Christmas Tree directed by Mark Blair. And they've also assembled one of the finest orchestras to play on the radio – not to mention 45 fiddlers. Yes sir – we're going to have a terrestrial and digital holiday hoedown!
And it was all filmed before a 3,000 member audience of fans from across the nation.
This show is going to put the jolly in your holly, folks!
My All-American Christmas is sponsored by Truett-McConnell College, Liberty Institute and War Room.
Now, my longtime listeners and readers know that I'm a strong supporter of the Armed Forces and this year's show features a moving tribute to our brave fighting men and women.
We also have decided to do something special for our wounded warriors who are spending Christmas in a VA hospital or VA nursing home.Bellevue Baptist Church wants to send DVD copies of their annual Singing Christmas Tree Spectacular to VA hospitals around the nation. If you buy one copy, you can also buy additional copies for veterans at a discounted price.
Click here to order your DVD copy of the 2015 Singing Christmas Tree from Bellevue Baptist Church.

The Starnes family has already placed our order and I hope you do the same. Just click here for more information.
The video of our show will premiere at 5 p.m. eastern on December 21st. You can watch on FoxNews.com or on Roku. The radio version of the show will premiere on Christmas Eve.You will also be able to listen to the show on American Family Radio and the Bott Radio Network.
From my family to yours, Merry Christmas America!
Todd Starnes is host of Fox News & Commentary. His latest book is "The Deplorables' Guide to Making America Great Again." Follow him on Twitter @ToddStarnes and find him on Facebook.