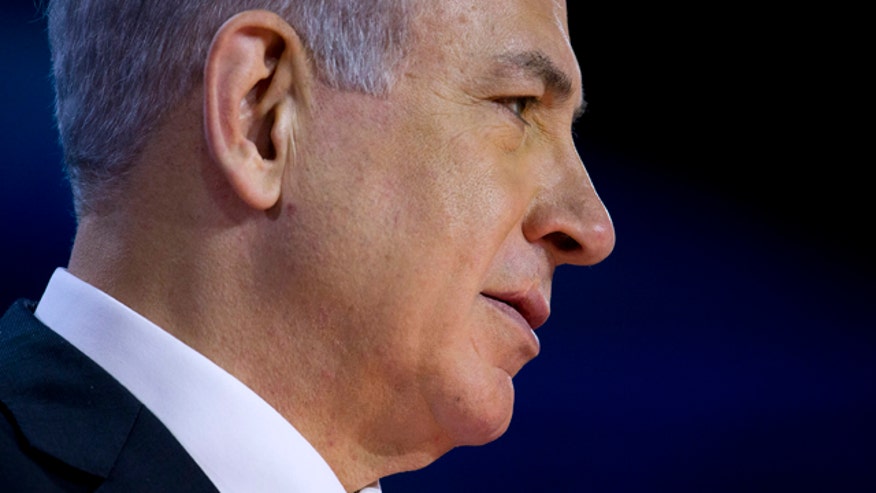 Is Israeli Prime Minister Benjamin "Bibi" Netanyahu too pushy?
Democrats have increasingly derided the Jewish leader's decision to accept Republican Speaker John Boehner's invitation to address a Joint Session of Congress.
The "enemy of my enemy is my friend" is an old political adage. This makes Boehner and Netanyahu natural allies.
Last week, President Obama's National Security Adviser, Susan Rice, ripped the Prime Minister, saying his speech would be "destructive" to the relationship between the two nations.
The "enemy of my enemy is my friend" is an old political adage. This makes Boehner and Netanyahu natural allies.
Democrats say Netanyahu is playing politics with anti-Obama Republicans to derail U.S.-Iran nuclear talks. They claim he is purposely demeaning the president. Growing numbers of Democrats have vowed to boycott his speech Tuesday.
In fact just last week, Obama confidant and leading vice presidential candidate, Sen. Tim Kaine, pointedly announced his intention to skip Netanyahu's speech.
Gosh: A House Speaker playing politics! A politician making a bold political play shortly before Israeli's vote on whether to retain him as their leader! Have Jews learned nothing since being forced out of their homeland in 70 A.D.?
On June 26, 1990, Nelson Mandela spoke to a Joint Session of Congress. He demanded Republican President Bush "go further…to promote the peace process" aimed at ending apartheid in South Africa. Democrats urging him to speak expected no less.
On April 19, 1951, General Douglas McArthur accepted an invitation to speak to Congress. He had recently been fired by Democrat President Truman for publicly disagreeing with the Commander-in-Chief's Korean War strategy. "There are some who for varying reasons would appease Red China" said McArthur.
Republicans urging him to speak expected no less.
Truman, Bush and their advisors took the criticism, and moved on.
Team Obama and Team Netanyahu hold each other in "maximum low regard" as they say in politics. They have dueling views on the best policy for preventing Iran from getting a nuclear bomb. The president believes classic carrot-and-stick diplomacy will work. The Prime Minister strongly believes it won't.
Diplomacy ended the Korean War. But President John F. Kennedy had to threaten World War III to resolve the Cuban Missile crisis. He refused to allow Russian nuclear missiles that close to Washington D.C. Tehran isn't much further from Tel Aviv.
Mr. Netanyahu believes Tehran will use any likely U.S.-Iran nuclear deal to buy time to secretly build its first atomic bomb. The Israeli Prime Minister seemingly wants action now to destroy any bomb making capacity. This would appear to require international military intervention.
It's known in political circles that key Obama backers are working to defeat Netanyahu in the upcoming elections.
The "enemy of my enemy is my friend" is an old political adage. This makes Boehner and Netanyahu natural allies. Israeli voters know they need American economic and military help. Republican Boehner's message: The House GOP, where all appropriation bills must start, has Netanyahu's back.
Yet all the boycotting and boasting begs the overriding question: Will Netanyahu's speech in D.C. actually help him with voters back home?
Getting re-elected is any politician's primary concern. Rising anti-Semitism in Europe concerns Israelis. They want a leader fearlessly willing to speak-out for the Jewish people. Mr. Netanyahu is that. But is his penchant for poking the American President too big a risk for Israel? This is a question only Israelis can answer.
Democratic attacks against Netanyahu are risky too. What should Jews make of claims Mr. Netanyahu is a bull in a china shop for pushing his way onto the floor of Congress to lecture the Obama administration on Iran?
In American politics, you either push your way in, or you get pushed out. With all due respect to our friend to Sen. Kaine, you don't have to be William Shakespeare to know those claiming their speech boycott is a principled protest doth protest too much.
Isn't Netanyahu's being "pushy" akin to the "Audacity of Hope" candidate Obama used to push past Hillary Clinton in 2008? Her husband Bill thought so.
He used an allegedly racist remark in describing the future president's gall. So yes, Mr. Netanyahu is pushy. And yes, he has come to America to criticize the president's Iranian policy.
We doubt there is currently a viable military option. But if one exists, then Americans need to know it. But even if diplomacy is the only way forward, we need to know the options there, too. Mr. Netanyahu thinks Iran is outfoxing us at the negotiating table. Let's hear his case.
Boycott the speech? Kill the messenger never works.