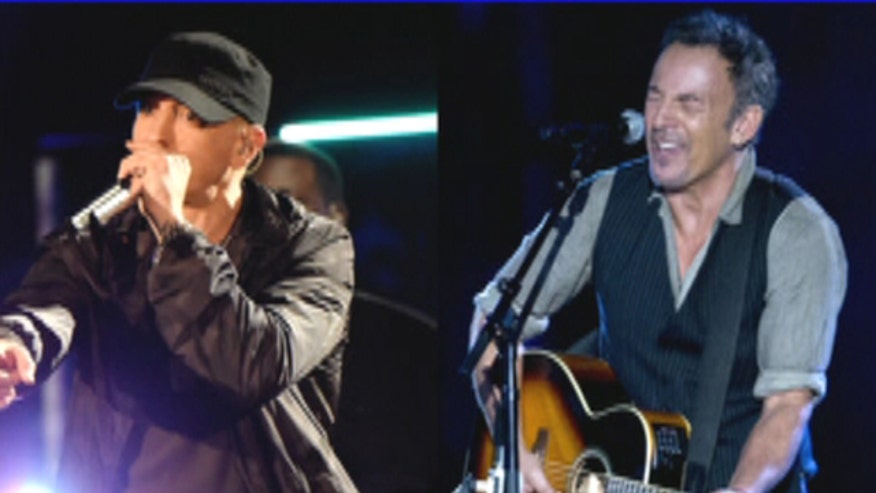 First there was this from Eminem on Tuesday night at the Concert for Valor:
"D.C. HAPPY MOTHERF----ING VETERAN'S DAY"//IT'S COMING TO - F----MY//I DON'T GIVE A D--- WHAT YOU THINK, I'M DOING THIS FOR ME SO F--- THE WORLD//THESE F---ING BLACK CLOUDS THAT FOLLOW ME AROUND...THESE MOTHERF------."
And then there was this, at the same concert, from Bruce Springsteen:
"Yeah, some folks inherit star spangled eyes
Ooh, they send you down to war, Lord
And when you ask them, "How much should we give?"
Oh, they only answer, more, more, more, oh."
Why are these two entertainers fools?.. well I think Eminem and Springsteen's decisions to drop F-bombs and sing anti-war songs during Tuesdays Concert for Valor -- for the vets and their families -- was tone deaf to say the least.

Before you jump down my First Amendment, freedom of speech throat, understand that I agree that these guys have the right to say whatever they like during a concert.

Eminem, by dropping a dozen or so F-Bombs, during a concert for valor didn't break the law of the land but he surely broke the laws of common sense. Millions of kids were watching HBO.Thousands more were watching live in the shadow of the Capitol building…

Fool!

Also.. Springstreen has a collection of hit songs that would fill an evening. So why sing an anti-war anthem? It just doesn't seem like the men and women who are sent into war to fight for our freedom needed to hear "the boss" degrade their cause. -- On Veterans Day, no less!

For that… Eminem and Bruce Springsteen are fools of the week.