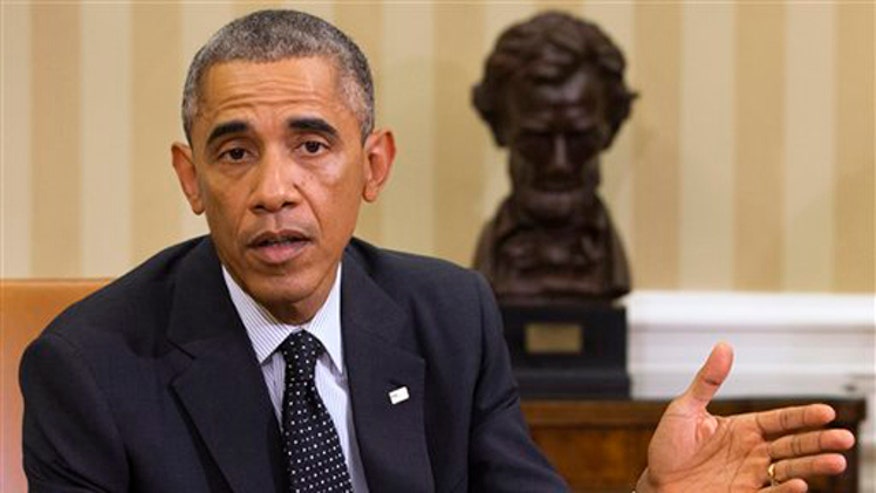 Like many Americans, I was outraged by President Obama's appointment earlier this month of a political operative to be "Ebola Czar." Appointing czars is frequently a meaningless gesture, but the appointment of Ron Klain, who has no experience either in epidemiology or crisis management, suggests that the White House views the Ebola crisis as a political and public relations problem, rather than a call for serious presidential leadership.
However, this crisis has shed light on larger, longstanding outrages on which I am uniquely qualified to comment.
From 1999 to 2003, I chaired the U.S. Congressional Advisory Panel to Assess Domestic Response Capabilities for Terrorism Involving Weapons of Mass Destruction, more commonly known as the "Gilmore Commission."
[pullquote]
Our job was to assess our nation's capabilities to respond to terrorist attacks at the federal, state and local level, and make recommendations to improve our readiness and response capabilities.
The Commission delivered five reports to Presidents Bill Clinton and George W. Bush and of 164 recommendations, I am proud to say that 146 have been adopted in whole or in part by the federal government.
Unfortunately, many of the Commission's recommendations regarding public health were ignored. While we focused on a chemical or biological attack by terrorists, the Ebola crisis highlights our public health system's complete lack of preparedness for a crisis, be it a natural occurrence or a result of terrorism.
For instance, the Commission recommended that the Department of Health and Human Services and Department of Homeland Security develop a strategy for education of the public on the prevention, risks, and symptoms after an attack or naturally occurring outbreak.
Instead, the Dallas hospital that treated Thomas Eric Duncan, the first case of Ebola in the United States, did not even have the knowledge to properly protect two nurses who treated Duncan.
Shortly after, one of the nurses reportedly received clearance from the Centers for Disease Control (CDC) to board a plane and potentially expose 132 others to the disease.
Clearly, a system does not exist to educate our medical professionals, much less the public, on how to protect themselves and others from a disease such as Ebola.
Given the Gilmore Commission's charter, many of our public health recommendations were specific to a bioterror attack, but the principles of these recommendations hold true in the case of Ebola and other naturally occurring outbreaks.
We recommended the president designate the DHS as the lead federal agency for response to a bioterrorism attack, and specify its responsibilities and authority, to provide the interface with State and local public health entities and related private sector organizations." Make no mistake: while not a bioterror attack, Ebola is a homeland security issue, and we need to know who is in charge and who will coordinate operations between all entities in government and the private sector.
The Gilmore Commission's job was to anticipate the unthinkable, and we must do so as we consider reforms to our public health system in light of the Ebola crisis.
If a Liberian national can board a plane, report to an emergency room with symptoms of Ebola and be sent home, how difficult is it to imagine that a terrorist organization might deliberately send persons infected with deadly, highly infectious diseases into our country with the simple orders to infect as many Americans as possible? While I hope this never happens, we must plan accordingly.
My suggestion to President Obama is simple. First, withdraw Mr. Klain as your Ebola Czar and replace him with someone who demonstrates that you view this crisis as a president, not as a politician.
In the near term, the czar's first priority should be implementation of a plan to train, equip, and support specially designated and geographically distributed diagnostic laboratories to perform tests and enhance surveillance for the spread of Ebola at our airports and mass transit hubs to avoid any introduction of Ebola into our society.
Furthermore, we should work to elevate our capability to screen baggage and cargo on commercial and passenger aircraft, and develop comprehensive guidelines for improving passenger safety in confined spaces.
The CDC should immediately distribute protocols to hospitals, EMS and other first responders around the country for proper handling of potential Ebola patients in order to protect medical personnel, other patients and the general public.
Meanwhile, the president and Congress should work together to implement a system for integration and coordination of federal, state and local response to public health crises, and a system for rapid distribution of information to the public, not just regarding Ebola, but on all large scale public health threats. The Gilmore Commission's recommendations offer a good start.
More than a decade after the Gilmore Commission completed its work, it is an outrage that the Executive and Legislative Branches have yet to address issues involving the spread of fatal disease in a cohesive way, and the Ebola crisis offers a mere preview of the dangers of further inaction. President Obama and Congress should act now. Millions of Americans' lives may depend on it.
Jim Gilmore, a Republican, served as the 68th governor of Virginia, and Chairman of the National Commission on Homeland Security. He is currently the Chairman of GrowthPAC.