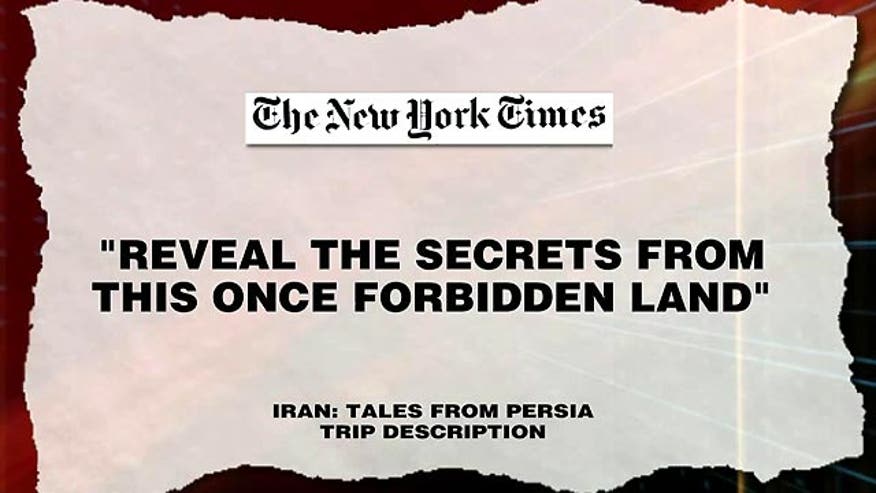 The New York Times recently announced it is offering readers a thirteen day excursion to Persia, led by Times foreign correspondent Elaine Sciolino. Billed as a chance to "discover the ancient secrets of Persia," the Times brochure, which you can view online, describes luxe accommodations, trips to ancient historical and archeological sites and upscale dining. Priced at just $6,995 (not including local taxes, bribes and fines) it seems like a great deal!
The land the Times calls "Persia" has another name, which doesn't appear in the brochure. Since 1979, it has been officially called The Islamic Republic of Iran.
This reflects the country's ideology, constitution and religious composition, which is 99% Muslim. But in the spirit of diversity, the Times focuses mostly (in fact, almost exclusively) on the 1%: visits to Jewish, Christian, Zoroastrian, Greek and other pre-Islamic sites. -- If it's mosques you want, you can see those in Brooklyn!
If you do decide to break away from the pack for a day of personal exploration, there are many interesting places not found on the Times itinerary.
[pullquote]
For a look at science in action, you can try one of Iran's seventeen nuclear sites, where thousands of spinning centrifuges and advanced missile technology display the finest in Persian engineering. These are not open to the public; ask your Times guide to check availability.
Closer to Teheran, stop in at the Revolutionary Museum at the former U.S. Embassy, where a replica of the Statue of Liberty behind bars is on display.
Each year the museum celebrates the anniversary of the seizing and imprisonment of U.S. diplomats with a gala exhibition of cacophonic curses against the Great Satan. Since Iran is on a lunar calendar, check with your tour guide.
Another annual event is Al Quds Day. Held each year on the final Friday of Ramadan at Teheran University, it is a massive pep rally against Israel and its puppet, the United States. The customary chants --"Death to Israel!" and "Death to America!"—are in Farsi, but foreigners are encouraged to participate. The event is gender segregated, so ladies, stay on your side of the barricade.
Despite certain strictures against free speech, Iran has a lively intellectual scene. Just this month, Teheran hosted a three day seminar on the World Jewish Conspiracy with panel discussions on "US-Israeli dual citizens working in the interest of Israel: the case for treachery"; and "Zionist fingerprints on the 9/11 cover-up." Check the local newspaper for times and venues.
Nightlife in "Persia" is both wholesome and exotic. Alcohol in any form is forbidden, as are most brands of colonialist soft drinks, but there is plenty of tasty fruit juice and in some parts of the country the water, after boiling, is drinkable.
Want to go dancing? Well, some other time. Mixed dancing in public places is not permitted by law and custom. And girls, no Karaoke for you. Females are not allowed to sing in public (or in private if men are present). Guys, you go ahead and grab the mic, but keep in mind that "western" music is banned, so brush up on your Farsi folk tunes.
It is well known that there is no homosexuality in Persia (according to ex-president Ahmadinejad, and he should know), and the authorities work hard to keep it that way.
The penalty for male "perversion" is death by public hanging. Female "perverts" get between fifty and one hundred lashes, depending on the mood of the judge and the enthusiasm of the whip master. Gay travelers are advised to stay in the closet during their trip (hey, it's only 13 days).
Like every society, Persia has its sartorial traditions, which in this case are enforced by roving morality police. Unlike local women, female tourists don't need a regulation hijab. You can get away with a dignified hat or a scarf (which is called "Roosari" in the local lingo—see, you are learning already!).
As for body wear, the dress code is simple and elegant. No bare arms at any time. Legs should be covered to the ankles. It is suggested that you wear socks, but it is not mandatory.
Persians are famous for their hospitality. If you are invited to dinner, keep in mind a few simple does and don't.
Do bring a gift to your hosts. Western books, periodicals and videos are banned, so go with flowers.
Do Not (according to Wiki Travel) "discuss politics, family relations, the role of women and other controversial subjects."
Definitely Do Not offer to shake hands with a member of the opposite sex and don't even think about touching any member of the opposite sex unless you are a first degree blood relative.
All too soon, your fortnight in Persia will be ending.
But the Times will have one last treat in store: Your final stop will be at Teheran's main Shia Cleric Center for Islamic Studies where you will gain insights into the "accomplishments" of the late Ayatollah Khomeini and get a chance to ask inoffensive questions.
Then, it is on to the airport.
An online Iranian tourist company advises departing passengers to refrain from "show[ing] indignation if you are physically searched by customs officials at the airport."
But by now, you will have figured that out for yourselves.
What happens in Persia, stays in Persia.
Zev Chafets is a Fox News contributor. His latest book is "Remembering Who We Are: A Treasury of Conservative Commencement Addresses" (Sentinel 2015).