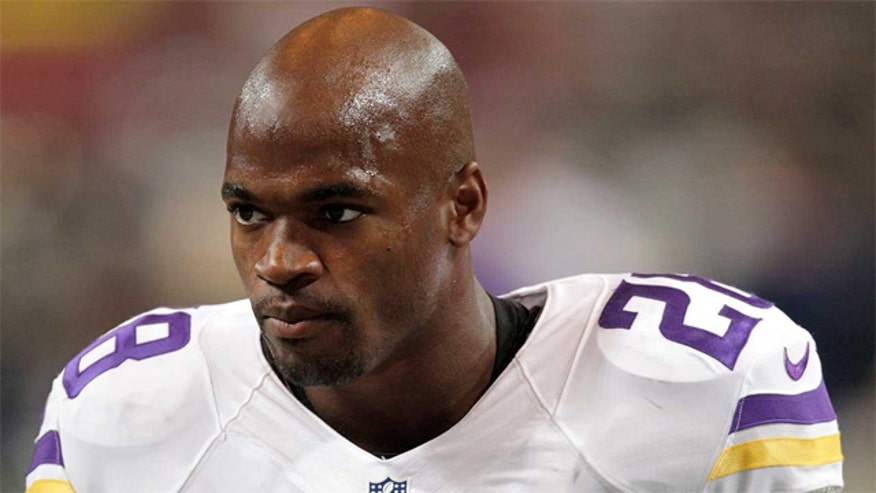 The pictures are damning. Emotionally and legally. Open wounds from lacerations on the thighs. Bruises on the lower back and buttocks. Cuts on the hands as a 4-year old boy, apparently, tried in vain to stop the beating. Defensive wounds.
If this case ever gets in front of a jury –and it likely will not-- these chilling photographs may well convict Adrian Peterson, the Minnesota Vikings star running back.
Peterson's lawyer claims his client never intended to harm his son. But intent, while relevant, is not a complete defense. Under Texas law, Peterson could be found guilty of the charge of "reckless or negligent injury of a child" if he either knew or should have known that his actions posed a substantial and unreasonable risk of harm. Look at the photos and then ask yourself: how could anyone not know?
[pullquote]
And Peterson himself probably knew. He appears to have incriminated himself by sending text messages to the boy's mother which suggest he knew what he did was wrong. ("You will be mad at me about his leg.")
If it is also true that Peterson threatened his son with even more beatings should the child tell anyone, that fact could be compelling evidence of "consciousness of guilt." Guilty people tend to cover up.
The little boy did tell someone. First his mother and then police. He reportedly said his father also hit him in the face. And it may not have been the first time. Since the indictment, a new accusation has emerged that Peterson struck another one of his children, causing a discernable head injury. Though normally inadmissible, a judge might allow it in the current case as evidence of a "pattern of criminal conduct." Patterns can be persuasive stuff in a court of law.
It is one thing to "spank" a child's bottom with a bare hand. Indeed, in Texas, it is generally permissible absent serious physical injury. But it is something else entirely when the equivalent of a weapon is used. In this case, Peterson reportedly struck his son repeatedly with a tree branch and a belt. A skilled prosecutor will argue this shows a high degree of deliberation and malevolence. And the pictures seem to support it.
It is not enough for Peterson to claim that he endured similar beatings as a child. It may help explain his learned behavior, but it will not legally excuse it. A defendant cannot argue that he robbed banks because his father did so.
An experienced defense attorney will advise Peterson that he does not want jurors to ever see these pictures of a helpless 4-year-old boy with bleeding wounds. The images evoke visceral feelings of revulsion that would lead inexorably to the word, "guilty."
Veteran trial attorney Gerald Boyle, who successfully defended former NFL player Mark Chmura on charges of sexual abuse, told me that Peterson would be wise to plead to a lesser charge and volunteer for extended anger management therapy and parental counseling. Sound advice.
None of this will erase the potential psychological harm Peterson's actions have wrought. His son's physical scars will vanish eventually, but the emotional scars may remain. Children gripped by fear, regardless of the cause, often grow up living fearful lives. Prominent New York psychiatrist, Dr. Robert Millman, said to me, "pervasive and abiding fear can be motivating, but also debilitating," often leading down a dark path to self-destruction.
Gregg Jarrett joined FOX News Channel (FNC) in 2002 and is based in New York. He currently serves as legal analyst and offers commentary across both FNC and FOX Business Network (FBN).