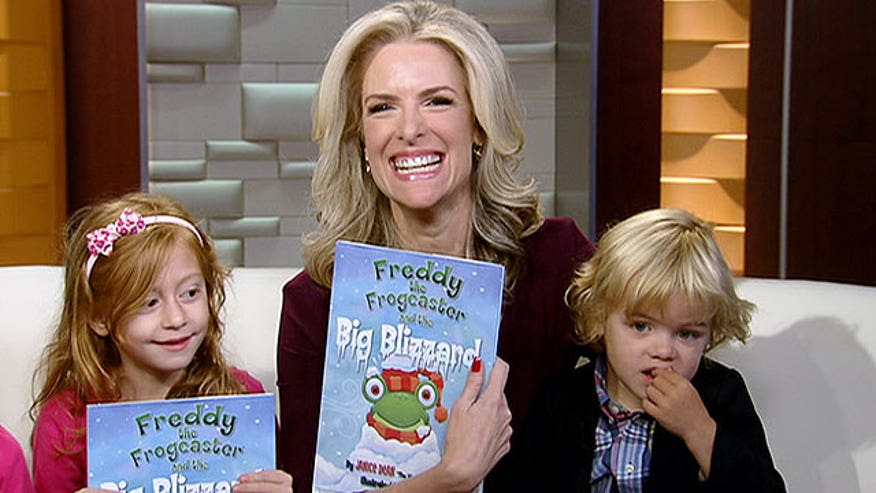 Last week I dropped my son off to kindergarten. I met his teacher and got to see the classroom where he would be spending much of his day away from home. Among the posters of the alphabet and colorful drawings, I noticed a laminated sign near the front of the door. It was a list of things teachers and children need to do in case of an emergency, including what to do in a weather disaster.
This made me stop and think: If a weather emergency occurred tomorrow, are we prepared for our kids?
As a meteorologist who has covered weather events for over 10 years, and as an author of children's weather books, I know that natural disasters such as tornados, flash floods, hurricanes and earthquakes can impact communities for days, weeks and months at a time.
A new Disaster Report Card by Save the Children, the nation's leading child-focused emergency response organization, reveals that 21 states in the U.S. still lack emergency plan requirements for schools and child care providers.

The Report Card tracks four minimum standards for all child care providers, drawn from the National Commission on Children and Disasters. This commission was created after Hurricane Katrina to better protect children from disaster.
They are that states require: all child care providers to have
1. Evacuation and relocation plans
2. Family-child reunification plans
3. A plan for children with special needs.
4. That all K-12 schools have a written, multi-hazard emergency plan.
Save the Children commissioned a nationally representative Harris Poll online survey of 1,012 parents of children under age 18 enrolled in child care or school, to determine how well prepared they are for an emergency.
Here's one of the shocking results:
Sixty-three percent of parents across the country are not very familiar with emergency plans at their child's school or child care facility, and 67 percent don't know if emergency drills are practiced frequently, or at all.
If you're a parent, think about this. Would you know where to reunite with your child if her school or day care facility were evacuated?
Our children are most vulnerable during disasters. Their safety, well-being and developmental skills are at risk.
One of my goals is to work with teachers and fellow meteorologists across the country to come up with fun and educational ways to help kids understand why weather happens, and what we can do before, during and after we are impacted.
In my children's book series, the main lesson is to "be prepared." In my latest book, "Freddy the Frogcaster and the Big Blizzard," the overall message is to have an emergency preparedness kit.
Freddy brings one to his friend Polly Woggins, who is reporting outside in the blizzard. It turns out that the blizzard is so bad, the power goes down and snow blocks the main roads. Polly has to camp out in her TV van overnight. She emerges shaken but safe, but thankful that Freddy was thoughtful enough to give her the kit.
Making an emergency kit is one way to get involved with your children to prepare for the next storm.
September is National Preparedness Month. Here are a few things to ask yourself:
• Are you familiar with emergency plans at school or at day care?
• Are emergency drills held frequently at your child's school?
• Where would you reunite with your children if they were evacuated from school or day care? (It took seven months to find the parents of a child who was displaced after Hurricane Katrina.)
• Have you provided your child's school with emergency contact information?
• Do you know where you would take shelter close by?
Extreme weather events can be scary. But the more we learn, the easier it is to help our kids understand what's happening, and how to prepare and stay safe.
Here are a few things to do with your children in the next few weeks:
• Make sure your family is prepared for an emergency. Make sure you can go at least three days without essentials like electricity, water, supermarkets and ATMs.
• Prepare a disaster supply kit.
• Create a Family Emergency Plan, so your family knows how to communicate during an emergency.
• Buy an NOAA weather radio.
And here's what you can do with your kids right now:
• Make sure they know basic information (last name, address, phone number) so they can identify themselves if they are separated from you.
• Teach them how to dial 911.
• Tell them what neighbor to call on if you are not available.
As President John F. Kennedy said, "The time to repair the roof is when the sun is shining."
Especially when that roof is keeping our children safe.
Janice Dean currently serves as senior meteorologist for FOX News Channel (FNC). In addition, she is the morning meteorologist for FNC's FOX &Friends (weekdays 6-9AM/ET). She joined the network in January 2004. Click here for more information on Janice Dean.