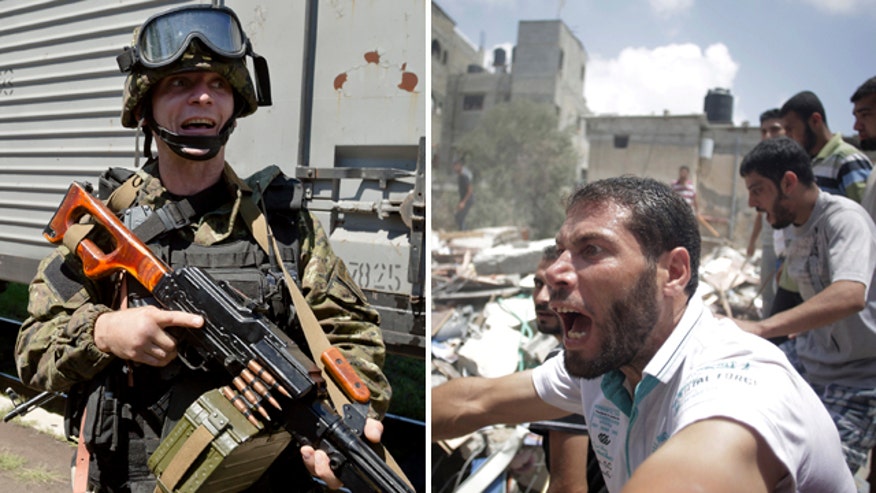 "We have enormous input about this that points fingers," Secretary of State John Kerry told CNN's State of the Union Sunday. "It is pretty clear that this was a system from Russia, transferred to separatists. We know with confidence that the Ukrainians did not have such a system anywhere near the vicinity at that point of time."
Not only is it clear that the BUK missile launcher that struck Malaysia Airlines Flight MH17 was Russian, there are voice intercepts and a video of a launcher moving back into Russia with at least one missing missile.
I think we all know where that missing missile went – and that there were 298 innocent lives lost as a result.
[pullquote]
In the Middle East, Israel targeted over 50 sites Sunday night following the bloodiest day of fighting in a brutal air campaign that has reduced much of Gaza to rubble.
The death toll on the Palestinian side is now over 500, and Israel has lost 13 soldiers, two of them American.
It is a coincidence that flight MH17 crashed and Israel began its ground invasion of Gaza on the same day, and surely Thursday, July 17, will go down in history as a day of terrible tragedy.
But with all the talk about the MH17 crash and the Israeli invasion, commentators and many politicians are missing a larger point:
The U.S. is not standing up for its allies.
In his second phone call to Prime Minister Benjamin Netanyahu in three days, President Obama criticized Israel for overreaching.
On the Sunday talk shows, Kerry defended Israel's right to take action and defend itself, but he also made critical comments privately that were captured by Fox News on a live microphone. Chris Wallace, the Fox interviewer, confronted Kerry during his appearance with a tape of the remarks wherein Kerry is heard saying, "It's a hell of a pinpoint operation …We've got to get over there."
And he is getting over there. Kerry traveled to Cairo on Monday, where he joined diplomatic efforts to resume a truce that was agreed to in November 2012.
And while discussing a cease-fire is all well and good, Kerry's ironic expression of frustration at the deaths of Palestinian civilians highlights a U.S. administration that is not standing shoulder-to-shoulder with one of our strongest allies.
"It's ugly. War is ugly, and bad things are going to happen," Kerry told ABC's "This Week."
But even uglier things happen when U.S. leadership style is weak at best, and dangerous at worst.
Our relationship with Israel is not something to be taken lightly with "ironic" comments that both hurt our own image and the international perception of our ally's actions.
As for the MH17 crash, in the wake of the overwhelming evidence Kerry cited, Obama has failed to hold Russia and Putin accountable for its part in facilitating the crash.
"Because of Russia's linkage to these separatists, they have a greater ability to exert influence, and we need Russia to become part of the solution, not part of the problem," Kerry said.
If the last several months have shown us anything, it's that overtures to Putin for better cooperation get us nowhere. In fact, they actually make things worse.
Russia under Putin has become a threat – both regional and global – and in response the Obama administration has treated Putin as a rational interlocutor and a useful go-between in Syria, Iran and now Ukraine.
How many more lives will be lost before we stop treating Putin as rational? He's not.
And we can't treat Israel as an ally only in name.
We need American leadership that can speak with one voice at a time of crisis and present a unified front against our enemies and our allies' enemies.
Until the Obama administration gets smart to this strategy, we're going to continue to lose friends across the globe – friends we will most certainly need down the line.