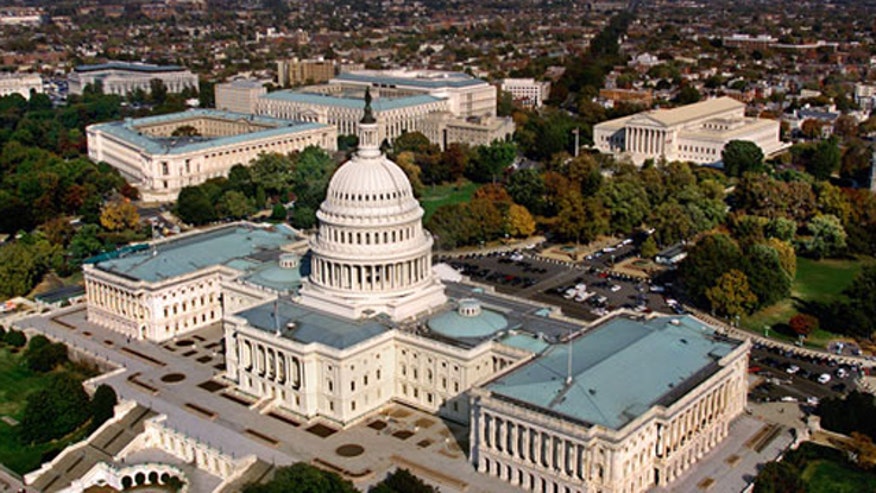 On the cover of his new book, "What Works: Common Sense Solutions for a Stronger America" (HarperCollins, April 2014), conservative syndicated columnist Cal Thomas -- familiar to Fox News viewers for his many appearances on the network, dating back to its inception – can be seen in black tie and tails, tipping a top hat with characteristic cordiality as a groundhog sits contentedly atop Thomas's left shoulder (thanks to the magic of PhotoShop).
It's a nod to the 1993 movie "Groundhog Day," starring Bill Murray which Thomas sees as a parable for the repetitive cycles of partisan gridlock and dysfunction in the nation's capital.
In "What Works," which carries a foreword by Fox News anchor Sean Hannity, Thomas draws on his columns and speeches to examine what he considers to be viable solutions for the economy, health care, and other major problems bedeviling America.
[pullquote]
"I believe conservative ideas mostly work," Thomas said in a visit to "The Foxhole" this week. "There are some liberal ideas that work, too... And so I take a look at some various [federal] programs and see which ones are working and mostly which ones are not."
Many readers might be surprised at the unflinching criticism Thomas directs at institutions where he himself has long thrived: the Christian right, for example, and cable TV news.
He writes: "Watch the 'debates' on cable TV and listen to the same tired sound bites you've heard so many times. Republican and Democratic 'strategists,' some of them too young to have had an original thought, much less real experience, repeat the familiar one-liners we hear over and over again with nothing resolved. The American public is being gamed by politicians, big media, and other 'elites,' whose main interest centers on themselves."
Asked on "The Foxhole" if he includes Fox News in that indictment, Thomas replied: "Everybody knows when they tune into some of these shows, what you get is people who say, 'You're ruining America,' you know. 'No, you're ruining America.' 'Well, you're a commie.' 'Well, you're a fascist.' 'Well, you're a secular humanist.' 'Well, you're a Bible-thumping bigot.' And the host says: 'And we'll be back with more civil discussion after these messages.'"
On the program, Thomas tackled everyone and everything from Barack Obama and Bill Buckley to Harry Reid and the Beatles, the purported liberal bias of the news media, and personal steps that ordinary citizens can take to combat poverty.
Thomas is celebrating three decades as a syndicated columnist. Only a handful of living peers -- names like Krauthammer and Will come to mind -- can boast the longevity and reach of Thomas's column, which has run in as many as 500 newspapers.
For the last eight years, Thomas has also co-authored a regular column for USA Today with Bob Beckel, the former aide to President Jimmy Carter who is now one of the co-hosts of Fox News' top-rated program "The Five."
I asked Thomas if he is surprised to see the rumpled Beckel "metastasize into a big TV star." "Bob is a unique figure," Thomas said. "I tell him to please finish his memoir because I'm tired of answering questions about him after I speak on the lecture circuit... He's an honest liberal. He can see fault on his own side as well as on the conservative side.
"He's very open and honest about his alcoholism. He's a recovering alcoholic. He goes to regular AA [Alcoholics Anonymous] meetings. And he's a genuinely nice guy with a great sense of humor... He's shown me some of his hate mail, I've shown him some of mine... I helped get him in the door at Fox, and do I get any thanks? Do I get a cut of the commission? No! But that's all right.
"I'm very happy for his success," Thomas added, all joking (momentarily) aside. "I think he's doing a great job. I think he's the central figure on "The Five." I don't think it'd be as good without him."
Click here to watch the entire episode of The Foxhole with guest Cal Thomas.
James Rosen joined FOX News Channel (FNC) in 1999 and is the network's chief Washington correspondent.