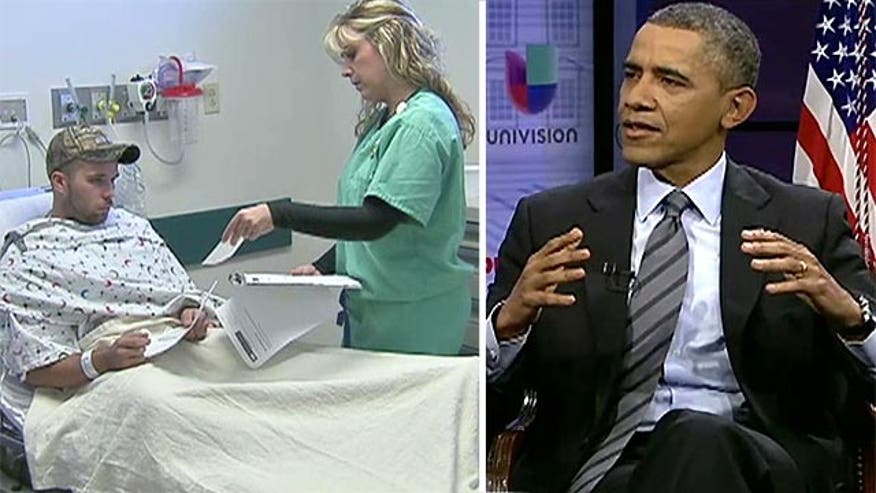 A cancer patient finds out her life-saving treatments aren't covered under ObamaCare. A small business owner can no longer provide health insurance to those who work for him. A Michigan hospital is forced to lay off employees who have worked there for years. And a woman with lupus takes on a second job because ObamaCare doesn't cover the cost of the medications that keep her alive.
And this is just the beginning.
So it's no surprise that nearly six months after the tumultuous launch of ObamaCare, approval for the law stands at a record 38-percent low. The opposition to the president's health care law is growing, with 48 percent – nearly half of all Americans – who think ObamaCare will make their lives worse. In fact, even the president himself has issued another delay to those whose plans initially failed to meet the law's requirements – an admission of both the unpopularity and unsustainability of his own signature law.
But ObamaCare is not just an unpopular policy. It's a detrimental one – especially to seniors. With nearly $22 billion in cuts to Medicare's home health services, the most vulnerable seniors – nearly 3.5 million of them – will be hit the hardest. These cuts, coupled with the impending limitations imposed on the Medicare Part D prescription drug program, reveal the president's failure to keep his promise to America's seniors. ObamaCare is hitting where it hurts. And it is doing so with irreparable damage.
The debate over ObamaCare is no longer political. It's not about the partisan divide between Republicans and Democrats, or about the ideological battle between the president and his Congress. It's about real people and the life-and-death decisions they face every single day. It's about being able to see a doctor who will take Medicare once you turn 65. It's about keeping the doctors and plans and hospitals that are best for you and your family. And it's about finding health insurance that will cover your chemotherapy treatments if you're diagnosed with cancer.
House Republicans and a growing number of Americans are fundamentally opposed to ObamaCare because it's hurting people – old and young, sick and healthy, businesses and individuals. When you can't find coverage or a doctor who will treat you, it's not a political problem; it's a personal one. Your health isn't political.
So it is disappointing, albeit unsurprising, that the White House has announced it would veto bipartisan legislation that would help the people who need it. Our bill, the SIMPLE Fairness Act, which passed the House this week with support from both Republicans and Democrats, would eliminate the individual mandate tax penalty for the remainder of the year – just as the president has already unilaterally done multiple times for businesses with big checkbooks. Moreover, the non-partisan Congressional Budget Office estimates that this legislation would save the federal government $9.4 billion over the next ten years – and $2.1 billion in 2014 alone. But the president still refuses to sign the bill into law.
Every day, Americans are waking up to higher premiums, unexpected out-of-pocket costs, new restrictions, and limited choices. ObamaCare is hitting their pocketbooks. It's limiting their ability to find doctors. And, in some cases, it's impeding their ability to get the medicines that keep them alive.
We need to replace this failed law with real solutions – solutions that put the patient—not the federal government—at the center of his or her health care choices.
Solutions that actually lower costs—not increase them—such as enabling Americans to buy insurance across state lines; bringing an end to frivolous lawsuits; and expanding the role of Health Savings Accounts (HSAs).
The president has already tried ObamaCare as a solution and it isn't working. So it's time for a new approach.
The American people are paying the price for the president's fundamentally flawed policy. And they are doing so with the most valuable currency of all: their health.
Cathy McMorris Rodgers serves as Chairwoman of the House Republican Conference. She represents Washington's 5th District and is a member of the House Energy and Commerce Committee.