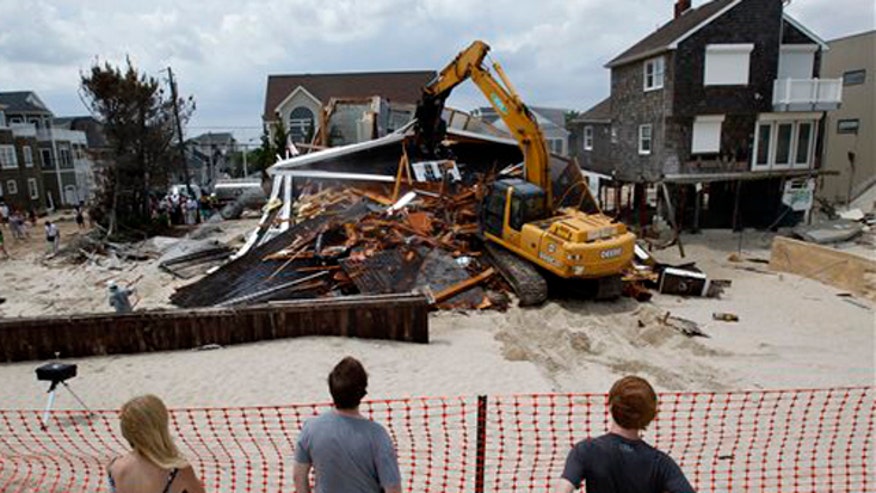 When Sandy hit the world was on our side. Governor Christie and President Obama hugged it out on the boardwalk.
Everyone from Bruce Springsteen to the Rolling Stones gave telethon shout-outs to the Shore.
The air was filled with hope.
In a year we've gone from "Born to Run" to "Livin' on a Prayer." Most money hasn't made it past the boardwalk. Getting insurance claims paid has been a struggle, red tape and arcane rules have made relief funds a cruel joke and ruinous new insurance premiums threaten to kick us while we are down.
[pullquote]
Less than $3.2 billion of the $60 billion in relief funds has been allocated to Superstorm Sandy Survivors. Because of delays in implementation and Byzantine procedures which confuse victims and make most properties ineligible, only $8 million of New Jersey's $600 million RREM program funds has been appropriated.
It's not as if there isn't work to do. In Ortley Beach, N.J., only 300 of 2,600 homes are occupied.
In Breezy Point, N.Y., the focus of so much initial media attention, only one home has been rebuilt. Insurance payments have been slow and low. A highly-touted claims mediation program became a farce when it exempted flood insurers.
Even worse, misadministration and, in fairness to FEMA, poorly thought-out 2012 statutory "reforms," have made FEMA "stronger than the storm" as a source of misery.
While FEMA rushed out new flood maps to help "inform" rebuilding efforts, most homeowners still can't find out what their premiums will be under these maps – information needed to make decisions about how -- and if -- to rebuild.
Moreover, the maps – and revised new maps – are riddled with errors.
Hundreds of thousands of owners were deterred from rebuilding when they were unfairly placed in "V" zones - areas with prohibitively expensive elevation and construction standards.
My community fought the maps -- and proved over 80% of the "V" zone placements were wrong. Other communities were not as aggressive, leaving individuals without the resources to hire experts in "Godzilla vs. Bambi" fights against FEMA.
FEMA is using exorbitant premiums to compel elevation of tens of thousands of existing homes not substantially damaged by Sandy -- without any consideration whether the additional protection is worth the cost.
When neither option is affordable, telling people they are required by law to buy flood insurance they can avoid $30,000 annual premiums by paying $150,000 to elevate their homes sounds a lot like "let them eat cake."
Ironically, even given Sandy's unprecedented magnitude, most damage would have been prevented by slightly more robust sea walls, dunes and beaches.
Yet, while the boardwalks are back, beach replenishment has barely started and virtually no work has been done on dunes.
Adding insult to injury, FEMA has cited the temporary absence of dunes being rebuilt as a reason for moving properties into "V" zones.
This is not just a "Shore thing." In fact, 18 million homeowners in the United States are (or will be) included in FEMA's expanded maps of zones in which flood insurance is required to obtain a federal mortgage.
This causes an immediate impact on property values that is already being felt in my town – and will be coming to yours.
Sandy victims don't want handouts. Most of us just need fair insurance payments and adequate dunes – not unrealistic elevation requirements and flood insurance premiums – required by FEMA.
Until steps are taken to stop FEMA itself from being part of the problem, however, the recovery that started so strong remains in jeopardy.
George Kasimos is a realtor and founder of "Stop Fema Now."