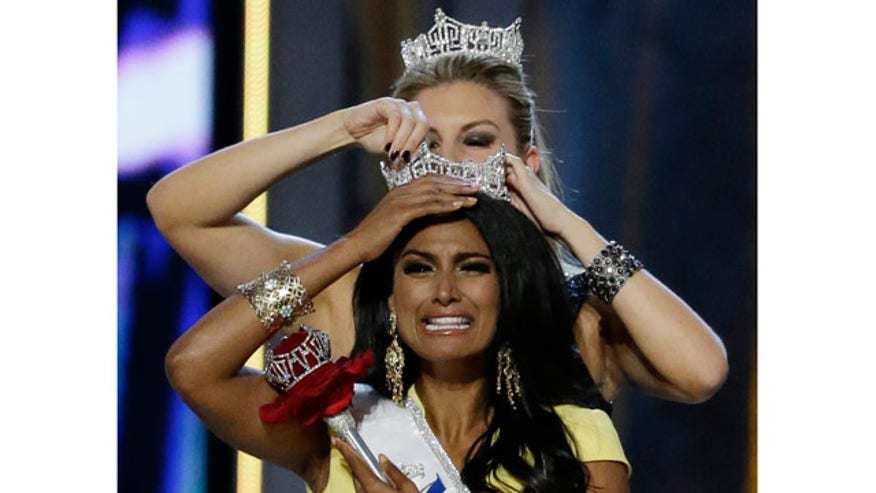 Add American values to the list of items CNN and NBC consider to be racist.
Reporters at both networks blew a gasket after I posted a tweet affirming the American values of Theresa Vail – the gun-toting, deer-hunting, tattooed army sergeant who represented Kansas in the Miss American Pageant.
Miss Kansas had generated lots of attention in part due to her military service and tattoos. She also won ABC's online "America's Choice" poll. She advanced to the top ten but was eliminated before the infamous question round.
And that's when I decided to offer up my two cents worth on Twitter.
[pullquote]
"The liberal Miss America judges won't say this – but Miss Kansas lost because she actually represented American values," I tweeted.
The American values I referred to were her military service, her support of the Second Amendment and her devotion to God – illustrated with "The Serenity Prayer" that was prominently tattooed on her side.
However, CNN reported that my comments were directed at Miss New York, Nina Davuluri, after she had been crowned the new Miss America.
"Miss America crowns 1st winner of Indian descent; racist tweets flow," read the headline of a CNN story written by Leslie Bentz.
"No sooner had the tiara been placed atop her head than a barrage of racist tweets flooded the Internet," Bentz wrote.
Then, she quoted and posted a screen grab of my tweet about Miss Kansas.
Fortunately, Twitter keeps a time stamp of every posting – and in just a matter of minutes I was able to prove the CNN report was incorrect.
My tweet was posted at 10:53 p.m. eastern, according to the Twitter time stamp. Miss New York was announced as the winner of the pageant at 10:57:18 p.m. eastern. It shows I was tweeting about Miss Kansas – not Miss New York.
NBC reporter Eun Kyung Kim followed suit in a story titled, "New Miss America's Indian heritage sparks racist comments."
"Meanwhile, Todd Starnes, host of Fox News & Commentary, blamed the win on a 'politically correct' panel of judges, according to a series of tweets," Kim wrote.
NBC's Kim reported that I "blamed" Miss New York's win on a "politically correct" panel of judges."
But that's not true. Contrary to the reports by CNN and NBC, my tweets were directed at Miss Kansas – not Miss New York.
Had the reporters done their homework, they would have discovered that the accusations of racism against me were not only unfounded – they were just plain wrong.
By 9:53 a.m. Monday morning, CNN mysteriously revised their story and removed any mention of me as well as the photograph of the tweet they alleged was racist. They also revised the headline, "Miss America crowns 1st winner of Indian descent."
CNN did not offer any explanation for the retraction.
Their gross slander was perpetrated either intentionally or out of ignorance. Either way, it's yet another example of the kind of shoddy journalism that has soiled the reputation of the mainstream media.
Miss Kansas may have lost the crown, but she gained something the mainstream media can never claim -- the nation's respect, trust and devotion.
Todd Starnes is host of Fox News & Commentary. His latest book is "The Deplorables' Guide to Making America Great Again." Follow him on Twitter @ToddStarnes and find him on Facebook.