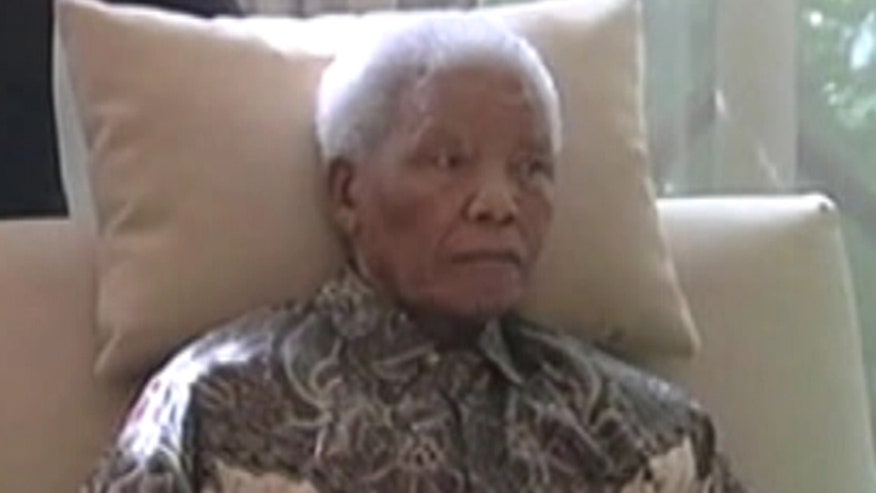 Editor's note: The Mandela family spoke with Fox News anchor/reporter Kelly Wright for his "Beyond the Dream" series in September.
"My father has a great imprint on me, my children, my grandkids, and I think on the world at large." -- Her Excellency Zenani Mandela-Diamini
The imprint left upon the world by Nelson Mandela is the idea that everyone, regardless of their race, color, religion or nationality, wants to be free.
Everyone desires to have the freedom to pursue their best life now.
Everyone wants to be unshackled from the chains of poverty and despair and liberated to celebrate prosperity and hope.
Nelson Mandela believed that and professed throughout his life.
He said, "For to be free is not merely to cast off one's chains, but to live in a way that respects and enhances the freedom of others."

President Mandela's daughter, Princess Zenani Mandela-Diamini is currently a public servant like her father. She is South Africa's ambassador to Argentina. She dearly loves her father, who at age 95, is at home battling a life-threatening illness.
I had the distinct honor to meet Princess Zenani and her two daughters, Zaziwe and Swati this week. Each of them possesses that beautiful trademark smile of President Mandela.
They carry themselves with the dignity, charm, grace and humor that he so eloquently displayed. And like President Mandela they are committed to his ideals for making the world a better place for all of humanity through education, hard work, and above all faith.

Diamini explains; "I think my father preached the gospel about peace and reconciliation. My father has always believed that you can overcome anything through peace and reconciliation. And I think that's a great part of his legacy."

Nelson Mandela is a living testimony to the reality of how having faith in God can enable one to triumph over adversity.
Mandela's journey through life shows a man who believed in helping a people, a nation and the world achieve what appeared to be impossible.
He once wrote; "It always seems impossible until it's done."
[pullquote]
And what he did was lead the way in bringing an end to the brutal system of apartheid, which held people back because of their race.
His granddaughter, Swati Manaway, told me, "I think that our grandfather and many other people who fought to end apartheid and wanted to bring our country into a democracy, did so.
They would want people to learn [these things] from them: freedom, tolerance and forgiveness. It's a human story that people go through everyday. It's what he's given his entire life for; for helping humanity."

But Swati cautions that while her grandfather's accomplishments have been great, there is still greater work to be done.
"There is still so much to do in the world in fighting poverty. If one person is living in poverty, we still have a lot of work to do."
Throughout his life Mandela sought to do what appeared to be impossible, to overturn the dehumanizing practice of racism and apartheid in South Africa.
He risked his life to create a bold and brave new world where people would develop the kind of faith to achieve the impossible.
It required moral clarity and an endless reservoir of hope for Mandela to lead people to a place of freedom while serving a life sentence in prison.
In his early years, Mandela achieved a great education, becoming a lawyer. He sought to fight racial injustice within South Africa's legal system but found it to be unfair to people of color.
He initially launched a non-violent campaign against racial inequality. But he later co-founded a militant group that began a series of bombings against government targets. While Mandela abhorred violence, he was subsequently arrested and convicted of sabotage and conspiracy to overthrow South Africa's apartheid regime. He spent 27-years in prison before being unconditionally released by President F.W. de Klerk.
Mandela never gave up on his faith or his dream to unify South Africa.
"If there are dreams about a beautiful South Africa, there are also roads that lead to their goal. Two of these roads could be named Goodness and Forgiveness."
Through his capacity to forgive, Mandela was able to sit at the table with his oppressors, shake their hands and lead the negotiations to create a better society in South Africa.
He worked with President F.W. de Klerk to abolish the cruel and hostile practices of apartheid. President F.W. de Klerk then established multiracial elections in 1994, which lead to Nelson Mandela being elected as the first Black president of South Africa.

"There is no easy walk to freedom anywhere, and many of us will have to pass through the valley of the shadow of death again and again before we reach the mountaintop of our desires."
"As I walked out the door toward the gate that would lead to my freedom, I knew if I didn't leave my bitterness and hatred behind, I'd still be in prison,"

In his autobiography, "Long Walk To Freedom," Mandela explains how his faith in God and the Church helped him endure the dark periods of imprisonment.
He said, "The Church was as concerned with this world as the next: I saw that virtually all of the achievements of Africans seemed to have come about through the missionary work of the Church."
Nelson Mandela also said, "Education is the most powerful weapon which you can use to change the world."
As a way of honoring Nelson Mandela's commitment to unity and education, the Mandela family family is working with a financial firm to raise a billion dollars to release a commemorative gold coin of Mandela. All of the money they raise will go towards education and ending poverty.
Mandela's granddaughter, Zaziwe Manaway explains, "Education was just very important to my grandfather. Education is just one of the things he was so passionate about...he said that when you're educated, nobody else can take that away from you."

The Mandela family told me they have shared the patriarch of their family with the world for many years. They understand his influence and appreciate the good will expressed to them from complete strangers who admire Nelson Mandela.

"We would like to take this opportunity to thank the world for their support, for their love, for their dedication to my father and the family. We thank them for their prayers."
Kelly Wright is a general assignment reporter for Fox News Channel (FNC), based in the Washington, D.C. bureau. He is also a co-host on "America's News Headquarters" on Saturdays (1:00-2:00 PM/ET). Wright previously served as a co-host on "Fox & Friends Weekend." Click here for more information on Kelly Wright.