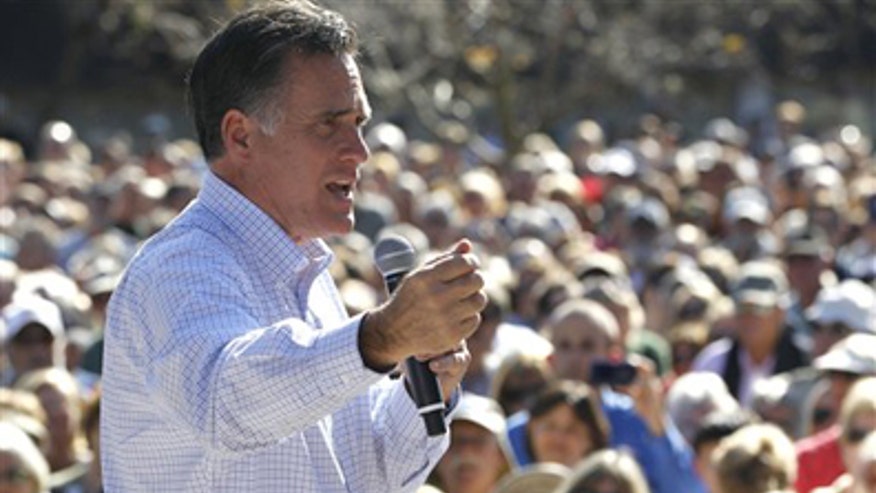 On the GOP primary calendar, Michigan ranked as a slam dunk for Mitt Romney – until now.
Suddenly all eyes in the political world are fixed on the fascinating, fast-changing forces at work in Michigan ahead of the state's Republican presidential primary on February 28.
New polling shows that former Pennsylvania Sen. Rick Santorum can beat Romney in Michigan -- the state where Romney was born and his father, George Romney, served three terms as governor.
Michigan also was one of the few states where Romney won in the 2008 primaries against John McCain. He won by nine points. Now, three years later, a new poll from Public Policy Polling (PPP) shows Santorum leading Romney by 15 points in Michigan (39 to 24). Another state poll from the American Research Group also found Santorum leading with 33 percent, Romney in second with 27 percent and Newt Gingrich in third with 21 percent.
This movement toward Santorum in Michigan tracks with movement in the national polls of Republicans. A CBS/New York Times poll has Santorum leading Romney, 30 percent to 27 percent. If Santorum edges out Mitt Romney in Michigan, all bets are off in the GOP contest. Remember that while Santorum has won just as many states as Romney, it is Romney who leads in the critical delegate count. A Santorum victory in Michigan, however, will give the former senator all the momentum he needs to counter Romney's advantage in campaign money and staff and claim the bonanza of delegates at stake in the Super Tuesday primaries.
If that scenario plays out it will be hard to revive Romney's political life.
In many ways Michigan is a microcosm for the whole country in this election. The economy has been the defining political issue there. The unemployment rate in Michigan is 9.3 percent, one full point above the national average of 8.3 percent. According to "RealtyTrac," Michigan ranked sixth out of the fifty states last year for the highest home foreclosure rate. In Wayne Country, where Detroit is located, one out of every 231 homes is being foreclosed.
But Michigan's economy has been gradually improving over the past two years along with the rest of the country. Unemployment has fallen slightly and the real estate market is not as bleak as it once was.
There is a long way to go, but the bleeding inflicted by the 2008 financial crisis appears to have stopped and the economic indicators are moving up. Home sales in Detroit have been increasing for seven months straight. Financial experts agree that reviving the real estate market is essential to improving the whole economy because the most valuable asset for most families is the equity in their home.
This week a New York Times/CBS poll finds Santorum tied with Romney as the candidate best able to improve the economy. And Santorum leads Romney on the critical question of which candidate is best able to help the middle-class. Romney is seen as helping the rich. Similarly, Santorum leads Romney on the question of who "best represents" their values, 39 percent to 23 percent.
There is no ignoring that the improvement in Michigan's economy is due in large part to President Obama's decision to rescue the American auto industry in 2008. The industry is the lifeblood of the state's economy. Iconic American car companies -- Ford, Chrysler and General Motors -- were in imminent danger of bankruptcy. If they had been allowed to go under, Michigan's economy would have been decimated and their unemployment rate would have skyrocketed.
The auto rescue championed by the president was vigorously opposed by the Republicans as a "bailout" and a case of government "picking winners and losers."
Now the car companies have begun to get their financial house in order. General Motors was back on top as the No. 1 car company in the world last year. This was the message behind Clint Eastwood's "Half-time in America" commercial for Chrysler during the Super Bowl.
This is also why Vice President Joe Biden tells people in private that his shorthand for the 2012 campaign will be "Bin Laden is Dead, General Motors is Alive." President Obama took the political risk and saved the industry and he is starting to get credit from the voters.
That improving economic picture in Michigan undercuts Romney's national political message – that he is a businessman who is running to fix the economy. If the campaign is not about an ailing economy then what is the Romney message? 
Santorum is currently running an ad in Michigan that asks, "Who has the best chance to beat Obama?" The answer in the ad is the social values candidate – Santorum.
Pay close attention to what happens in the Michigan primary at the end of this month. The new political climate creating difficulties for Romney suggest a very different political year than anyone predicted.
Juan Williams is a writer, author and Fox News political analyst. His most recent book "Muzzled: The Assault On Honest Debate" (Crown/Random House) was released in July.
Juan Williams is a co-host of FNC's "The Five," where he is one of seven rotating Fox personalities. Additionally, he serves as FNC's political analyst, a regular panelist on "Fox News Sunday" and "Special Report with Bret Baier" and is a regular substitute host for "The O'Reilly Factor." He joined Fox News Channel (FNC) in 1997 as a contributor. Click here for more information on Juan Williams.
Follow us on twitter.com/foxnewslatino
Like us at facebook.com/foxnewslatino