The Colombian contestant, Ariadna Gutierrez Arevalo, was already wearing the Miss Universe crown when host Steve Harvey returned to announce on live television that he had mistakenly read from a cue card, and that the contestant from the Philippines was actually the winner.
It didn't take long for the wags to come out in Colombia over host Steve Harvey's Miss Universe blunder.
In that South American country, beauty pageants are a national obsession, and its track record at Miss Universe was already impressive before the show's host, Harvey, mistakenly announced Ariadna Gutiérrez Arévalo as the 2016 winner: Two (legitimate) beauty queens, including reigning champion Paulina Vega, and four runners-up.
So it isn't too surprising that many went online to express their frustrations with a variety of tweets and memes about Harvey's snafu.
Monday morning, more than one local newspaper already had compiled some of the best memes produced about the mix-up.
Many used the image of Medellín drug lord Pablo Escobar – actually, Andrés Parrá, the actor who played him on the Colombian TV series, "Escobar: El Patrón del Mal" ("Escobar: The Boss of Evil") – asking for Harvey's name as he prepares to jot it down in the notorious notepad he carried.
Then the purported Escobar explains, "It's so that I can give him a little surprise."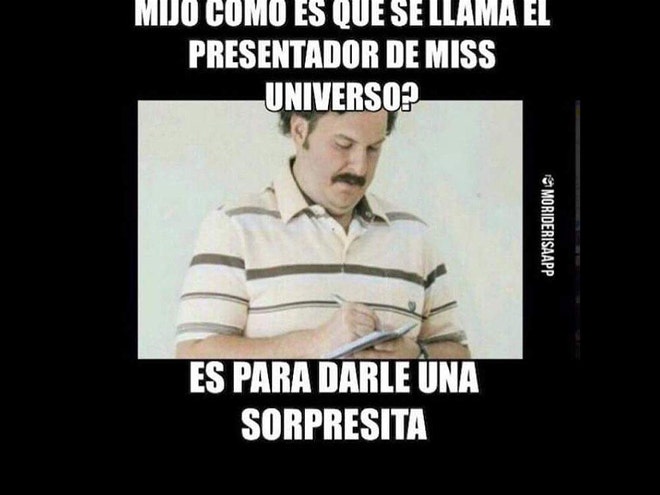 Another common theme involved doctored images of the contestants as the awkward transfer of the queen's trappings took place between Miss Colombia and Miss Philippines and showed their thoughts.
"Keep smiling, keep smiling," Miss Colombia is seen thinking in one, as Miss Philippines, Pia Alonzo Wurtzbach, thinks, "Just give me my goodies, already."
"What a joke," Vega muses as she takes the tiara off her countrywoman to place it on the Filipina's head.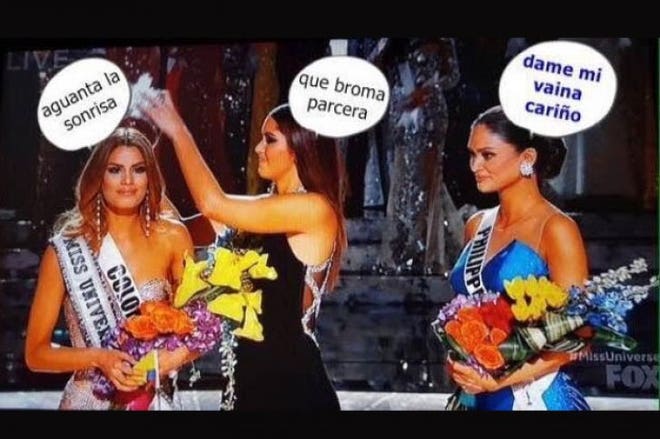 Another meme suggested that Harvey follow the advice of Colombian salsero Oscar D'León (whom Harvey resembles) and make things up to Gutiérrez by taking her out to the movies and buying her flowers.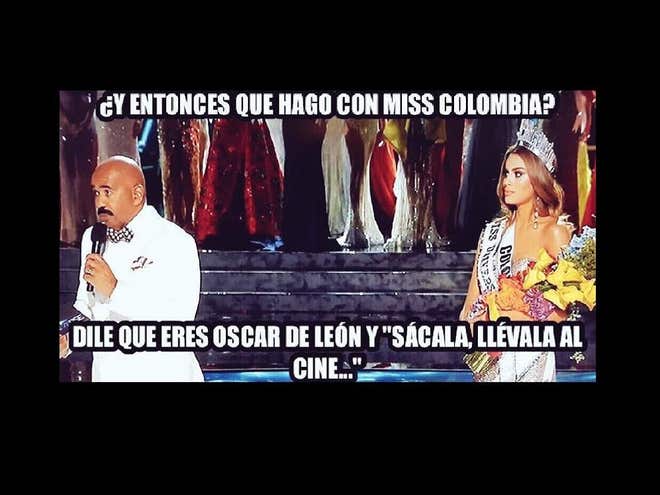 Even the president of Colombia, Juan Manuel Santos got into the act. Sort of.
Before the error was discovered, Santos tweeted: "Colombians! The most beautiful in the world. Miss Universe 2016!!!! What pride!"
Colombianas las más bellas del mundo! Felicitaciones @gutierrezary miss universo 2016!!!! Que orgullo!

— Juan Manuel Santos (@JuanManSantos) December 21, 2015
But just moments later, Santos wrote to Gutiérrez in a subsequent Tweet, "You'll always be our Miss Universe! We feel very proud!"
.@gutierrezary para nosotros seguirás siendo nuestra miss universo! Nos sentimos muy orgullosos!

— Juan Manuel Santos (@JuanManSantos) December 21, 2015
If the number of capital letters and exclamation marks are any indication, however, maybe not quite as proud as before the mistake was discovered.
The Associated Press contributed to this report.
Like us on Facebook
Follow us on Twitter & Instagram