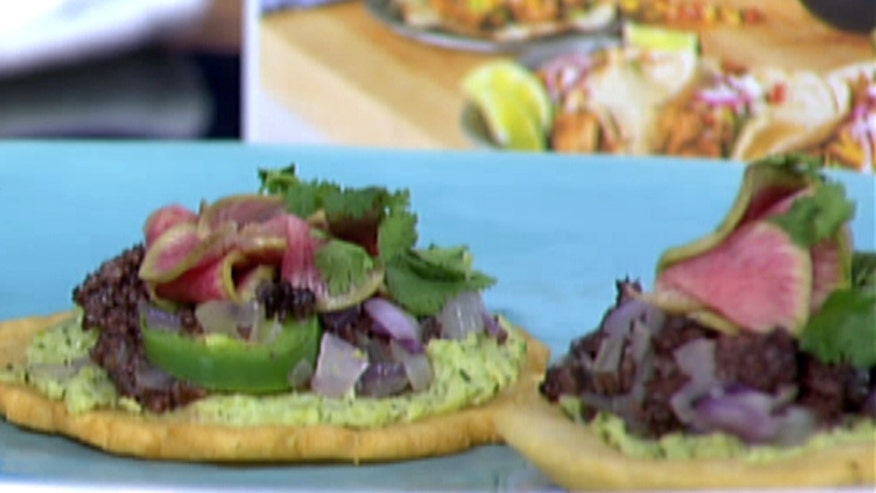 Hearty blood sausage is the star ingredient in these puffy tacos. A layer of fava bean puree adds richness, while pickled watermelon radishes add great crunch and acidity.
Ingredients
Fava bean puree
4 puffy tortillas
Blood sausage
Pickled watermelon radishes
Morcilla (blood sausage)
¼ cup vegetable oil
2 blood sausages, sliced about 1-inch thick
½ cup yellow onion, diced
1 whole jalapeño pepper, sliced into thin rounds
¼ cup red onions, diced
¼ cup fresh cilantro, finely chopped
1 teaspoon kosher salt
1 teaspoon fresh ground black pepper
½ tablespoon fresh cilantro, finely chopped, to garnish
Prepare the morcilla
1. In a medium-size frying pan, heat vegetable oil over medium high heat. Sauté the blood sausage, onions, and jalapeño for 4 minutes.
2. Remove pan from heat. Add red onion and cilantro. Season with salt and pepper, and set aside.
Build the taco
Spread the fava bean puree onto 4 Puffy Tortillas. Top with the prepared morcilla. The finishing touches are cilantro and pickled watermelon radishes.
4 servings.
Like us on Facebook
Follow us on Twitter & Instagram